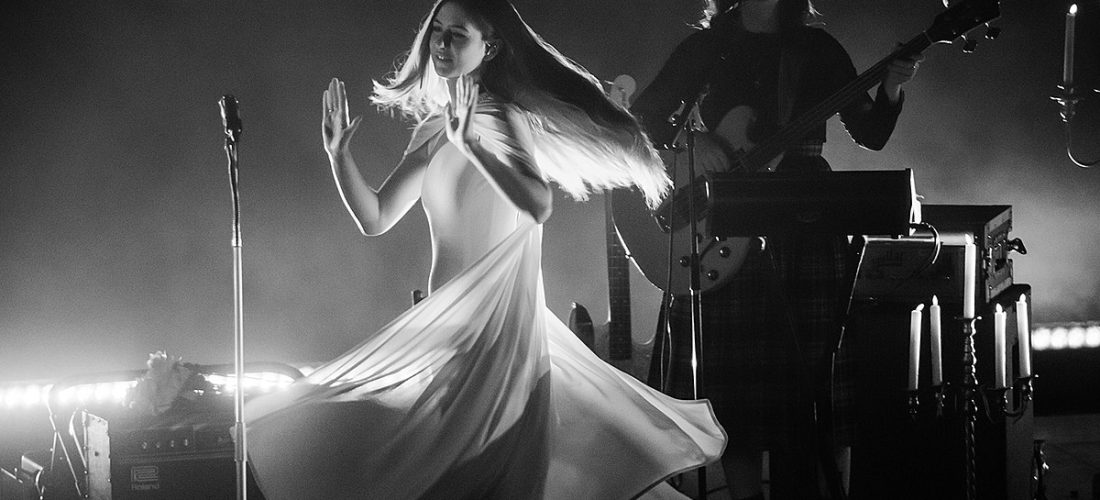 Because of the pandemic, it's been a while since Weyes Blood played a proper NYC show — not since releasing her fantastic 2019 album Titanic Rising or its follow up, last year's great And in the Darkness, Hearts Aglow. She returned in stunning fashion on Friday night (3/3) to play the first of two sold out shows at Brooklyn Steel. Her set pulled almost entirely from her last two albums, with only the evening's final song, "Bad Magic," coming from 2014's The Innocents. She played that one solo, saying how she'd written it while living off Montrose Ave in Brooklyn in a miserable situation, as NYC chewed her up and spit her out. It was a gorgeous rendition of the track, but the crowd was eager to hear her newer material, singing and dancing along, especially during the "rave portion" of the set, which began with "Twin Flame." She turned on the light up heart she's been wearing starting with that song, but unfortunately said it was broken when she came back out for her encore, and probably had been soldered badly. That minor issue didn't dull the evening's shine at all, though. Natalie Mering's voice was in fine, soaring form, and she lit up the stage in a white dress and flowy cape that moved with her as she danced and twirled across the stage, festooned with candelabras.
Opening the evening was whistler Molly Lewis, who enchanted the crowd with her solo set, which included songs from her 2022 EP Mirage and a rendition of Chopin. See pictures from the whole night, along with attendee-taken video clips and Weyes Blood's setlist, below.
Weyes Blood plays a second Brooklyn Steel show tonight (March 4), which is also sold out.
SETLIST: WEYES BLOOD @ BROOKLYN STEEL, 3/3/2023
It's Not Just Me, It's Everybody
Children of the Empire
A Lot's Gonna Change
God Turn Me Into a Flower
Andromeda
Grapevine
A Given Thing
Everyday
Wild Time
Twin Flame
Movies
Hearts Aglow
Encore:
Something to Believe
Bad Magic