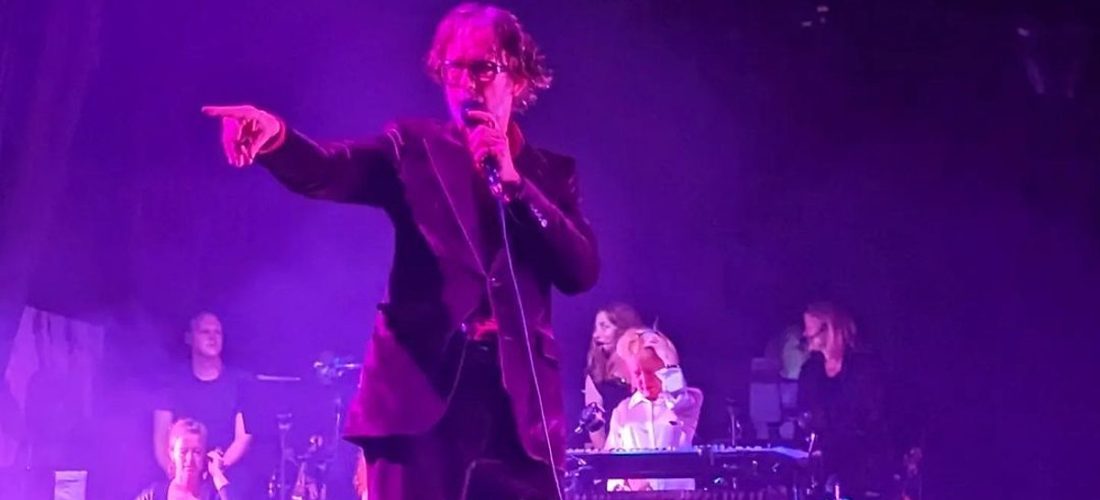 "We are Pulp," Jarvis Cocker said Friday night at Bridlington Spa. "I've not said that for quite a long time." Britpop greats Pulp are back, and Friday kicked off their UK reunion tour, which is their first concert in just over 10 years. Their Bridlington setlist was pretty killer, opening with a trio of Different Class songs — "I Spy," "Disco 2000," and "Something Changed" — and then playing a couple deep cuts from This is Hardcore ("Dishes") and His N' Hers ("Pink Glove"). They also played We Love Life opener "Weeds" for the first time since 2002, plus "This is Hardcore," "Sorted for E's & Wizz," "F.E.E.L.I.N.G.C.A.L.L.E.D.L.O.V.E.," "Do You Remember the First Time?," and "Babies" before ending the main set with We Love Life's "Sunrise."
The first encore was "Like a Friend" from the Great Expectations soundtrack, then "Underwear" and their signature anthem, "Common People." Some may have thought that would be it, but Pulp came back for more — the tour is called "This is What We Do for an Encore" — playing their 2012 single "After You" for the first time ever, and "Mis-Shapes" before wrapping things up appropriately with This is Hardcore's closing track, "Glory Days."
Jarvis, drummer Nick Banks, keyboardist Candida Doyle and guitarist Mark Webber were joined by most of Jarvis' solo band JARV IS, including bassist Andrew McKinney of JARV IS (Pulp bassist Steve Mackey died earlier this year), Adam Betts on keyboards and percussion, and Emma Smith on guitar and violin. Pulp were also joined by a string section for a few songs.
Bridlington Spa welcomed Pulp with a cute crocheted diorama of the band that lots of people took selfies with. Check out a few videos from Pulp's Bridlington Spa set, along with a few Instagram pics and the full setlist, below.
Just ahead of Friday's show, Pulp announced more UK dates, including two more London shows and a Manchester date with Baxter Dury.
As for whether Pulp will play elsewhere in the world, Jarvis Cocker told BBC's Lauren Laverne when the tour was announced, "This country is the country that made Pulp famous, where we sold most records and where we knew most people. I'm sure that we'll probably play in other places around the world, but it just seemed appropriate to do it here first."
SETLIST: Pulp @ Bridlington Spa 5/26/2023
SETLIST
I Spy
Disco 2000
Something Changed
Dishes
Pink Glove
Sorted for E's & Wizz
This Is Hardcore
Weeds
F.E.E.L.I.N.G.C.A.L.L.E.D.L.O.V.E.
Do You Remember the First Time?
Babies
Sunrise
Encore:
Like a Friend
Underwear
Common People
Encore 2:
After You
Mis-Shapes
Glory Days