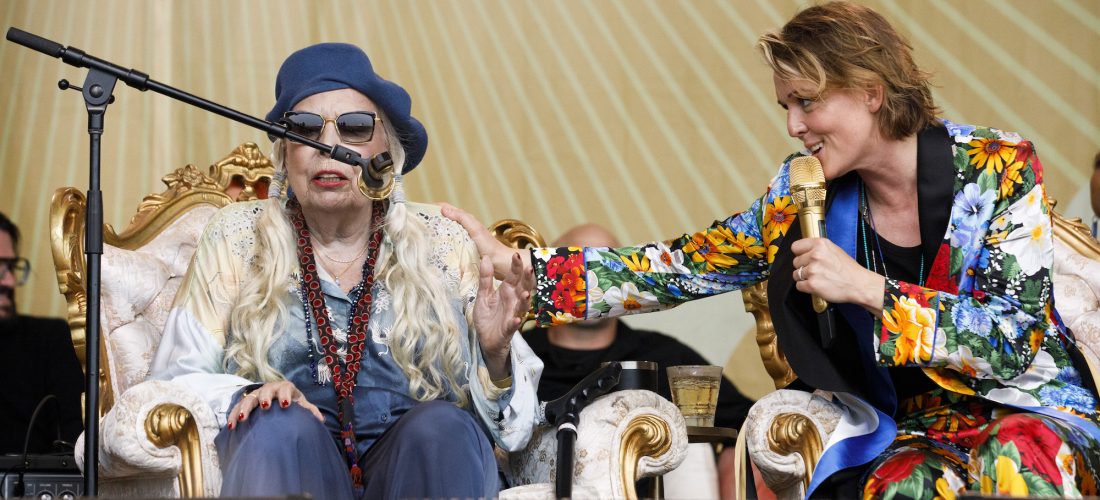 Joni Mitchell is releasing a live album of her comeback live performance at Newport Folk Festival last summer – watch her perform 'A Case Of You' with Brandi Carlile and Marcus Mumford below.
Last July, Mitchell performed a surprise set at the legendary music festival – which she last appeared at in 1969 – delivering a 13-song "JONI JAM" set that featured Carlile on the tracks 'Carey', 'A Case Of You' and 'Big Yellow Taxi'.
The new live album, titled 'At Newport: Featuring the Joni Jam', will be released on July 28, and the performance of 'A Case Of You' has now been shared online.
Advertisement
It comes ahead of a special 'Joni Jam' performance tonight (June 10) at the Gorge Amphitheatre in Washington state. It will be her first headline performance in 23 years.
Watch the performance of 'A Case Of You' from Newport below.
[embedded content]
Mitchell opened up about her endeavours to re-learn the guitar in a recent interview with CBS Mornings. She explained that her ability to play guitar was one of the skills she lost following her aneurysm, saying of her progress: "I'm learning. I'm looking at videos that are on the net, to see where to put my fingers.
"It's amazing… when you have an aneurysm, you don't know how to get into a chair. You don't know how to get out of bed. You have to learn all these things again. You're going back to infancy, almost."
Last year also saw Mitchell release the latest instalment of her archival release series: a box-set of her albums issued on Asylum Records between 1972 and 1975.