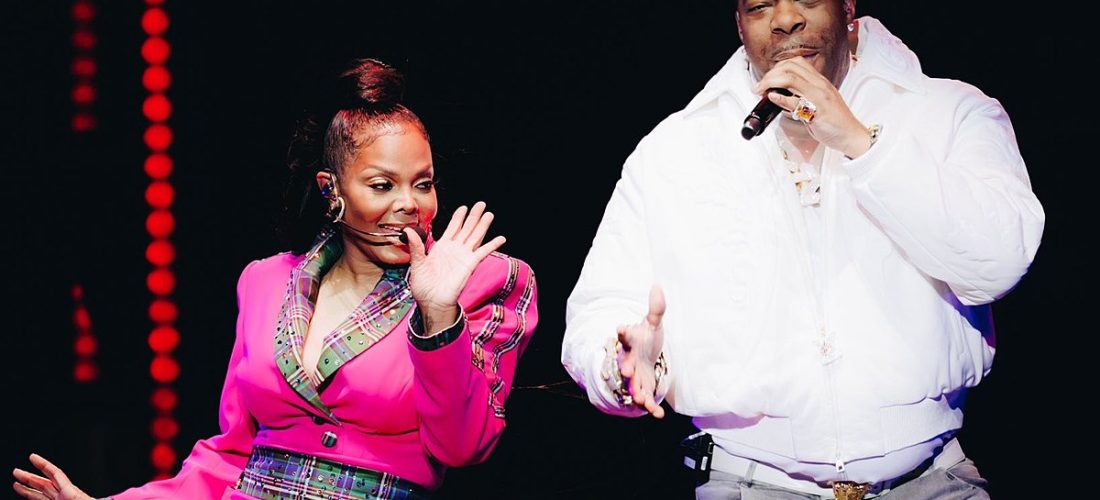 Janet Jackson's "Together Again" tour hit NYC this week with two nights at Madison Square Garden. The show is a celebration of "50 years … of me," presented in five acts, hitting many career highs and some deep cuts, too, with her single "Together Again" serving as a through-line across the whole thing: she performs three different versions of the song across the night.
Night 2 at MSG (5/9) featured a surprise guest: Busta Rhymes, who came out to perform their 1999 collab hit, "What's It Gonna Be?!" While Janet has performed this song on tour before, this was the first time she and Busta did it together. After a short rendition of the song, Busta took a moment to pay tribute to "Queen Janet," saying "I don't want to disrupt the program too much, but I brought some gifts for you, Queen," as a roadie wheeled out an enormous bouquet of flowers. Busta went on to say how the song came about, he heard Janet being interviewed on Hot 97. "Angie Martinez asked her, 'what rapper who you haven't worked with would you like to?' and she said 'Busta Rhymes'. Excuse my language but I almost crashed my fucking car!"
Busta also led the crowd in an early "Happy Birthday Janet Jackson" — she turns 15 on 5/16 — and then presented her with a birthday cake featuring images from the "What's It Gonna Be?!" video, which Busta noted remains one of the most expensive rap videos ever made. You can watch that very sweet moment and check out Janet's MSG Night 2 setlist below.
SETLIST: Janet Jackson @ MSG 5/9/2023
Damita Jo
Together Again (DJ Premier Remix)
Feedback
So Much Betta
If
No Sleeep
Got 'til It's Gone
That's the Way Love Goes
Enjoy
Act II
What Have You Done For Me Lately
Nasty
The Pleasure Principle
Because of Love
When I Think of You
Diamonds
The Best Things in Life Are Free
Control
When We Oooo
Together Again
Come Back to Me
Let's Wait Awhile
Again
Any Time, Any Place
I Get Lonely
Act III
Doesn't Really Matter
All for You
Come On Get Up
Throb
Girlfriend/Boyfriend
Do It 2 Me
What's It Gonna Be?! (with Busta Rhymes)
So Excited
Act IV
The Knowledge
Miss You Much
Love Will Never Do (Without You)
Alright
Escapade
Scream
Rhythm Nation
Encore:
Together Again