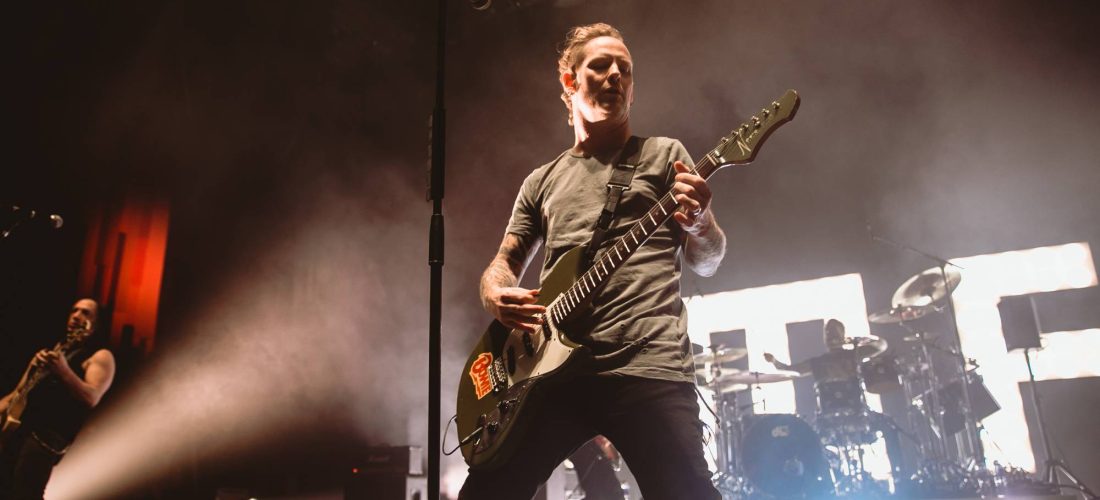 Corey Taylor has released a freakshow-inspired video for his new single 'Beyond' and has announced a release date for his upcoming LP 'CMF2'.
'Beyond' dates back to 2006 with Taylor knowing that the track was special yet never had the time to hone in on the song to bring it to its full potential.
"I originally wrote it as an aggressive romantic song, but I'm also looking at it now as a kind of 'come together' song. Bringing the masses together, and letting them know that I want my music to take them beyond what they may think about me," he shared in a press release.
Advertisement
[embedded content]
"Maybe they've had a misconception about me. It's not exactly a calling card, more like throwing the bat signal up and being 'alright, let's turn everything on its head.' It's almost a dual threat, because now I look at it from two standpoints," he added.
The accompanying video, directed by Dale 'Rage' Resteghini (Hatebreed, Five Finger Death Punch, Trivium), the video features Taylor trudging around the desert as a musing Uncle Sam. There are contortionists, fire breathers, and people dressed up as modern-day jesters.
The singer is seen intermingling with members of his solo band and the Cherry Bombs, all the while being surrounded by different versions of himself from through the years – before culminating in a live performance for a mass of fans in the round.
NEW SONG. NEW ALBUM. NEW TOUR.
 #CMF2 out September 15!

Watch the world premiere of "Beyond" now: https://t.co/sRpVU9eI7M pic.twitter.com/iGPvkd9MOR

— fuck your checkmark (@CoreyTaylorRock) May 16, 2023
'Beyond' is the first single off of Taylor's forthcoming second solo album 'CMF2' which is set for release on September 15 via Decibel Cooper/BMG. Speaking to NME about the LP, he promised that 'CMF2' is "going to be the best rock album of this year, and the next."
Advertisement
"I was really inspired by my band, but also the reaction that the first solo run had, where people leaned into everything," he continued. "They liked the acoustic stuff, they liked the heavy stuff, they liked the fun stuff. We wanted to make a hybrid thing, but not have it feel chaotic," he added.
'CMF2' follows his solo debut 'CMFT'. In a four star review of the album, NME said: "'CMFT' isn't the most profound or intense album Taylor has put his hand to, but it's certainly the most fun. He sounds in love with life, a man finally free of his darkness."
Taylor will also be embarking on a US headlining tour this summer from August 25 through October 7. Check out the dates on the tour poster and visit here for tickets.
Pre-sale tickets are live. 🔥 Use the code CMF2 to get early access to tickets before the general on-sale Friday: https://t.co/3ZFuXpRmyn pic.twitter.com/OfRVMpPtMW

— fuck your checkmark (@CoreyTaylorRock) May 16, 2023