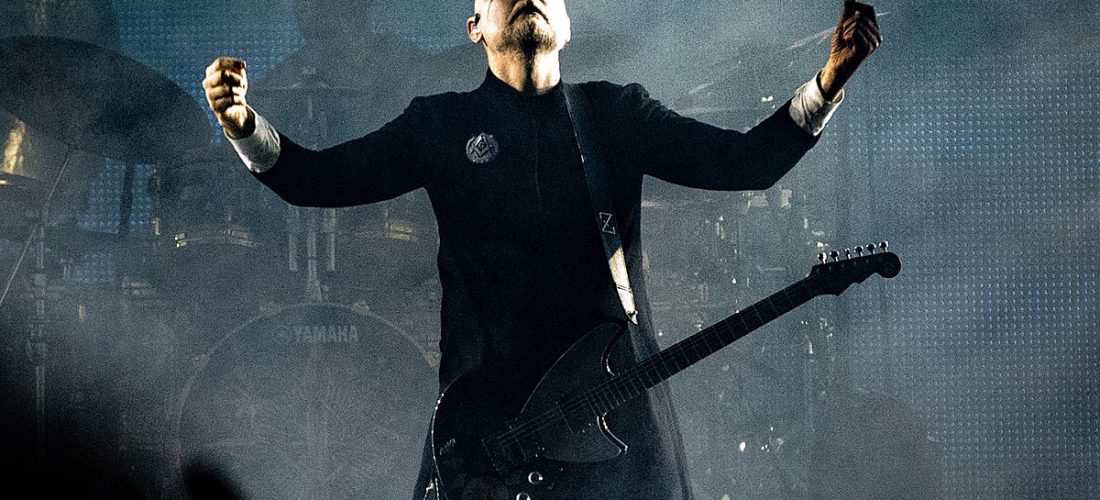 The Smashing Pumpkins released their triple-album rocker opera ATUM earlier this month , which they describe as a sequel to Mellon Collie And The Infinite Sadness and MACHINA/The Machines of God, and William Patrick Corgan (fka Billy Corgan) recently spoke with Zane Lowe at Apple Music 1 to discuss it. We already heard about him react to hearing Yeat for the first time during that interview, and turns out he said lots of other stuff too, including about Kurt Cobain:
When Kurt died, I cried because I lost my greatest opponent. I want to beat the best. I don't want to win the championship because it's just me and a bunch of gabronis, to use a wrestling term, it's like, Michael Jordan, arguably the greatest sports competitor I'll ever see in my lifetime? I mean, you want to talk about an alpha. That guy wanted to win the valet tip. You know what I mean?
Radiohead:
When Radiohead made the shift from, Hey, they sounded like every other UK alternative band with their song, we had very little respect for what they were doing because we just saw them as another band doing that. Enemy band. And even he had the Pompidou hair there and the whole thing when he made his pivot wisely so with his band to what they became, which is the great band, I found myself thinking he figured something out before you, which is, it's better to be this than the other thing. And at that moment when they started doing it, which was like 97? And what was interesting about that, and I'm now speaking about myself was I found myself flatfooted because I didn't see that coming, because I was so disconnected from what was happening because I'm on all these mega tours.

So credit, because really Radiohead figured out the world that was coming pretty much before every band on the planet, and they reaped the reward of that and did a lot of great work, in essence, anticipating this dissociative world… I was making for music for a world that was basically dead and dying, but I was the last to get the memo. So I really credit them with figuring that out. And I'm not saying I wanted to make laptop rock, but there's something pretty cool about figuring out that music was going to be more environmental and less standing on the beach with a cassette deck. But it's true.
Chino Moreno of Deftones:
I'd never met Chino in my life. And I go backstage to pay my respect to say hi. And as soon as I walk through the door, Chino looks at me, he goes, "Recognize some of the riffs?" Oh, Chino, man. The real deal.
and Amyl and The Sniffers:
I hear all the hype. "She's the new Iggy Pop. She's the female this, she's the blah blah blah." And I'm thinking, "I've heard this so many times." It doesn't mean I was doubtful, but I'll wait until I see with my own eyes. I looked at her for 10 seconds on stage and I said, "Holy mother of God. This is a true rockstar." Great band. And that's the power of rock and roll. So, somebody asked me after I saw them play, an interview, what do you think? And I said, "Wee, this is the problem with comparisons. There's only one of her. There's not… She's not anybody. That's why she's a star." There's a… We'll call it one of one. She's one of one. I think that's what people really are after. But we live in this business where it's like, "Sounds like…"
Billy also talked to Zane about Gen-X:
Gen X is definitely a lost generation, and now we're creating a new lost generation with forcing kids into all sorts of weirdnesses. But it is what it is. Gen X was the lost generation because our parents were too busy doing cocaine or yoga, and we were in the basement watching Gillian's Island with nobody. I mean, the amount of crazy stuff we did because there was nobody there to tell us no.
He also called for building a "great new America":
I think Illinois is up there with California with people fleeing the state. Chicago's obviously a big part. It's a shame, because I was born in Chicago. Look, we're here in Los Angeles. Los Angeles is struggling with its own issues with trying to assimilate, let's call it, the New America. I'm all for it. Let's build a great New America. But we're in that weird period that… England went through it. Australia's had its struggles. New Zealand. Every country has that moment where you got to go forgive the sins of the past. Anyway, we don't need to go down all those rabbit holes.
Watch video of the interview below.
Billy also makes a cameo appearance on The Muppets Mayhem, the new Disney series featuring Muppet band Dr. Teeth and the Electric Mayhem, which premiered last week. (Billy's in the first episode.) See a behind-the-scenes photo below.