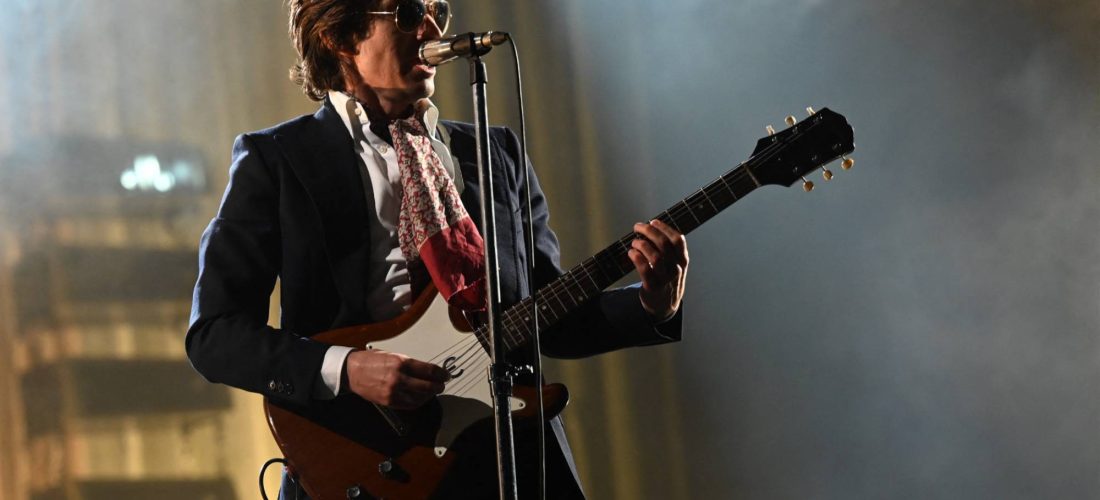 Arctic Monkeys have opened their Sheffield homecoming gig with 'A Certain Romance' from their 2006 album 'Whatever People Say I Am, That's What I'm Not.'
It's the song's first outing on their current tour, and the first time the band have played the song together in full since 2018.
The gig is the first of two homecoming events for the Arctic Monkeys at Hillsborough Park; the band last played their hometown five years ago.
Advertisement
Elsewhere in the show, the band did a cover of John Cooper Clarke's 'I Wanna Be Yours'.
You can see images, footage and reaction from the gig, along with the full setlist, below:
Arctic Monkeys playing 'A Certain Romance' tonight in Sheffield ?

— The Rock Revival (@TheRockRevival_) June 9, 2023
a certain romance – arctic monkeys in sheffield ?pic.twitter.com/Qd7a7IUnd0

— arctic monkeys archive (@arcticmolnkeys) June 9, 2023
#arcticmonkeys what gig unbelievable in Sheffield tonight pic.twitter.com/2YCy1ldDIf

— westhuller (@westhuller68) June 9, 2023
some more footage of arctic monkeys performing "a certain romance" in sheffield tonight pic.twitter.com/aJY4kRDDAC

— c ⏣ ⚭ (@tlspmusic) June 9, 2023
I fucking love Sheffield. Honestly, fucking love it ❤️#arcticmonkeys pic.twitter.com/jvoHy0jTD8

— Chris Holt (@HoltChris) June 9, 2023
Advertisement
Nah the Arctic Monkeys kicked things off with a certain romance, absolutely iconic scenes in Sheffield! ?

— Jamie Whitehurst (@jwhitehurst1989) June 9, 2023
AM starting with A Certain Romance in Sheffield ? Had a feeling they would #arcticmonkeys #arcticmonkeystour

— Andy Baber (@andybab3r) June 9, 2023
Sheffield setlist in full:
'A Certain Romance'
'Brianstorm'
'Snap Out of It'
'Don't Sit Down 'Cause I've Moved Your Chair'
'Crying Lightning'
'Teddy Picker'
'Four Out of Five'
'Why'd You Only Call Me When You're High?'
'Arabella'
'Sculptures of Anything Goes'
'Cornerstone'
'Fluorescent Adolescent'
'Perfect Sense'
'Do I Wanna Know?'
'Mardy Bum'
'There'd Better Be a Mirrorball'
'505'
'Body Paint'
Encore:
'I Wanna Be Yours' (John Cooper Clarke cover)
'I Bet You Look Good on the Dancefloor'
'R U Mine?'
Following another gig in their Sheffield hometown tomorrow (June 10), the band will head to Swansea, Southampton and London. For the latter, they will play three shows at Emirates Stadium on June 16, 17 and 18, before then moving through to Ireland. You can find any remaining tickets here.
The band are also headlining Glastonbury later this month alongside Guns N Roses and Elton John. 
Arctic Monkeys released their latest LP, 'The Car', to critical acclaim last year — following on from their 2018 LP, 'Tranquility Base Hotel & Casino'. In a five-star review, NME praised the band for the precise songwriting in the album, as well as their innovative ideas.
"The band 'pick up where they left off' on 2018's 'Tranquility Base Hotel & Casino'," it read. "Their masterful – and divisive – collection that traded razor-sharp riffs and stadium-sized choruses for loungey space-pop, obfuscating characters and a shady lounge lizard persona for frontman Alex Turner."