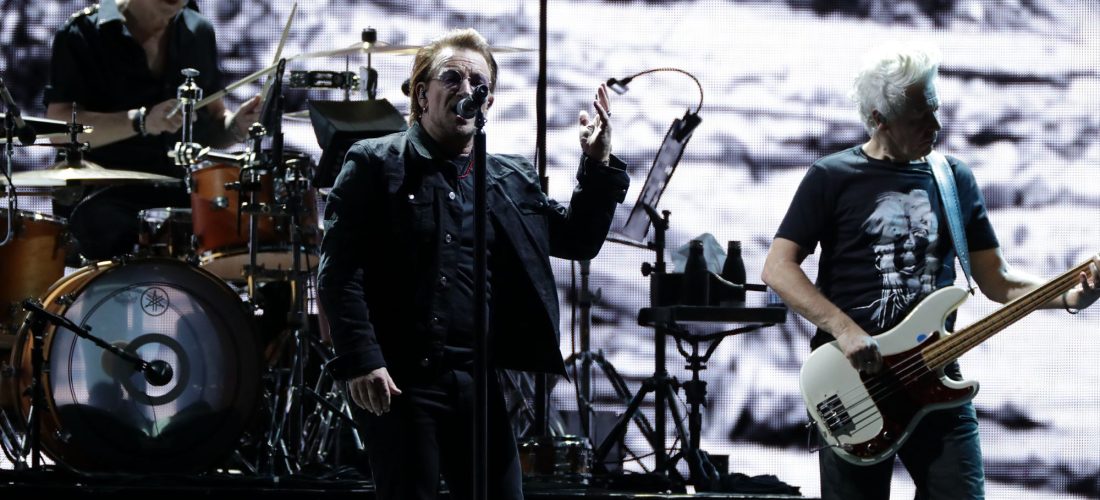 Yesterday (April 24), U2 announced the dates for their Las Vegas residency at the new Sphere performance venue, where they will perform 'Achtung Baby' in full.
Speaking to Apple Music's Zane Lowe, the band's Bono and The Edge took him an on exclusive tour of the venue, sharing several key details about the Sphere, noting that it was built specifically for live performances and the arts, rather than a typical arena that's built for sports.
Bono said to Lowe: "Most music, over playing a theater, most music venues are sports venues. They're stadiums, they're arenas. They're built for sports. They're not built for music, they're not built for art. So this building was built for immersive experiences in cinema and performance. It was not built for [sports], you can't come here and see an ice hockey game."
Advertisement
[embedded content]
He added: "There are no speakers. The entire building is a speaker. So wherever you are, you have perfect sound is the plan," while Edge chipped in to add "There's nothing else like it in the world and won't be for many, many years."
The Edge went on to explain how the building will redefine immersive sound and live performances moving forward: "So what this has been designed to achieve is completely immersive sound. So you've got the main array of speakers is above our heads, but throughout the entire building are speakers that are focused so that you have the capability of placing the audience inside a whole 360 degree sonic spectrum."
"This can do that kind of Atmos mixing in a live context, which has never ever been possible before. So not only is the visual side of it groundbreaking, but the audio side of it is again, cutting edge," he added.
However, as revolutionary as the Sphere may be, it will not replace touring for U2, with Bono telling Zane Lowe: "We're not touring 'Achtung Baby' anyway. So, with 'The Joshua Tree', we took that album around the world. This will only be here."
The Edge added: "Touring itself is not over. Don't forget it's 18,000 to 20,000 people a night, so it's not like you're not going to be doing a hundred shows."
Advertisement
U2 will perform five shows at the Sphere between late September and early October. Fans will need to be U2.com subscribers or register for Ticketmaster's Verified Fan scheme in order to obtain tickets due to high demand. You can register for the pre-sale here – registering will close at 3pm BST on Wednesday (April 26) and the pre-sale will take place the following day (April 27).
U2 will be playing the follow dates on their 'Achtung Baby: Live At Sphere' residency:
SEPTEMBER
29 – Las Vegas, Sphere at The Venetian
30 – Las Vegas, Sphere at The Venetian
OCTOBER
5 – Las Vegas, Sphere at The Venetian
7 – Las Vegas, Sphere at The Venetian
8 – Las Vegas, Sphere at The Venetian