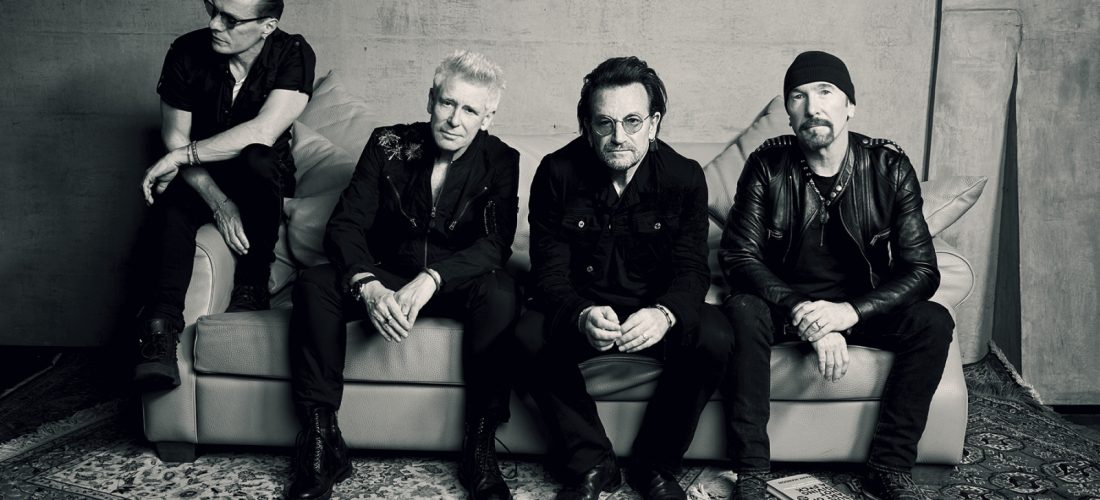 "This is a song of surrender," Bono ad-libs on a low-key, acoustic version of U2's 1984 epic "Bad," one of many highlights from their fascinating new album, Songs of Surrender. Instead of the massive, impossibly moving showstopper about young heroin deaths that floored Live Aid nearly 40 years ago, "Bad" here becomes an acoustic ballad, complete with delicate cello and wildly different lyrics that transform the song into a meditation about giving in to the passage of time and the loss and resignation that comes with that process.
That sense of looking back and taking stock is all over Songs of Surrender, on which the band offers stripped-down, usually acoustic renditions of songs from throughout their career. The 16-song, single-CD version is a kind of alternative-history greatest hits; the expanded edition packs in 40 tunes (including, yes, "40"), divided into four, 10-song sections, one for each band member.
Overseen by the Edge with producer Bob Ezrin, the results reverse a key U2 idea: the band that originally built its legend by taking Seventies post-punk out of the club and into the stadium … goes small, stripping back songs to their bare essence, slowing them down and often rewriting them. This is U2 for the coffeehouse. You can imagine them playing "Sunday Bloody Sunday" or "Whose Gonna Ride Your Wild Horses?" in the corner of a small room, only to be surprised when Bono's voice finds fresh power.
U2 have been interested in the concept of surrender for a long time — after all, "I Will Follow," their first classic song, way back in 1980, was a ripping anthem of spiritual submission. And their most recent albums, 2014's Songs of Innocence and 2017's Songs of Experience, have included meditations on their past. 
"I Still Haven't Found What I'm Looking For" feels like the closest to old-home week, with Brian Eno and Daniel Lanios, the band's frequent production team, contributing backing vocals. But elsewhere, songs get brand-new frames. "The Fly," a brilliant, quasi-industrial song from 1991's Achtung Baby about men being idiots, pulses with a new, slinky energy, while "Until the End of the World," one of their most explicitly Christian songs, takes on a new intimacy. Elsewhere, "Stuck in a Moment You Can't Get Out," a tribute to the band's friend the late MIcahel Hutchence from 2000s All That You Can't Leave Behind, becomes even more moving in its new less sky-bound form.
This a particularly interesting album for Bono and the Edge. Bono's singing has changed radically over the years, as he's found new vocal ranges, more often going for the croon than the belt. Songs like "One" and "Vertigo" are a showcase for that more pliant instrument. But it's the Edge who feels most triumphant here. Over the years, he has sometimes been the victim of accusations that U2 tunes rely a little too much on his simple melodies and a dazzling array of guitar effects. On Songs of Surrender, he reminds you these are sturdy songs that can be rethought without any sonic window dressing.
That sense of U2 as a band of wide-screen studio sound painters was the topic of a conversation between the Edge and Bob Dylan back in the Eighties. As Edge recalled, "I once said to Bob Dylan, 'People are going to be playing your songs for thousands of years.' He said, 'Man, they're going to be listening to your songs too. It's just no one's going to know how to play them.'" This album shows how universal and accessible the simple act of sitting down and playing a U2 song can be.