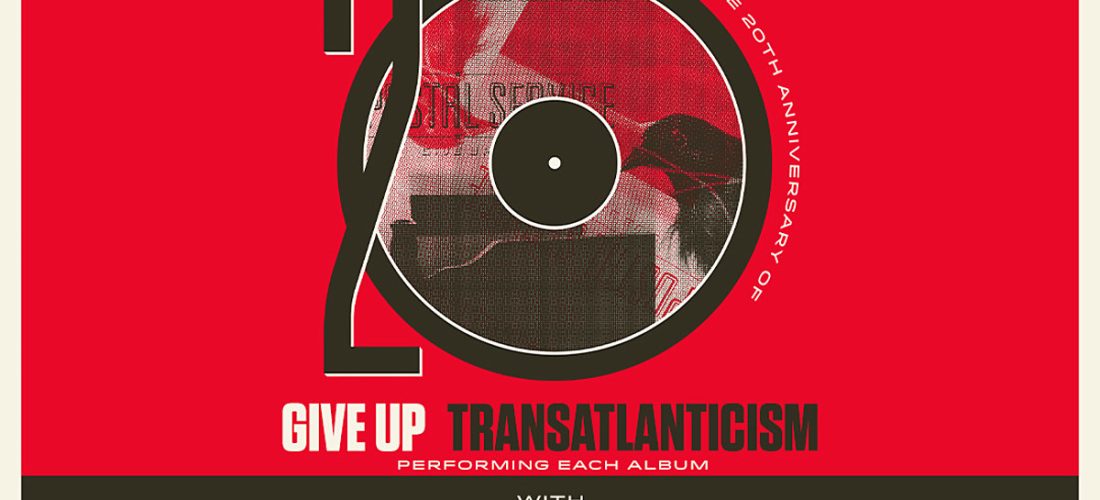 Here's a roundup of recent tour news. Check the Tour Dates category for more.
THE POSTAL SERVICE / DEATH CAB FOR CUTIE
The Postal Service and Death Cab for Cutie's upcoming co-headline tour — celebrating the 20th anniversary of Give Up and Transatlanticism — has added a new date at the Santa Barbara Bowl on October 14. The tour hits NYC for two Madison Square Garden shows on September 19 & 20. All dates are here.
U2:UV ACHTUNG BABY @ SPHERE
U2 are now playing a total of 25 shows at new cutting-edge, high-tech Las Vegas venue the Sphere this fall.
BELLY
Tanya Donelly's band Belly are playing a few shows this fall and have added second dates in Boston (The Paradise on 10/4) and NYC (Gramercy Theatre on 10/8). The Parkington Sisters will open all fall dates.
MY MORNING JACKET
My Morning Jacket will celebrate the 20th anniversary of their third album, 2003's It Still Moves, by playing it in full at select dates of their new fall tour.
ROSE CITY BAND
Rose City Band, the twangy, tastefully noodly solo project of Ripley Johnson (Moon Duo, Wooden Shjips), have announced a summer tour supporting their terrific new album Garden Party.
G EAZY
Oakland rapper G Eazy has announced shows at NYC's Webster Hall on June 13 and Chicago's Vic Theatre on June 15. He'll also play Bethlehem, PA's Musikfest on August 5.
ZOPA (MICHAEL IMPERIOLI)
Zopa, the band led by Sopranos actor Michael Imperioli, have a couple hometown shows on the horizon: Elsewhere Rooftop on June 28 with Dolly Spartans, and The Rockaway Hotel on July 15.
DESTROY BOYS
Fresh off playing Coachella, Destroy Boys announced they'd be opening West Coast and South West dates on the blink-182 / Turnstile tour, and they've announced headlining dates happening after that. That includes two DestroyFest (" a new traveling festival with some of our favorite bands") nights in NYC and Chicago with Gully Boys, Destructo Disk, Jigsaw Youth, and more.
TURNPIKE TROUBADOURS
Back-in-action alt-country greats Turnpike Troubadours have added more dates to the tour in support of their first album in six years.
BONNAROO
Bonnaroo returns for its 2023 edition on June 15-18 in Manchester, TN, and they've announced this year's set times.
MILWAUKEE METALFEST
Milwaukee Metal Fest is returning for its first edition in years this Memorial Day Weekend, on May 26-28 at The Rave / Eagles Club, and they've revealed this year's set times.
NEVER ENDING GAME
Never Ending Game play a VFW hall in NJ this month and they announced a short tour with Gridiron, including Long Island's Amityville Music Hall on July 1 with Killing Pace, Scarab, and Balmora.
FW3 FEST
FW3 Fest happens August 4 & 5 in Idyllwild, CA with a lineup that includes Caroline Polachek, CFCF, Helado Negro, Mary Lattimore, Nick Hakim, Nosaj Thing & Jacques Green, The Dare, Yves Tumor and more. Head here for details and tickets.
DENZEL CURRY
Denzel Curry was scheduled to play special live band shows at NYC's Blue Note Jazz Club on May 16 and 17, but those have been postponed as he's contracted Covid.
DROM30 FEST
Indie label Dromedary Records turns 30 this year and to celebrate, they're throwing a three-day "indie rock celebration" titled Drom30 The fest features tons of '90s era bands, many of whom have not performed live in a very long time. The lineup includes Lotion, Antietam, Jenny Toomey & Friends, Sleepyhead, Feelies-related bands Yung Wu and Speed the Plough, Monsterland, Flower, The Mommyheads, Cathedral Ceiling, Joy Cleaner and more.
—
Check our Tour Dates category for more.