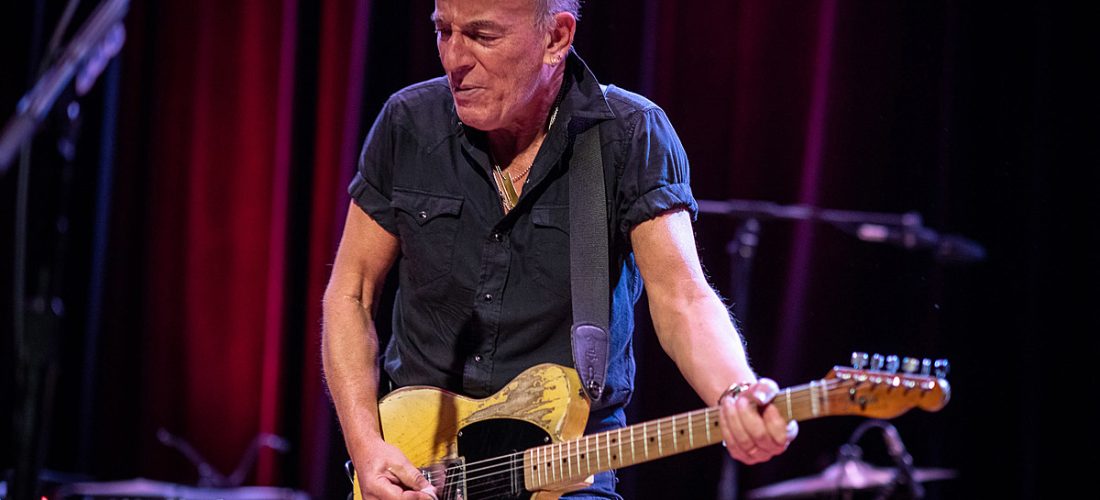 Here's a roundup of recent tour news. Check the Tour Dates category for more.
BRUCE SPRINGSTEEN AND THE E STREET BAND
Bruce Springsteen & The E Street Band has added a couple more shows to their upcoming tour: a second night in Foxborough, MA, on August 26 at Gillette Stadium, and a new show in San Diego, CA, on December 2 at Pechanga Arena.
LOVE AND ROCKETS
The reunited Love And Rockets have added a second show in Portland, OR, during their upcoming West Coast tour. The added date is May 27 at Roseland Theater. Tickets go on sale Friday (3/24) at 10am.
MISFITS
Misfits have announced a tour with their original lineup, with dates alongside Megadeth, AFI, The Gaslight Anthem, and Fear.
PETER GABRIEL
Peter Gabriel announced his massive i/o world tour recently, and now he's added 13 new dates to the end of the North American leg, including shows in Buffalo, Cleveland, Milwaukee, Palm Springs, Houston, and more.
PET SYMMETRY / RETIREMENT PARTY / CAMP TRASH
Pet Symmetry have announced a 10th anniversary tour with support from Retirement Party and Camp Trash. Pet Symmetry promise they will play Two Songs About Cars, Two Songs With Long Titles in full — yes, all two songs of that release and hopefully more — at all 10 stops. The tour comes to Brooklyn on May 23 at St. Vitus. All dates are here.
LOLLAPALOOZA 2023
Longtime Chicago fest Lollapalooza has announced its 2023 lineup, going down August 3-6 at Grant Park with headliners Kendrick Lamar, Billie Eilish, Red Hot Chili Peppers, ODESZA, Lana Del Rey, Karol G, The 1975, and Tomorrow x Together, and many, many more acts.
WEEN
Ween have announced their most extensive tour since they reunited in 2016 with dates spanning the US all summer long.
MUDVAYNE / GWAR / etc
Nu metal vets Mudvayne have announced their first headlining tour in over 14 years, which they've dubbed The Psychotherapy Sessions, and one of the support slots comes from none other than GWAR. Also along for the ride: Coal Chamber, Nonpoint, and Butcher Babies. The tour stops in the NYC area on July 28 at Jones Beach. All dates are here.
ELSEWHERE ROOFTOP
Elsewhere has released the initial 2023 lineup for its Rooftop this summer, including shows by Jamesjamesjames, Jessy Lanza, Hailu Mergia, Widowspeak, Black Rave Culture, Kornél Kovács, and more. Full list is here.
THE STRING CHEESE INCIDENT
Jam band vets The String Cheese Incident have announced their 2023 Colorado Incidents: July 11, 12 at Dillon Amphitheater and then July 14, 15, 16 at Red Rocks Amphitheatre. For the Red Rocks shows they'll be joined by John Fogerty (Night 1), Kitchen Dwellers (Night 2) and Thievery Corporation (Night 3). Ahead of those shows, they've got dates in April and May. Head here for all dates and tickets
BULLY
In addition to her upcoming dates with Pixies and Franz Ferdinand, Bully has announced a new headlining tour/a> this summer supporting her just-announced album Lucky For You.
TAKING MEDS
Local punks Taking Meds will be on tour in the coming months alongside Somerset Thrower, Superheaven, Glitterer, Narrow Head, GEL, MSPAINT, Peace Test, Dog Breath, Ridgeway, and LURK on various dates.
QUINNIE
NJ singer/songwriter Quinnie, who had a hit on TikTok with last year's "touch tank," will be touring this spring.
JAY & SILENT BOB PRESENT CRUISE ASKEW
Kevin Smith has announced the Jay and Silent Bob Present Cruise Askew, a Norwegian cruise from Miami to Nassau, Bahamas, in February 2024. Kevin will be joined by Jay & Silent Bob partner Jason Mewes and a cast of characters from the View Askewniverse and more.
LESS THAN JAKE
Less Than Jake announced the "Welcome To Rockview" tour celebrating the 25th anniversary of Hello Rockview. Direct support comes from Voodoo Glow Skulls and The Toasters on the two legs, with rotating openers Pink Spiders, Spring Heeled Jack, Devon Kay & The Solutions (who just announced an EP), and Venomous Pinks.
GZA
Wu-tang Clan's GZA has a few more shows coming up where he'll be backed by full band Phunky Nomads, and playing music from Liquid Swords. In NYC GZA will be joined by Roy Ayers and Big Daddy Kane.
BICEP
Belfast electronic duo BICEP have North American dates surrounding festival appearances at Osheaga and Hard LA.
JESSE MALIN
Jesse Malin has announced a tour celebrating the 20th anniversary of his debut solo album, The Fine Art of Self Destruction. US dates start June 15 in Pittsburgh and wind around the lower 48 before wrapping up July 15 in Ardmore, PA.
HEART ATTACK MAN / ARM'S LENGTH / SUPER AMERICAN / PHOTOCOPY
Heart Attack Man have announced a tour celebrating their upcoming album Freak Of Nature with support from Arm's Length, Super American, and Photocopy. The tour runs May-July and includes two NYC-area dates.
GREG PUCIATO / ESCUELA GRIND / DEAF CLUB/TRACE AMOUNT
Ex-Dillinger Escape Plan frontman Greg Puciato has announced his first-ever solo North American tour with support from Escuela Grind (who we loved at SXSW), Deaf Club, and Trace Amount. The tour supports Greg's 2022 album Mirrorcell.
SHYGIRL
Shygirl's headlining tour kicked off this month and continues through April.