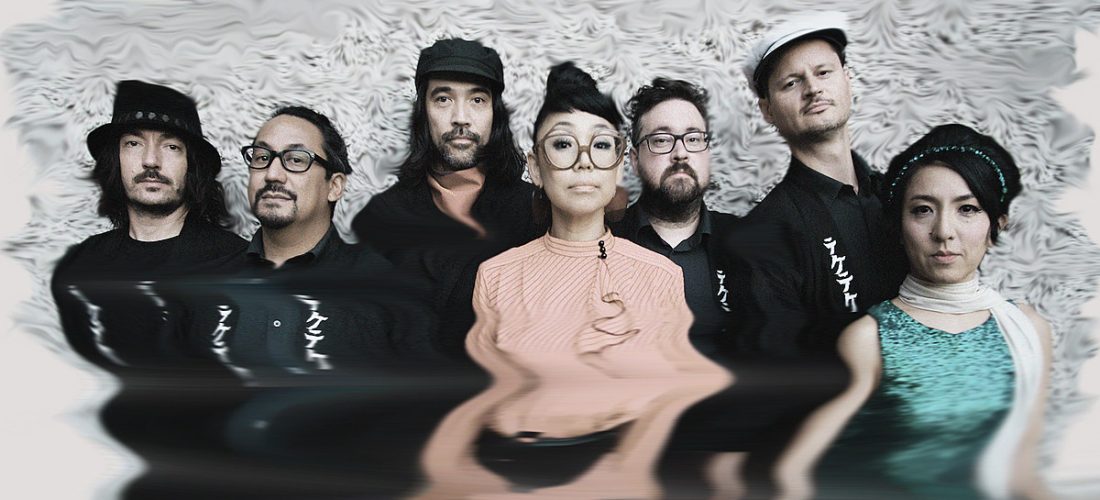 Montreal-based Japanese psych-rock band TEKE::TEKE have announced a new album, Hagata, which will be out June 9 via Kill Rock Stars. "'Hagata' is a very deep word, something present but also something leftover from someone or something no longer there," says singer Maya Kuroki. "It's like waking up from a dream, or being connected to the other side." Check out the artwork and tracklist below.
The album opens with "Garakuta," which mixes elements of traditional Japanese music with doomy riffage and comes with an animated video by vocalist Kuroki and guitarist Sei Nakauchi Pelletier. "It's a sort of anthemic song for the rebellion of wastes," says Kuroki. "I imagined a world where everything we throw out came back to protest… And I'm not necessarily only thinking from an environmental perspective, it is rather an analogy for anything or anybody that is cast out of society because they are considered useless by the norm." You can watch the video below.
In March, TEKE::TEKE will open for Unwound in NYC (3/12 at Irving Plaza) and Philadelphia (3/15 at Union Transfer), and also have appearances at Boise's Treefort Festival and Iowa City's Mission Creek Festival. They're terrific live, go see them if they play near you. All dates are listed below.
Hagata:
1. Garakuta
2. Gotoku Lemon
3. Hoppe
4. Onaji Heya
5. Me No Heya
6. Doppelganger
7. Setagaya Koya
8. Kaikijyu
9. Yurei Zanmai
10. Jinzou Maria
TEKE::TEKE – 2023 Live Dates:
March 12 New York, NY @ Irving Plaza*
March 15 Philadelphia @ Union Transfer*
March 24-25 Boise, Idaho @ Treefort Music Fest
April 8 Iowa City, Iowa @ Mission Creek Festival
Sept 2 Manchester, UK @ Manchester Psych Fest
Sept 3 Dorset, UK @ End of the Road Fest
* – Supporting Unwound