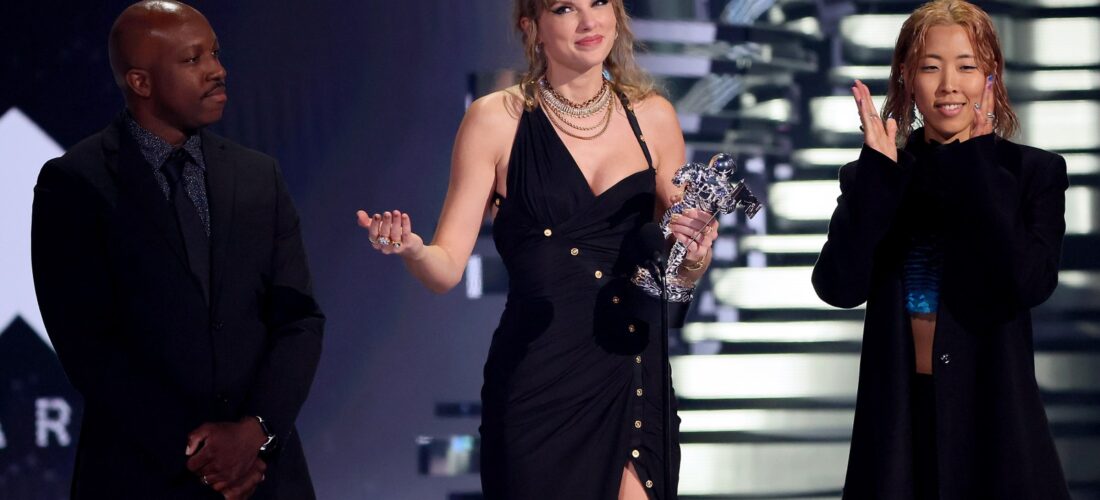 Taylor Swift enjoyed a monumental, history-making night at the 2023 MTV Video Music Awards, tying for most wins in one night with an impressive nine trophies — and now second-most overall wins. 
Swift's entered the night with 14 VMAs, as well as the most nominations for 2023 with eleven. Her haul Tuesday night brought her total to 23. That took her past Madonna, who has 20, and sat her right behind Beyonce, who has a grand total of 26 solo wins, including the 2014 Video Vanguard award. Swift's nine wins were in the categories: Video of the Year, Aritst of the Year, Song of the Year, Best Pop, Best Direction, Best Cinematography, Best Visual Effects, Show of the Summer, and Album of the Year.
Her win for Video of the Year also marks an unprecedented fourth time taking home the award.
"OK. This is unbelievable," Swift told the crowd when she accepted the Video of the Year Award. "This is… I just want to say that the fact that this is a fan-voted award means so much to me based on the memories that we've made recently."
"I've just been on a tour that has been the most joyful and exhilarating experience," she said. "And we're not even halfway done with it. It's really felt like the adventure of a lifetime this past year. I cannot believe that it was a year ago at the VMAs that I announced the Midnights album. And all I have to say tonight is thank you. I'm blown away. Thank you so much to the fans. I love you so much."
Swift's record-setting night came after she also made history last year, becoming the first artist to win Video of the Year three times (to further mark the occasion, it was at this moment that Swift decided to announce her smash album Midnights). Swift won her first Video of the Year prize in 2015 for "Bad Blood," her second in 2019 for "You Need to Calm Down," and last year for All Too Well: The Short Film. 
Outside cleaning up at the VMAs, Swift is enjoying a relatively quiet period after wrapping up the monumental first leg of her Eras Tour last month. She's set to return to the road in November with a run of shows in South America, after which she'll spend most of 2024 playing Asia, Australia, New Zealand, Europe, and the U.K. She'll then return to North America next fall for a final string of concerts.
Swift has a few things planned before she gets back on stage, though. First, she'll release her Eras Tour concert film on Oct. 13, which has already broken pre-sale ticket records and caused a couple of movies — Exorcist: Believer and Meg Ryan's What Happens Later — to push back their own release dates. Then, on Oct. 27, she'll release her latest re-record, 1989 (Taylor's Version). In a tweet announcing the new LP, Swift called it her "favorite re-record I've ever done because the 5 From The Vault tracks are so insane" (no word yet on what those tracks will be, but it's obviously hard to doubt her).