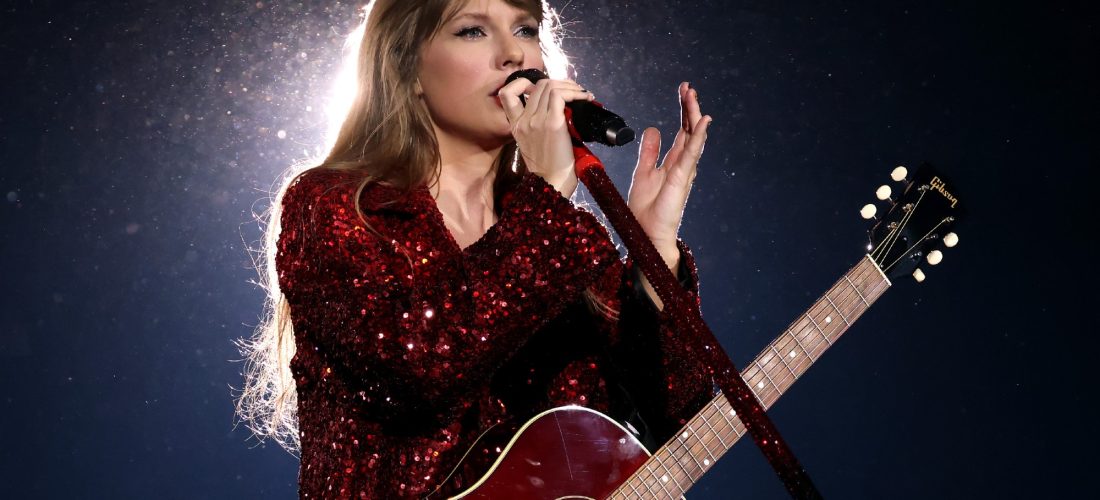 Addison Davis, the Superintendent of the Hillsborough public schools district in Tampa, Florida, has issued a letter of caution to fans thinking of skipping school to attend upcoming Taylor Swift concerts in the city.
The letter, which was uploaded onto Taylor Swift's reddit page earlier this week, sees Davis incorporate several of Swift's song titles into it his warning. Notably, Davis does not caution his students against attending the shows, he just advises that they do not skip school on Friday after attending Thursday's gig. Davis' note begins: "There's a 'Delicate' situation we must discuss. Are you… 'Ready For It'?"
"I understand there is a rather big concert taking place in Tampa this Thursday, Friday and Saturday," alluding to Swift three shows in the city this weekend, "In my 'Wildest Dreams' I never thought I'd be sending a communication saying this, however, 'This Is Me Trying' to be the best Superintendent I can be without creating any 'Bad Blood' between myself and our amazing students".
Advertisement
Other portions of the letter read: "Under no circumstance will Friday be an excused absence because you were having an 'Enchanted' evening under the 'Starlight' at Raymond James Stadium. I understand I am the 'Anti-Hero' here, and 'Call It What You Want', but 'You're On Your Own Kid' if you think being a Swiftie is a good excuse for missing important instruction".
Read the full note below.
Superintendent's letter to the students before the Tampa concert
by u/mycatsnameisarya in TaylorSwift
Taylor Swift is set to perform for three consecutive nights at the Raymond James Stadium in Tampa, Florida from April 13 to 15 as part of her ongoing 'Eras' tour. The tour kicked off on March 17 and will run all the way until August 9, where she will close the US leg of the tour with a whopping five shows at the SoFi Stadium in California.
Swift recently revealed that she hopes to play different surprise songs on every date of the tour, as well as requests made by Jack Antonoff and Gracie Abrams. Thus far, the shows have been notable for sporting mammoth 44-song setlists.
At one of her recent shows in Las Vegas, Swift was joined by Marcus Mumford to perform their 'Evermore' collab 'Cowboy Like Me'. Across some of the other dates, she responded to a letter from a seven-year-old fan in the audience, and dedicated 'Our Song' to support act Beabadoobee. A couple also got married mid-show at her second show in Glendale, Arizona.
Advertisement
Meanwhile, Swift has quietly made "generous" donations  to local food banks in the cities where she performed thus far.
Check out the list of Taylor Swift's remaining 'Eras' tour dates below. 
APRIL 2023
13 – Raymond James Stadium, Tampa, Florida
14 – Raymond James Stadium, Tampa, Florida
15 – Raymond James Stadium, Tampa, Florida
21 – NRG Stadium, Houston, Texas 
22 – NRG Stadium, Houston, Texas
23 – NRG Stadium, Houston, Texas 
28 – Mercedes-Benz Stadium, Atlanta, Georgia
29 – Mercedes-Benz Stadium, Atlanta, Georgia
30 – Mercedes-Benz Stadium, Atlanta, Georgia

MAY 2023
5 – Nissan Stadium, Nashville, Tennessee
6 – Nissan Stadium, Nashville, Tennessee
7 – Nissan Stadium, Nashville, Tennessee 
12 – Lincoln Financial Field, Philadelphia, Pennsylvania
13 – Lincoln Financial Field, Philadelphia, Pennsylvania
14 – Lincoln Financial Field, Philadelphia, Pennsylvania
19 – Gillette Stadium, Foxborough, Massachusetts
20 – Gillette Stadium, Foxborough, Massachusetts
21 – Gillette Stadium, Foxborough, Massachusetts
26 – MetLife Stadium, East Rutherford, New Jersey
27 – MetLife Stadium, East Rutherford, New Jersey
28 – MetLife Stadium, East Rutherford, New Jersey

JUNE 2023
2 – Soldier Field, Chicago, Illinois 
3 – Soldier Field, Chicago, Illinois
4 – Soldier Field, Chicago, Illinois
9 – Ford Field, Detroit, Michigan 
10 – Ford Field, Detroit, Michigan
16 – Acrisure Stadium, Pittsburgh, Pennsylvania 
17 – Acrisure Stadium, Pittsburgh, Pennsylvania
23 – U.S. Bank Stadium, Minneapolis, Minnesota 
24 – U.S. Bank Stadium, Minneapolis, Minnesota
30 – Paycor Stadium, Cincinnati, Ohio

JULY 2023
1 – Paycor Stadium, Cincinnati, Ohio
7 – GEHA Field at Arrrowhead Stadium, Kansas City, Missouri 
8 – GEHA Field at Arrrowhead Stadium, Kansas City, Missouri
14 – Empower Field at Mile High, Denver, Colorado 
15 – Empower Field at Mile High, Denver, Colorado
22 – Lumen Field, Seattle, Washington
23 – Lumen Field, Seattle, Washington
28 – Levi's Stadium, Santa Clara, California
29 – Levi's Stadium, Santa Clara, California
AUGUST 2023
3 – SoFi Stadium, Los Angeles, California
4 – SoFi Stadium, Los Angeles, California
5 – SoFi Stadium, Los Angeles, California
8 – SoFi Stadium, Los Angeles, California
9 – SoFi Stadium, Los Angeles, California