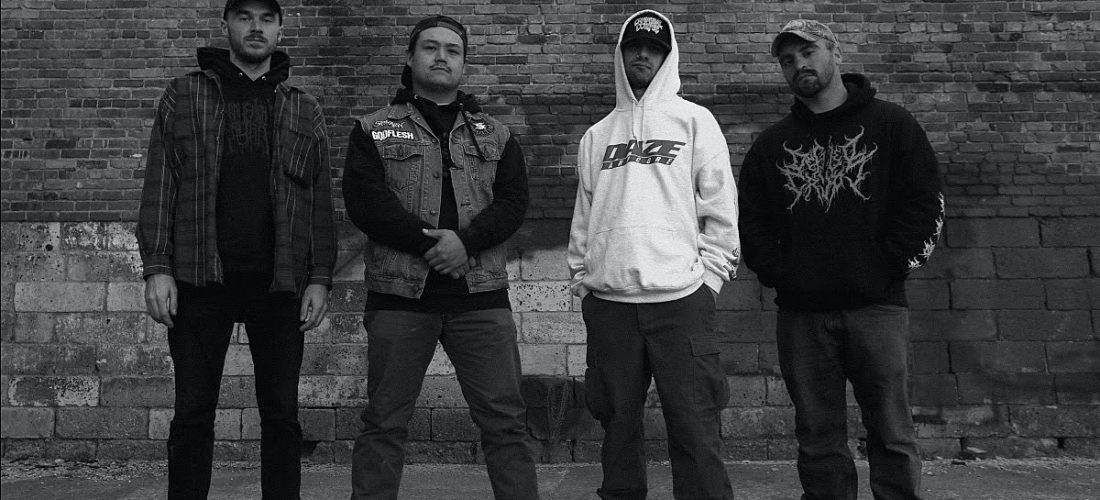 Ohio death metallers Sanguisugabogg have announced a headlining tour with a stacked support lineup, including Kruelty, Vomit Forth, and Gates To Hell. The tour surrounds Sanguisugabogg and Kruelty's appearances at Sound & Fury. Tickets for the tour go on sale Friday, May 5, at 10am.
The tour ends with shows in Asbury Park, Amityville, Hartford, and Albany. Those all have additional support from Deadbody, the newer band of Taylor and Colin Young (of the back-in-action Twitching Tongues). All dates below. Sanguisugabogg also play NYC's Necrofest in June.
Deadbody and Vomit Forth are both on our best metal albums of 2022 list, while Sanguisugabogg and Kruelty released great new albums this year, with Homicidal Ecstasy and Untopia, respectively.
Gates To Hell recently signed to Maggot Stomp, and prior to the Sanguisugabogg tour, they'll be on the road with Omerta and Moodring, which includes a NYC stop on June 16 at The Meadows.
Sanguisugabogg/Kruelty/Vomit Forth/Gates To Hell — 2023 Tour Dates
07/11 Pittsburgh, PA @ Preserving Underground *
07/12 Cleveland, OH @ The Foundry *
07/13 Cincinnati, OH @ Legends Bar & Venue *
07/14 Louisville, KY @ Portal *
07/15 Nashville, TN @ The End *
07/16 St Louis, MO @ Red Flag *
07/18 Iowa City, IA @ Wildwood
07/19 Fargo, ND @ The Aquarium
07/20 Winnipeg, MB @ Park Theatre
07/21 Saskatoon, SK @ Black Cat Tavern
07/22 Edmonton, AB @ Starlight Temple
07/23 Calgary, AB @ Dickens
07/25 Spokane, WA @ The District Bar
07/27 Reno, NV @ The Holland Project
07/28 Fresno, CA @ Full Corcle Brewery
07/29 Berkeley, CA @ Cornerstone
07/30 Los Angeles, CA @ Sound and Fury
07/31 Las Vegas, NV @ Eagle Aerie Hall
08/03 Baton Rouge, LA @ Chelsea's Live
08/04 Pensacola, FL @ The Handlebar
08/05 Orlando, FL @ The Conduit
08/06 Jacksonville, FL @ 1904 Music Hall
08/08 Columbia, SC @ New Brookland Tavern
08/09 Durham, NC @ Motorco Music Hall
08/10 Asbury Park, NJ @ House of Independents ^
08/11 Amityville, NY @ Amityville Music Hall ^
08/12 Hartford, CT @ Webster Underground ^
08/13 Albany, NY @ Empire Underground ^
* w/ Deterioration
^ w/ Deadbody