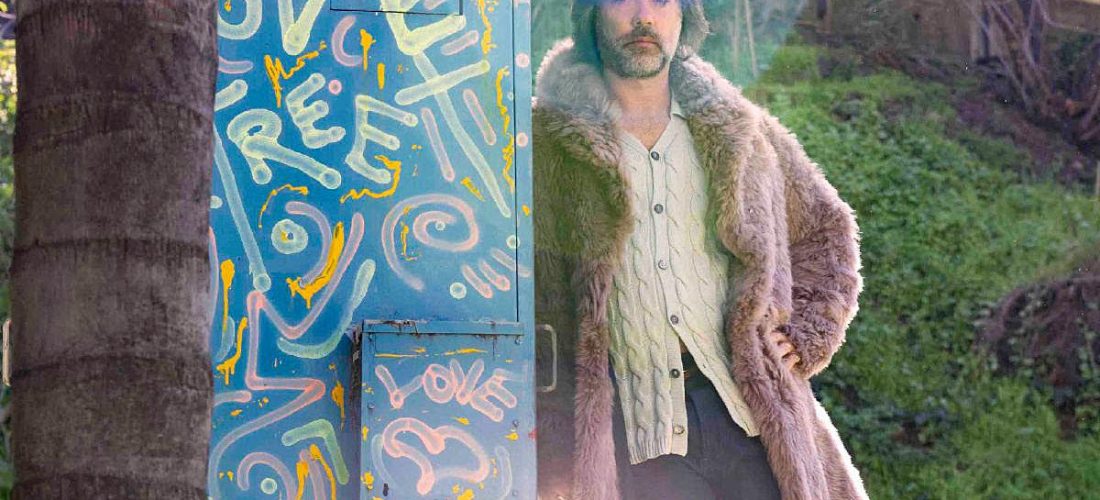 Rufus Wainwright has announced Folkocracy, a new folk album with a packed guest list celebrating his 50th birthday, coming on June 2 via BMG. "This album is almost like a recorded birthday party and birthday present to myself," says Rufus. "I just invited all the singers that I greatly admire and always wanted to sing with." Those artists include John Legend, Chaka Khan, Madison Cunningham, Sheryl Crow, Andrew Bird, ANOHNI, David Byrne, Nicole Scherzinger, sisters Martha Wainwright and Lucy Wainwright Roche, and more. Check out the artwork and full tracklist below.
Folkocracy's first single is "Down In The Willow Garden," a traditional folk ballad — some might know if from the Coen Bros' Raising Arizona — featuring Brandi Carlile harmonizing in lock-step with Rufus over sparse guitar. "Singing with Rufus feels like watching birds swirl around together instinctively in flight," Brandi shared. Rufus added, "Brandi I see a lot, often with Joni Mitchell. I chose us a cheery little number – not! The song is so blatantly brutal and masochistic that I had to sing it with a woman. Sadly, we still live in a violent world. The amazing thing about so many folk songs is that, content wise, they sound very contemporary. Think of the gun crime in the States right now." Listen to "Down In The Willow Garden" below.
Rufus has also announced dates for a sprawling tour supporting the album with a six-piece backing band, as well as a handful of solo shows and a special chamber orchestra concert at Stanford University. The Folkocracy tour also celebrates the 25th anniversary of Rufus's self-titled debut album and the 20th anniversary of Want One. All announced dates are listed below.
Rufus performs in NYC this week for sold-out all-star LOVE ROCKS NYC benefit at Beacon Theatre, and he'll be back for a residency at Cafe Carlyle from May 16-20 where he will be paying tribute to Kurt Weill. "Kurt Weill is a huge influence on my work," Rufus says. "He is maybe one of the few musicians who I can relate to the most in terms of combining pop music with an operatic sensibility, the profane with the divine. He is a melodist through and through as I would call myself as well. I discovered his music in my teens as it should be: Through his wife Lotte Lenya."
Folkocracy Tracklist
1. Alone (Feat. Madison Cunningham)
2. Heading for Home (Feat. John Legend)
3. Twelve-Thirty (Young Girls Are Coming To The Canyon) (Feat. Susanna Hoffs, Chris Stills & Sheryl Crow)
4. Down in the Willow Garden (Feat. Brandi Carlile)
5. Shenandoah
6. Nacht und Träume
7. Harvest (Feat. Andrew Bird & Chris Stills)
8. Going to a Town (Feat. ANOHNI)
9. High on a Rocky Ledge (Feat. David Byrne)
10. Kaulana Na Pua (Feat. Nicole Scherzinger)
11. Hush Little Baby (Feat. Martha Wainwright & Lucy Wainwright Roche)
12. Black Gold (Feat. Van Dyke Parks)
13. Cotton Eyed Joe (Feat. Chaka Khan)
14. Arthur McBridge
15. Wild Mountain Thyme (Feat. Anna McGarrigle, Chaim Tannenbaum, Lily Lanken, Lucy Wainwright Roche, & Martha Wainwright)
Rufus Wainwright — 2023 Tour Dates
3/9 – New York, NY – LOVE ROCKS NYC @ The Beacon Theatre (SOLD OUT)
3/31 – Healdsburg, CA – Little Saint * (SOLD OUT)
4/1 – Stanford, CA – Bing Concert Hall †
4/14 – A Coruña, Spain – Teatro Colón * (SOLD OUT)
4/15 – Elx, Spain – Gran Teatre D'Elx *
4/17 – Sevilla, Spain – Teatro De La Maestranza *
4/19 – València, Spain – Palau De Les Arts Reina Sofia *
4/21 – Murcia, Spain – Teatro Circo Murcia *
4/22 – Girona, Spain – Auditori Palau De Congressos De Girona *
4/29 – Cheltenham, UK – Cheltenham Jazz Festival 2023 *
5/3 – Boston, MA – City Winery Boston (Early Show) *
5/3 – Boston, MA – City Winery Boston (Late Show) *
5/4 – Northampton, MA – BOMBYX Center For Arts & Equity *
5/6 – Provincetown, MA – Provincetown Town Hall *
5/16 – New York, NY – Café Carlyle ^
5/17 – New York, NY – Café Carlyle ^
5/18 – New York, NY – Café Carlyle ^
5/19 – New York, NY – Café Carlyle ^
5/20 – New York, NY – Café Carlyle ^
6/2 – Los Angeles, CA – Walt Disney Concert Hall **
6/3 – Monterey, CA – Golden State Theater **
6/4 – Napa, CA – Silverado Resort **
6/24 – Vienna, VA – Out & About Festival **
6/25 – Red Bank, NJ – Count Basie Theatre **
6/27 – Ridgefield, CT – Ridgefield Playhouse **
6/29 – Morristown, NJ – Mayo Performing Arts Center **
6/30 – Portsmouth, NH – The Music Hall **
7/1 – Bar Harbor, ME – Criterion Theatre **
7/6-9 – Winnipeg, MB – Winnipeg Folk Festival **
7/7-9 – Mariposa, ON – Mariposa Folk Festival **
7/16 – Beacon, NY – Towne Crier *
7/25 – Madrid, ES – Universal Music Festival Teatro Real **
7/27-30 – Cambridge, UK – Cambridge Folk Festival 2023 **
* Solo Performance
† "Celebrating Stanford Live's Next Decade" w/Chamber Orchestra
^ "Wainwright Does Weill"
** Folkocracy Tour w/Six-Piece Backing Band