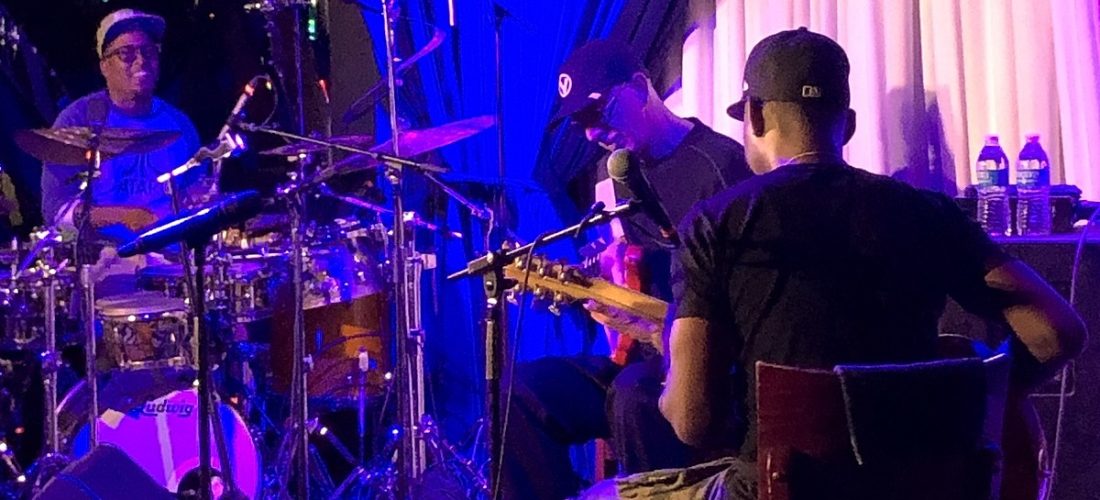 The trio of drummer Chris Dave, bassist Pino Palladino, and guitarist Isaiah Sharkey came to NYC's Blue Note Jazz Club for a run that kicked off on Tuesday (4/18) and wraps up tonight (4/23) with two shows a night, making for 12 shows total. It's a trio of three impeccable musicians with world-class résumés. Pino has been an in-demand session musician since the 1980s, having played with Elton John, The Who, Gary Numan, David Gilmour, Phil Collins, Erykah Badu, Nine Inch Nails, and so many others, and he recently released the acclaimed Notes With Attachments with Blake Mills. Chris Dave drummed on that album, and he's also Robert Glasper's longtime drummer, the leader of his band The Drumhedz, and more. Isaiah also has his own project, he played on the last Drumhedz album, and he's played with Anderson .Paak, Ronald Isley, Brittany Howard, Common, and others. All three of them played on D'Angelo's Black Messiah and were in D'Angelo's touring band for that album, and they've collaborated live in other incarnations too, including with Robert Glasper at the Blue Note last year.
I caught the 8 PM show on Saturday night (4/22), and the trio played a set that was mesmerizing from start to finish, and impossible to pin down. Chris Dave has an incredibly unique drum setup, with different snares and floor toms on either side of his kit, bongos in the middle above the kickdrum, various cut-up and re-shaped cymbals, all kinds of auxiliary percussion, and at least one of his drums seemed to be mic'd with delay, and more, and his style is truly something else. He has extreme control, and a very creative approach to playing with which he commanded the crowd all night. Isaiah shook things up too, with loops and effect pedals that made for so much sound manipulation and a lot more range than you'd expect from an individual guitarist, and he's a real shredder, but in a way that's always artistic and never show-offy. Pino's setup seemed a little more straightforward, but he's a beast and it was a thrill to watch him play and hold down the low end all night.
Stylistically, the trio's set could never be pinned down. There was fusion, hip hop, psychedelia, funk, soul, and so much more. There were parts where the trio locked in and had the whole crowd swaying or nodding their heads, and parts that seemed improvisational or leaned avant-garde. They played some of their own material (Chris Dave's "Whatever" was a highlight) and incorporated other artists' compositions as well, oftentimes mashing up three or four songs in one sitting. Isaiah sang one song, but the set was primarily instrumental and there were no guests. Not that they needed any–the trio kept the whole room engaged from start to finish.
Isaiah Sharkey will be back at the Blue Note playing alongside Ronnie Foster on Monday (4/24). Check out the Blue Note's full upcoming schedule here. Also coming up is the Blue Note Jazz Festival in May at June and multiple NYC venues.
Check out some videos from the trio's run below…