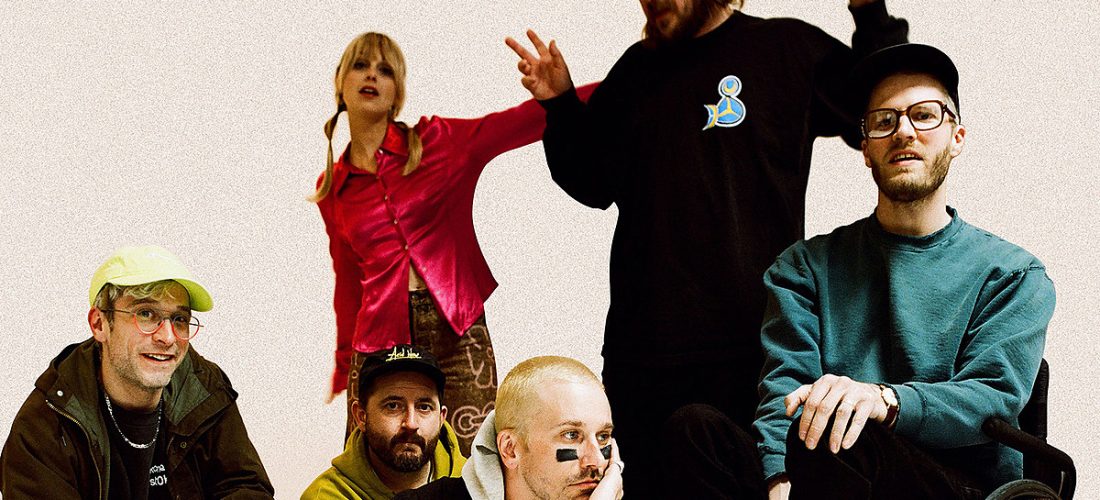 Portugal. The Man have announced their long-awaited new album, Chris Black Changed My Life, due out June 23 via Atlantic. It's the follow-up to 2017's Woodstock and dedicated to their late friend Chris Black, who sometimes acted as their hype man at shows. The album was produced by Jeff Bhasker, and some songs, including "Thunderdome [W.T.A]," "Summer of Luv," "Time's a Fantasy," "Champ," and "Anxiety:Clarity" have TBA guest features; stay tuned. See the cover art and tracklist below.
The first official single is "Dummy," and you can watch the accompanying video, starring new honorary bandmember Tank Dog, below. "Worried about the impending nuclear war? 'Dummy' is an ode to The Cure," John Gourley says. "For all those hopeless doomers out there waxing poetic on the end times while dancing to Boys Don't Cry. All my troubles seem so far away. Thank you for waiting, it feels good to be back!"
Portugal. The Man have also announced a few shows this summer, beginning with Bonnaroo and including their Hollywood Bowl show with Chicano Batman and Say She She. See all dates below.
The NYC show is at Radio City Music Hall on July 27, with Thee Sacred Souls. Tickets go on sale Friday, March 10 at 10 AM, with various presales starting Wednesday, March 8 at 10 AM.
PORTUGAL. THE MAN – CHRIS BLACK CHANGED MY LIFE TRACKLIST:
Heavy Games II (feat Jeff Bhasker)
Grim Generation
Thunderdome [W.T.A] (feat. ** & **)
Dummy
Summer of Luv (feat. **)
Ghost Town
Time's a Fantasy (feat. ** & **)
Doubt
Plastic Island
Champ (feat. **)
Anxiety:Clarity (feat. **)
PORTUGAL. THE MAN: 2023 TOUR
6/16 – Manchester, TN @ Bonnaroo
7/20 – Portland, OR @ Edgefield
7/23 – Morrison, CO @ Red Rocks Amphitheatre
7/27 – New York, NY @ Radio City Music Hall
8/6 – Los Angeles, CA @ Hollywood Bowl