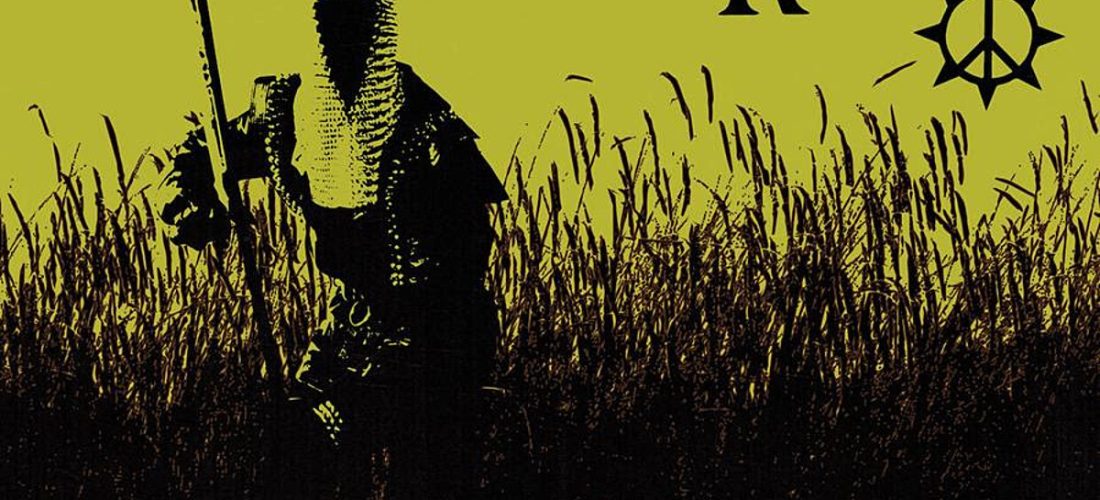 Pulling equal influence from deathrock and Wipers, Philly band Poison Ruïn have an appealingly dark, raw sound, and they're gearing up to make their Relapse Records debut with their new album Harvest, which is out April 14. The band have just shared a new song from that, "Resurrection II," that comes with a black and white video that is sympatico with their enigmatic, creepy album art and plays like a medieval horror film directed by Ingmar Bergman.
"I've always found fantasy tropes to be incredibly evocative," says vocalist/guitarist Mac Kennedy. "That said, even though they are a set of symbols that seem to speak to most people of our generation, they are often either apolitical or co-opted for incredibly backwards politics." Watch the video below.
Poison Ruin are on tour now and will be hitting Austin next week for SXSW, including Day 2 of the FREE BrooklynVegan x Resound SXSW Lost Weekend day parties at Empire on Thursday, March 16 (RSVP) that's with Portrayal of Guilt, Protomartyr and more.
The band's tour hits Brooklyn on April 15 at Meadows with Puffer, Invertebrates and Suffocating Madness. All date are listed below.
Härvest:
01 – Pinnacle of Ecstasy
02 – Tome of Illusion
03 – Torture Chamber
04 – Härvest (Official Music Video)
05 – Frozen Blood
06 – Resurrection I
07 – Resurrection II (Official Music Video)
08 – Augur Die
09 – Blighted Quarter
10 – Bastard's Dance
11 – Slowly Through the Dark
Poison Ruin- 2023 Tour Dates:
Mar 09: Tulsa, OK – Whittier Bar
Mar 10: Albuquerque, NM – Sister
Mar 11: Tempe, AZ – The Beast
Mar 14 – 18: Austin, TX – SXSW
Tue, Mar 14 – 2:00 PM: SESAC/HFA/Rumblefish @ Side Bar
Tue, Mar 14 – 9:45 PM: @ Hotel Vegas
Thu, Mar 16 – 2:45pm: Brooklyn Vegan @ Empire
Fri, Mar 17 – 2:00 PM: Creem @ Chess Club
Fri, Mar 17 – 4:30 PM: Post Trash @ Hole in the Wall
Fri, Mar 17 – 10:00 PM: SXSW Official Showcase @ Chess Club
Apr 13: Philadelphia, PA – Johnny Brenda's
Apr 15: Brooklyn, NY – Meadows
Apr 18: Antwerp, BE – Antwerp Music City
Apr 19: Tilburg, NL – Roadburn
Apr 20: Hamburg, DE – Komet
Apr 21: Leipzig, DE – ZxRx
Apr 22: Berlin, DE – Urban Spree
Apr 23: Prague, CZ – Underdogs Ballroom
Apr 25: Vienna, AT – Venster99
Apr 26: Linz, AT – Kapu
Apr 27: Zagreb, HR – Attack!
Apr 28: Bologna, IT – DEV
Apr 29: Parma, IT – Splinter Club
Apr 30: Innsbruk, AT – PMK
May 02: Geneve, CH – La Makhno
May 03: Marseille, FR – Molotov
May 04: Bilbao, ES – El Nido
May 05: Madrid, ES – Wurlitzer Ballroom
May 06: Barcelona, ES – Sala Vol
May 07: Toulouse, FR – Le Ravelin
May 09: Bristol, UK – Crown
May 10: Manchester, UK – The Gulliver
May 11: Glasgow, UK – The Old Hairdressers
May 12: Newcastle, UK – The Lubber Fiend
May 13: London, UK – New River Studios
May 14: Portsmouth, UK – The Loft
May 16: Paris, FR – Le Klub
May 17: Kortrijk, BE – The Pits
May 18: Nijmegen, NL – De Onderbroek
May 19: Nurnberg, DE – Projekt 31
May 20: Dresden, DE – Over The Edge
May 21: Weimar, DE – Gerber 3