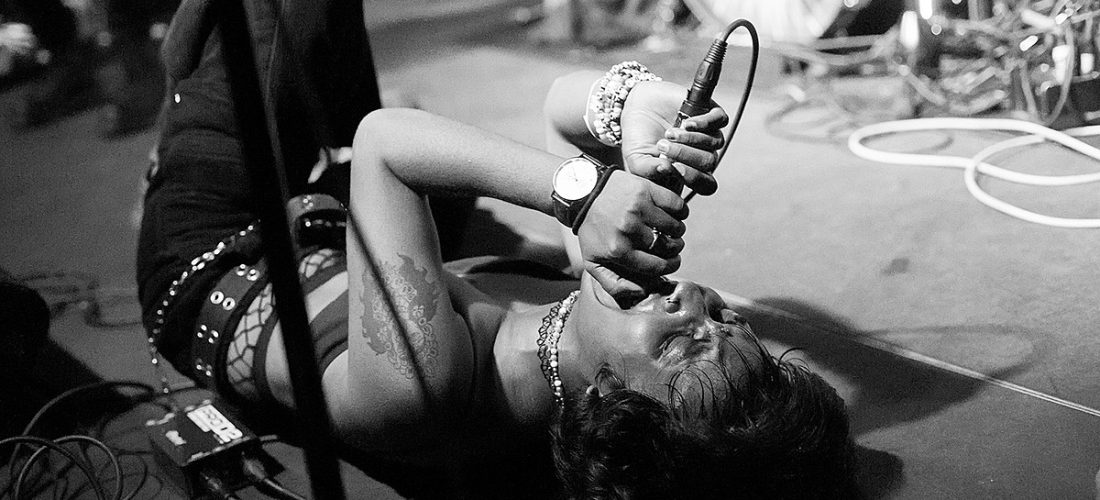 Ahead of their tour with Origami Angel and Sweet Pill, Pinkshift have released a new single, "To Me," their first new song since their great 2022 debut LP Love Me Forever. Like the last LP, it was produced by Will Yip, and it's a slowed-down song that finds Pinkshift really leaning into their grungy side–some Siamese Dream vibes on this one. It's also the band's first love song, as singer Ashrita Kumar explains:
Love is a powerful form of energy that is not just given or taken, but flows endlessly and connects us all. 'To me' speaks to the indestructibility of such an energy, and what it feels like to hold love close to your heart and with those around you. It is a realization that despite everything that is difficult, to be truly loved is to love ourselves.
Check it out below.
The tour with Origami Angel and Sweet Pill hits NYC on 4/22 at Le Poisson Rouge, which is sold out. All dates are listed below.
Origami Angel also released a new song this week.
ORIGAMI ANGEL / PINKSHIFT / SWEET PILL: 2023 TOUR
Thu, APR 20 House Of Independents Asbury Park, NJ (no Pinkshift)
Fri, APR 21 Palladium Upstairs Worcester, MA
Sat, APR 22 Le Poisson Rouge New York, NY
Mon, APR 24 Rec Room Buffalo, NY
Tue, APR 25 Ace of Cups Columbus, OH
Thu, APR 27 Michigan State University Grand Rapids, MI
Fri, APR 28 X-Ray Arcade Milwuakee, WI
Sat, APR 29 The Garage Burnsville , MN
Sun, APR 30 Gabes Iowa City, IA
Tue, MAY 2 Black Sheep Colorado Springs, CO
Thu, MAY 4 24 Oxford Las Vegas, NV
Fri, MAY 5 Observatory Santa Ana, CA
Sat, MAY 6 El Rey Theatre Los Angeles, CA
Tue, MAY 9 Club Congress Tucson , AZ
Wed, MAY 10 Launchpad Albuquerque, NM
Fri, MAY 12 Paper Tiger San Antonio, TX
Sat, MAY 13 Warehouse Live Houston, TX
Mon, MAY 15 40-Watt Athens, GA
Tue, MAY 16 New Brookland Tavern West Columbia, SC
Wed, MAY 17 Amos Southend Charlotte, NC
Fri, MAY 19 The Bunker Brewpub & Cadence Hall Virginia Beach, VA
Sat, MAY 20 Baltimore Soundstage Baltimore, MD