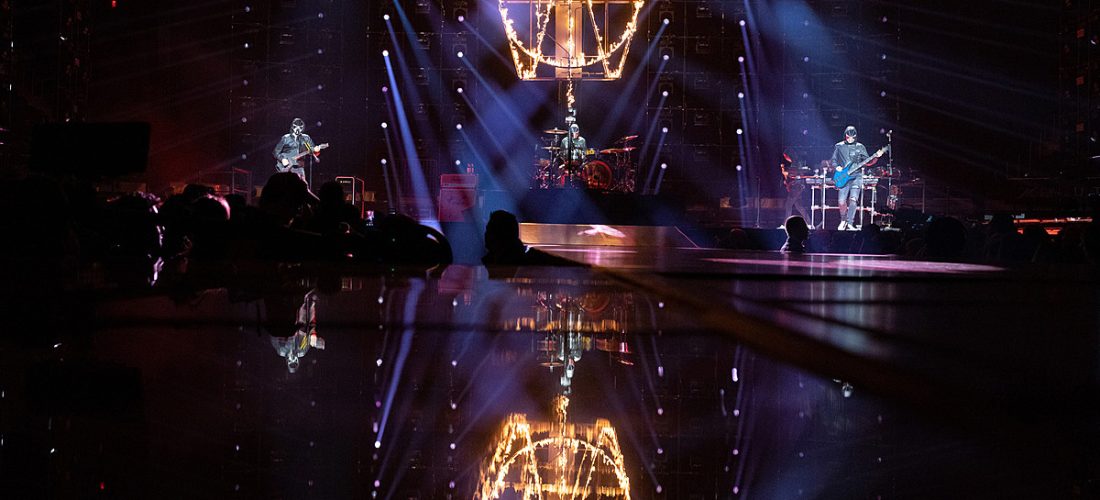 I don't think I will ever forget Muse's show at Madison Square Garden on Friday night, as it has been seared into my retinas. Lasers, strobes, fire. I can still see it when I close my eyes.
There's nothing subtle about Muse, who've been dishing out a mix of Queen, AC/DC, Radiohead, George Orwell, dark web conspiracy theories and pure bombast for 25 years. Last year's Will of the People is a distillation of everything they do — supermassive riffs, operatic prog, electro-glam, swaying anthems — all wrapped up in more dystopian hoo-ha. It's amazing they never had a song called "Won't Stand Down" before 2022. Not counting the plot of the Will of the People tour production, involving a number of elaborate, expensive-looking cut scenes (one with parkour!) that allow for major set changes, it all makes sense in the context of Muse's current, totally bananas live show. Songs like "Hysteria," "Madness," "Bliss" and "Uprising" were custom made for arenas, as streamers and confetti rain down over the audience who are singing along the whole time.
A slightly less complicated show than the Drones tour, it was nonetheless a perfectly bonkers backing as Muse blasted out their high-octane rock. A runway connected the main stage and smaller stage in the middle of the floor, allowing for a lot of running around and kooky spotlight moments like when frontman Matt Bellamy played a glowing keyboard that was stitched into the sleeve of his jacket, or when bassist Chris Wolstenholme came out to play Ennio Morricone's "Man With a Harmonica" as the intro for their Spaghetti Western epic "Knights of Cydonia" that closed the night with a literal bang. So much pyro.
There were also six massive mirrors, rimmed with LEDs that floated and moved above the stage that helped reflect all those lasers into the crowd, and were really effective, visually. Less effective, but still fun, were the giant (inflatable) figures that loomed behind them for most of the show, first a hooded figure with a mirrored mask (the band opened the show wearing these masks, too) and then later a demonic centaur. Bellamy played a guitar solo on the shoulder of the former at one point. Streamers shot out over the whole room early in the show, and then confetti a few songs later. There was never a lack of things to look at.
Or listen to, of course. You don't get to play arenas on pure spectacle alone, and hits like "Supermassive Black Hole," "Hysteria," "Madness," "Bliss," and "Time is Running Out" all sounded gargantuan in MSG at maximum volume, and though I have less familiarity with their more recent material than their '00s-era work, the crowd was there for all of it, singing along to Will of The People tracks like "Won't Stand Down," "Compliance" and the title track just as loud as everything else. New songs were also among the night's highlights: the Daft Punk/Justice-y "You Make Me Feel Like It's Halloween" is a jam, and the thrashy "We Are Fucking Fucked" closed out their main set with more fire and lasers.
After various set changes many showstoppers that would be any other band's closer, Muse closed out the two-hour set with "Kill or Be Killed," that at times resembles a metal version of Echo & the Bunnymen's "The Killing Moon," and then of course their most bonkers song, "Knights of Cydonia," that cleared out the cannons and left the room shellshocked and smiling. Who wants subtle at a Muse show?
The Will of the People tour also has gothy rockers Evanescence and Japanese band ONE OK ROCK, both of whom I missed due to trains, technical difficulties and dilly-dallying on my part. Photographer David Andrako didn't miss them, though, and you can check out out pictures from the whole night, along with videos and setlist, below.
SETLIST: Muse @ Madison Square Garden 3/17/2023
Will of the People
Interlude
Hysteria
Psycho
Bliss
Won't Stand Down
Compliance
Thought Contagion
Verona
Time Is Running Out
The 2nd Law: Isolated System
Resistance
You Make Me Feel Like It's Halloween
Madness
We Are Fucking Fucked
The Dark Side
Supermassive Black Hole
Plug In Baby
Behold, the Glove
Uprising
Prelude
Starlight
Encore:
Kill or Be Killed
Knights of Cydonia