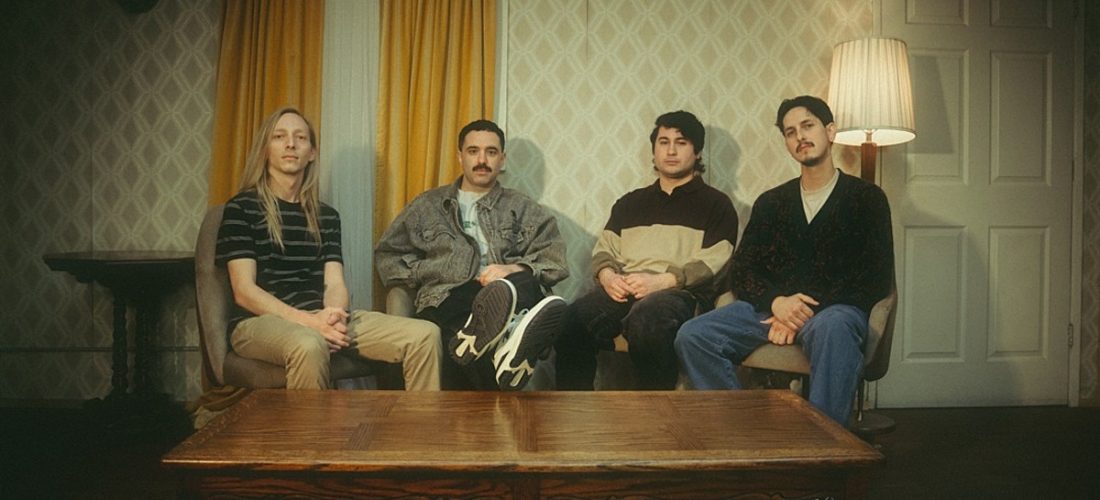 Southern California post-hardcore band Movements have announced their third album, Ruckus!, due August 18 via Fearless Records. It was produced by longtime collaborator Will Yip, and it features recent singles "Killing Time" and "Lead Pipe," as well as the just-released "Fail You." It's an anthemic post-hardcore/alt-rock anthem and here's what vocalist Patrick Miranda says about the new song:
"Fail You" has all the inner workings of a classic Movements track wrapped up in a shiny new package and served with a newer, more modern Movements sound. It's a song about the fear of letting someone down and losing someone you love — reliving the mistakes over and over again and being haunted by all of your wrongdoings. Fans of both the new and old sounds will find something to love with this one.
Check out the videos for all three singles below. We've also got an exclusive half black/half custard vinyl variant of the new album, limited to just 500 copies. Pre-order yours while they last. Here's a mock-up:
After the album is out, Movements will support the album on a tour with Mannequin Pussy, Softcult, and Heart To Gold. That's a pretty awesome four-band bill, and all dates are listed below.
The tour hits NYC on September 27 at Brooklyn Steel.
Tracklist
"You're One Of Us Now"
"Killing Time"
"Lead Pipe"
"Heaven Sent"
"Tightrope"
"I Hope Your Choke!"
"Fail You"
"A.M.P."
"Dance With Death"
"Coeur D'Alene"
Movements / Mannequin Pussy / Softcult / Heart To Gold — 2023 Tour Dates
9/7 — Los Angeles, CA — Hollywood Palladium
9/8 — Phoenix, AZ — Marquee Theatre
9/9 — Albuquerque, NM — El Rey Theater
9/10 — El Paso, TX — Lowbrow Palace (Outdoor)
9/12 — Houston, TX — House of Blues
9/13 — Austin, TX — Emo's
9/15 — Atlanta, GA — Center Stage Theater
9/16 — Tampa, FL — The Ritz Ybor
9/18 — Asheville, NC — Orange Peel
9/19 — Nashville, TN — Brooklyn Bowl
9/21 — Louisville, KY — Louder Than Life Festival#
9/22 — Pittsburgh, PA — Roxian Theatre
9/23 — Philadelphia, PA — The Fillmore (No MP)
9/24 — Worcester, MA — Palladium
9/26 — Washington, DC — 9:30 Club
9/27 — Brooklyn, NY — Brooklyn Steel
9/29 — Columbus, OH — King of Clubs
9/30 — Chicago, IL — Concord Music Hall
10/3 — Lawrence, KS — Granada Theater
10/5 — Denver, CO — Summit
10/6 — Salt Lake City, UT — Soundwell
10/8 — Sacramento, CA — Aftershock Festival*
10/10 — Seattle, WA — Neptune Theater
10/11 — Portland, OR — Wonder Ballroom
10/13 — Santa Cruz, CA — The Catalyst
10/14 — Anaheim, CA — House of Blues
*Movements Only
#Movements + MP Only