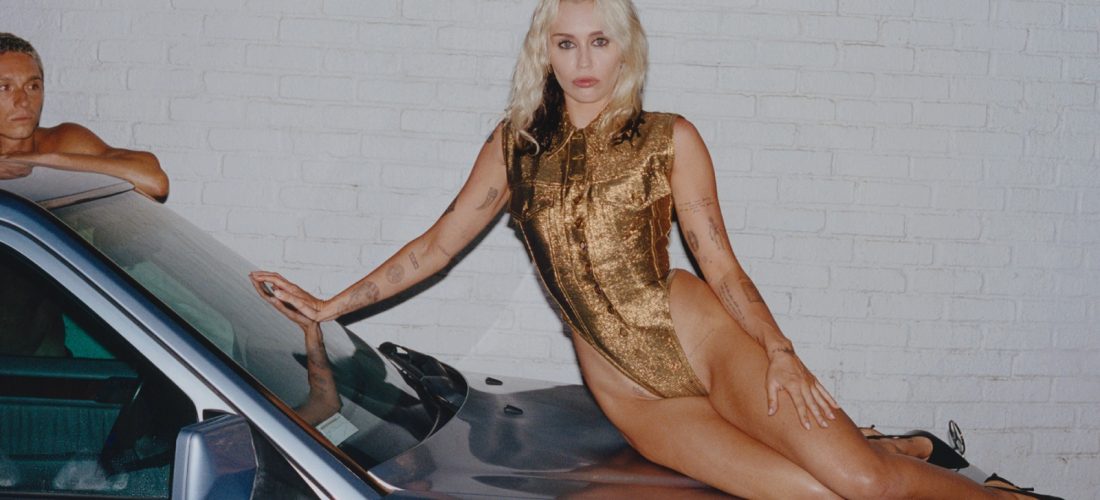 Since the double-life Disney sitcom Hannah Montana debuted in 2006, Miley Cyrus has played with the idea of pop star as persona vehicle. She's had hits with purgative power ballads and candy-coated odes to America; she's made forays into synthpop, psychedelia, country, and art-rock; and she's played with the public's idea of what someone in her position owes the world. Cyrus' eighth album Endless Summer Vacation, which was teased by the coolly resilient statement of independence "Flowers," feels like a recap of her career's 15-plus years, with Cyrus breezing through genres with the ease of a well-seasoned tourist.  
Throughout Endless Summer Vacation, Cyrus shows off the malleability of her voice, a brawny, rough-edged, bellow that can curve into a beguiling coo when the moment requires. "Jaded" is a swirling breakup cut that's part "Wrecking Ball," part "Déjà Vu," with Cyrus' rasp slicing through the haze of guitars on the regret-wracked chorus. "River" is thumping synth-pop with a soaring chorus that contrasts with the second verse, which is delivered in a deadpan monotone that makes its confessions of love feel more incredulous. "Wildcard" is galloping country-rock, Cyrus opening up her voice wide as she mulls over the conflict between her unbridled spirit and her desire for love. "Violet Chemistry," one of the album's sweetest pieces of ear candy, is a slick closing-time come-on that recalls Timbaland's mid-'00s imperial phase. 
Cyrus' list of collaborators over the years has been as varied as it is lengthy, and Endless Summer Vacation continues that trend. If you had Brandi Carlile and Mike WiLL Made-It appearing on the same song on your 2023 musical bingo card, congratulations, as the psych-country-pop cut "Thousand Miles" features contributions from both; it's one of the album's more compelling tracks, with the restlessness in its lyrics matched by the clamor surrounding Cyrus' and Carlile's well-matched voices, and the hiccupping harmonica outro implying that the road down which Cyrus is driving her "beat-up old Mercedes" isn't about to end anytime soon. Sia shows up on the vicious "Muddy Feet," a spiteful rebuke to a straying partner; her vocals are for the most part in the background, although the sing-song pre-chorus is a bright neon sign pointing to her involvement. Cyrus summons her raspiest bellow for the chorus, which feels slapped in from another song and heightens the feeling that this particular track was more pointed catharsis than a candidate for the pop charts. (Stranger things have happened, though, especially in the TikTok age.) The woozy "Handstand," a psych-pop-sex-jam-freakout that feels like it could spin off into its own album, has writing and production credits that include provocateur Harmony Korine; Cyrus' voice bleeds into the maelstrom surrounding it as she brags about her physics-defying carnality.   
Cyrus excels most when she's employing her voice to super-sell big ballads, and Endless Summer Vacation is no exception. "You" is a bring-down-the-house expression of love with a powerhouse vocal, and it'll likely become a signature Cyrus track over the years. "Wonder Woman," meanwhile, tells the story of a woman whose strength masks the hard years that she's already lived; Cyrus wrote it in the wake of her grandmother's passing in 2020, but some of the lyrics—"She's a million moments/ Lived a thousand lives/ Never know she's hopeless/ Only when she cries"—feel semi-autobiographical for Cyrus, who has lived a lot in her 30 years and who is often at her best when she projects resilience within the vulnerable moments she puts on record.