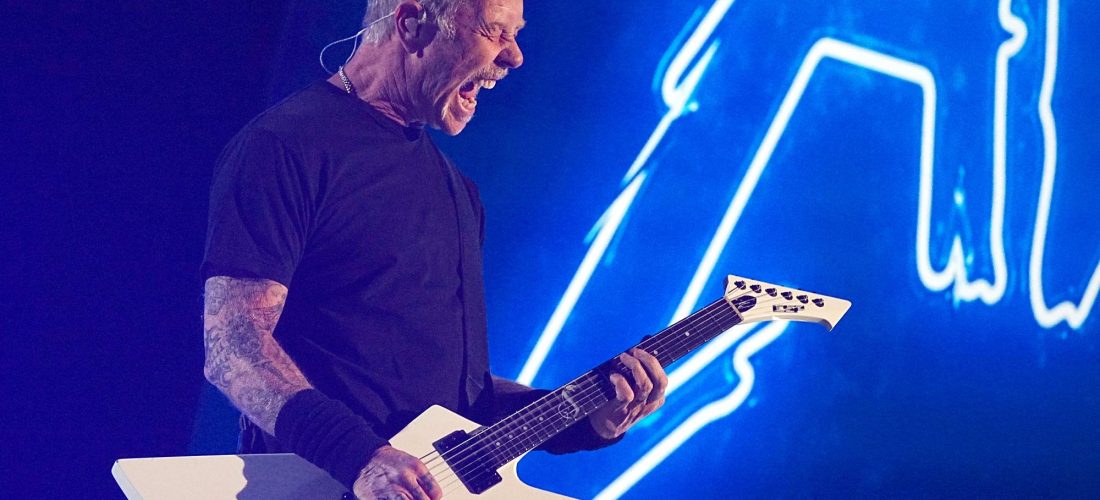 Metallica frontman James Hetfield has announced details of a new book which is all about his guitar collection.
The 400-page coffee table book, Messengers: The Guitars of James Hetfield, details the frontman's entire collection of over 40-plus guitars, revealing "the story and significance of each within his life and career."
According to the book's description, "Hetfield shares the emotional and technical elements of the chosen tools that have shaped his singular musical journey, including exotic instruments, vintage Gibsons, and custom one-offs. He also reveals many studio secrets, including the key amplifiers and gear that sculpt his tone and create his sound."
Advertisement
The description goes on to add: "Each featured guitar is accompanied by lush museum-quality portraits by acclaimed photographer Scott Williamson, exhibiting intimate details one can only see if holding it in their own hands, alongside Hetfield's deeply personal reminiscence."
Messengers: The Guitars of James Hetfield is set for release on October 17 via Simon & Schuster.
Meanwhile, Metallica are set to release their upcoming 11th album '72 Seasons' on April 14 via Blackened Records.
Speaking about the inspiration behind the forthcoming new record's name, Hetfield said: "72 seasons. The first 18 years of our lives that form our true or false selves."
Advertisement
He continued: "The concept that we were told 'who we are' by our parents. A possible pigeonholing around what kind of personality we are. I think the most interesting part of this is the continued study of those core beliefs and how it affects our perception of the world today. Much of our adult experience is reenactment or reaction to these childhood experiences. Prisoners of childhood or breaking free of those bondages we carry."
The new album is a follow-up to 2016's 'Hardwired… To Self-Destruct'. In a four-star view of the album, NME shared: "Metallica still – in their 50s – remain both vital and innovative. And nobody in rock has earned those plaudits more."
In other news, Metallica are set to headline the first ever Power Trip Festival in California. Ozzy Osbourne, AC/DC , Guns N' Roses, Iron Maiden and Tool will also be performing.
Meanwhile, the band's guitarist Kirk Hammett recently joined forces with guitar manufacturer Gibson to create replicas of his iconic "Greeny" Les Paul.
This month sees Metallica kick off a huge world tour which runs through 2023 and 2024.