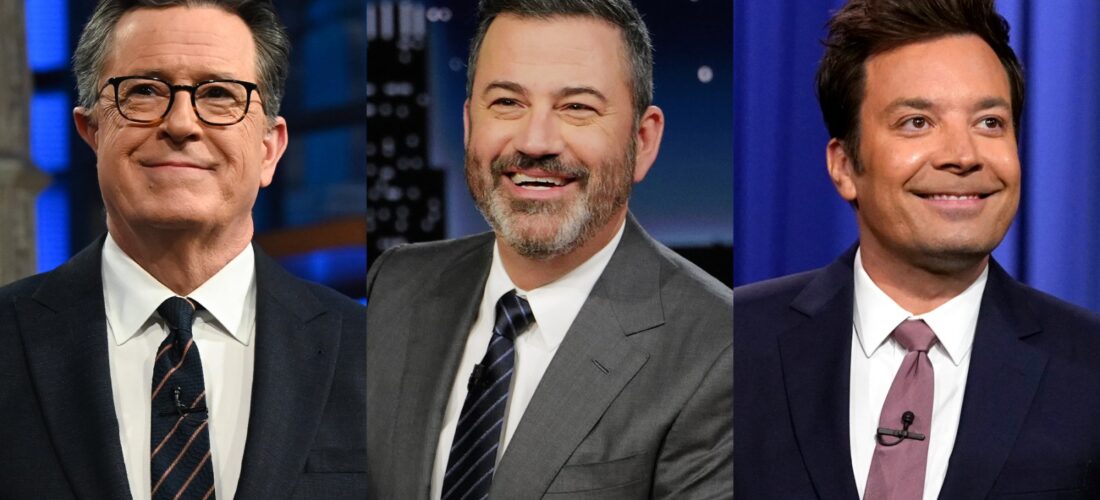 Late-night television will return to the airwaves (and/or streaming services) at the start of October following the end of the Writers Guild of America strike.
Stephen Colbert, Jimmy Fallon, Jimmy Kimmel, and Seth Meyers are all set to resume their respective shows Oct. 2, while John Oliver will return with new episodes of Last Week Tonight on Oct. 1. The five hosts — who've been raising money and support for striking writers with their podcast Strike Force Five — announced their impending returns in a joint statement today.
"We want to thank the entire Strike Force 5 team, our wives, our special guests, and apologize to Conan O'Brien, who agreed to do the pod, but Stephen forgot to send him any possible dates," the hosts quipped. "And then the strike ended." 
While everyone will be returning to their day jobs soon, the hosts did say they'll share a few more episodes of Strike Force Five — "unless Ryan Reynolds cuts off the cash."
One of the most anticipated late-night returns will likely be Fallon and The Tonight Show, though for somewhat uncomfortable reasons: Earlier this month, Rolling Stone published an extensive report detailing the toxic work environment at The Tonight Show, featuring interviews with 16 current and former staffers. While Fallon issued an apology to his staff, he did not address the story on Strike Force Five, and it remains to be seen if he will do so on The Tonight Show when it returns.
Along with the big late-night programs, several other day and nighttime talk shows are preparing to return, including Real Time With Bill Maher (back on Sept. 29) and The Drew Barrymore Show (an unspecified date in October). Those two programs notably attempted to restart production without their writers before the WGA strike ended, prompting serious backlash from the union. Both Maher and Barrymore ultimately reversed course — only for the WGA strike to end just over a week later.
The WGA began its strike on May 2 and, after five months of bitter, stalled negotiations, finally reached a tentative agreement with the Alliance of Motion Picture and Television Producers (AMPTP) on Sept. 24. The WGA then voted unanimously to end the strike at 12:01 a.m. PT today. Though the WGA's contract with the studios still needs to be finalized and ratified, the union appeared to emerge victorious on several key issues, including minimum staffing requirements for TV writers rooms, improved streaming residuals, and protections against the use of artificial intelligence. 
But while the WGA has ended its time on the picket line, Hollywood's acting union, SAG-AFTRA, continues to strike for a fair contract of its own. This will have some partial run-on effect on how returning talk shows operate, as the strike means actors still won't be able to promote their shows or movies.