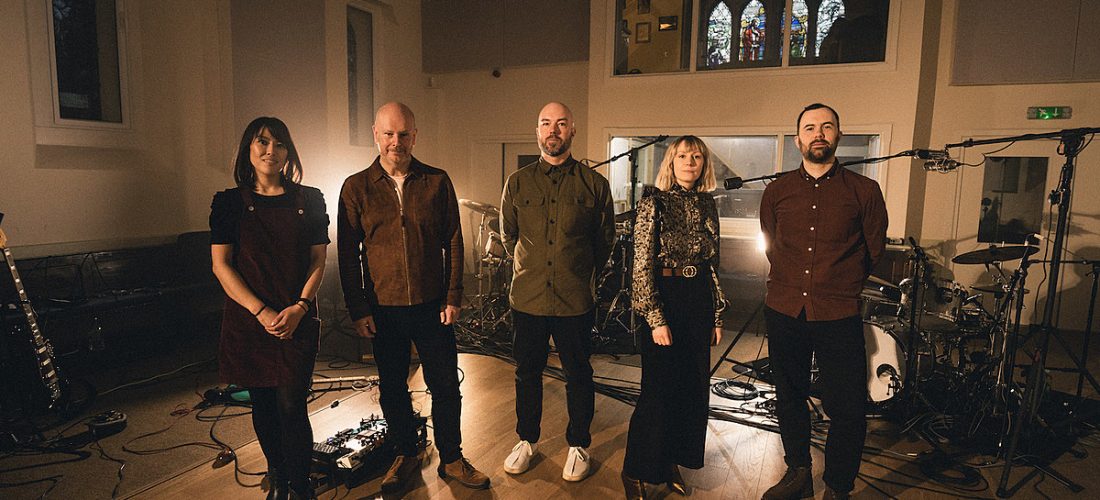 English band Lanterns On The Lake have announced their new album, Versions Of Us, is coming on June 2 via Bella Union. The album sees Radiohead's Philip Selway join the band to contribute drums and percussion. Versions Of Us, the band's fifth full-length, was self-produced and mixed by guitarist Paul Gregory. It's their first album since 2020's Spook The Herd. Check out the artwork and tracklist for Versions Of Us below.
Versions of Us was a difficult birth, with a year's worth of work scrapped and seeing drummer Ol Ketteringham part ways amicably and Selway brought in for the sessions. "Philip brought an energy to the songs that reignited our belief in them," says singer and songwriter Hazel Wilde. "Within a few weeks we had a whole other version of the album and things felt very different," Wilde continues. "We had changed the destiny of the record."
The first taste of Versions Of Us comes from album-opening single and "The Likes Of Us," which l Wilde penned about new motherhood. "Writing songs requires a certain level of self-indulgence, and songwriters can be prone to dwelling on themselves," she says. "Motherhood made me aware of having a different stake in the world. I've got to believe that there's a better way and an alternative future to the one we've been hurtling towards. I've also got to believe that I could be better as a person, too." Listen to "The Likes Of Us" below.
Philip Selway, meanwhile, just released his first solo album in nine years last week which also came out via Bella Union.
Versions Of Us Tracklist
1. The Likes Of Us
2. Real Life
3. Vatican
4. String Theory
5. Thumb Of War
6. The Saboteur
7. Locust
8. Rich Girls
9. Last Transmission