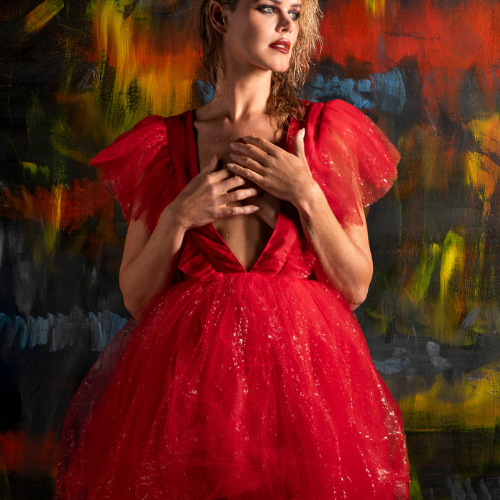 Texas-native singer-songwriter and actress, Kelly Monrow, returns with a free-spirited music video for "Ain't Mine." Directed by Darren Talent, the visuals unveil a cooler and more comfortable side of Monrow, who looks ethereal in a flaming red dress. Spinning at the edge of a rooftop and showing off her quirky dance moves, the fast-rising star lets down her hair in this one, breaking away from her chains and self-restraint.
The cheerful and optimistic track motivates people to throw away their playbook. Kelly Monrow wears her heart on her sleeve, giving up everything that tears her apart, "Just bounce step away/ Change your story/ Refocus/ Shut it down/ Renavigate/ Unmoved/ Hit the kill switch/ Say bye/ Leave it behind/ Let it lie/ Buck it/ Drop it/ Cut it loose/ Deadweight/ It ain't mine."
In addition to "Ain't Mine," the Southern Rock artist also shared a music video for "The Woman," which is the lead single of her debut album Scars of Venus. The 13-track record made a strong impression ever since its release, thanks to its powerful and relatable setlist that includes songs like "Pain Turns To Love," "Savage," Down Your Spine," "Wounds," "Go For Gold," "Jagged Heart" and "Wake Up."
Monrow is the epitome of an independent woman. With her contagious energy and blooming aura, she empowers others to follow her example. In the music video for "Ain't Mine," Kelly fully owns her freedom and power to stir up a radical change concerning how women are perceived in general.
Watch the music video for  "Ain't Mine" here:
Listen to "Ain't Mine" on Spotify: