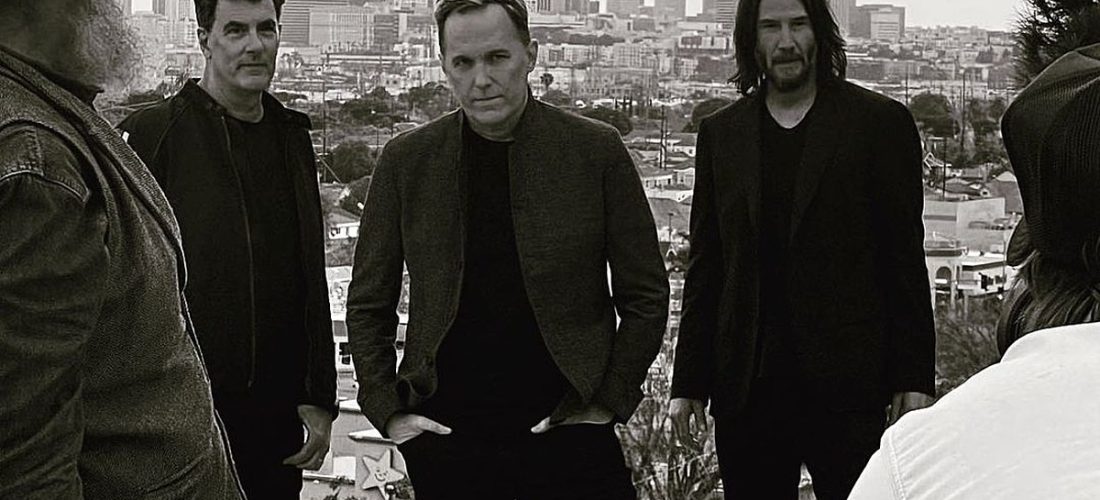 Dogstar, the grungy rock band featuring bassist Keanu Reeves that were active from 1991 through 2002, are back in action. Last year, the group started a new Instagram account, posting an old publicity photo and simply writing, "We're back!" Since then they've posted pics and video from rehearsals and Revolver points out that today they posted an outtake from a a new promo shoot, writing "exciting news coming soon."
The band then wrote more in the comments of that Instagram: "We are overjoyed to see such a response! Honestly, didn't expect this. It makes us want to play out even more. We will be rolling out some new music this summer, followed by some gigs. As soon as it's all figured out we will let everyone know immediately. So much to do, but rest assured, we are on it and have assembled a fantastic team that are helping us. We are also going to make a music video to support our first tune. That's all I can say now. Can't wait to share our new music with everyone. It's the most satisfying and meaningful batch of songs we've ever done. Thanks again for being so patient with us. We truly have the best, most loyal fans!"
Dogstar released two albums — 1996's Our Little Visionary and 2000's Happy Ending — along with a EP during their original run. They made news in 1996 when Keanu Reeves dropped out of Speed 2 so he could tour with the band, a decision that has aged particularly well, much like Keanu himself.
It remains to be seen if they'll show up on the lineup of this year's Milwaukee Metalfest that they played in 1992.
While we wait for more concrete news on Dogstar's return, watch a few '90s-era music videos below.
You can still catch Keanu in John Wick: Chapter 4 which is in theaters now.