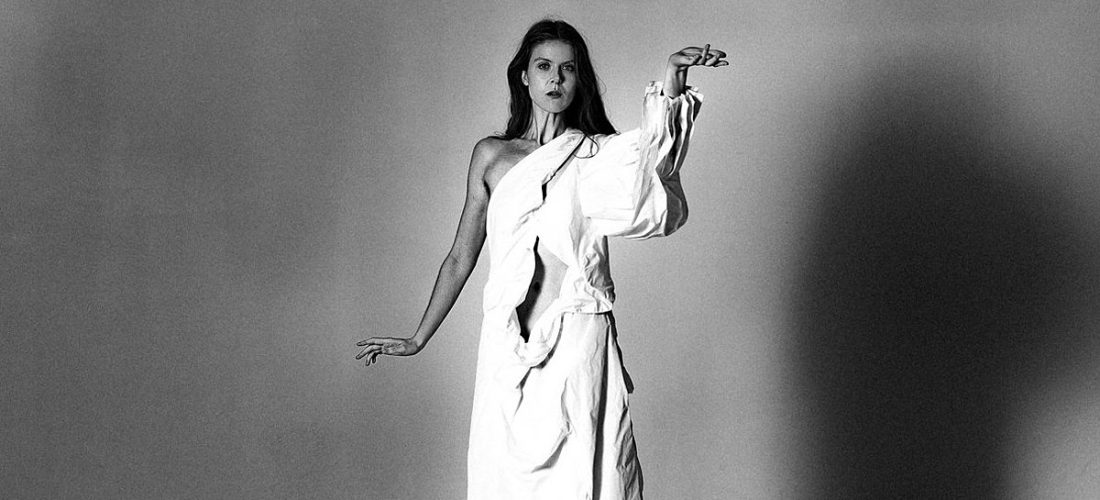 JFDR, aka Icelandic artist Jófríður Ákadóttir, continues to evolve. Museum is her first record for Houndstooth, the artist-focused sister label of London's Fabric, and she made it in Brooklyn with Shahzad Ismaily who encouraged her to stretch her wings. Ákadóttir calls it "an album about clearing and healing; like breathing fresh strong air through your old self." Songs like "Life Man," "Valentine" "Sideways Moon," and "Spectator" draw you in with pure atmosphere; percussion is at a minimum, nearly nonexistent, as tinkling piano, fretless bass, synth textures and layers of harmony swirl around the stereo field, with plenty of headroom for them to dance. Listen to the whole thing below.
We asked Ákadóttir to tell us more about Museum, and she gave us a list of inspirations, which includes sculptures, Japanese ambient music. traditional Icelandic musical instruments, and more. Read her list and commentary below.
JFDR has European tour dates in May and those are listed below.
JFDR – 8 inspirations for Museum
Tónklúbburinn
One of my inspirations for the album is a club I have with a few friends and musicians in Reykjavík. Sometimes we are joined by other artists but the core group is 3-4 people. Each person brings a song they're working on and we give feedback or simply just cheer each other on. It can be very emotionally taxing to make an album and so this gathering has become a sort of support group for us while in that process. It's a very intimate and nourishing environment, both to be inspired by your friends and to be witnessed creating something by them.
Sculptures
When looking back at the process of making this album, I felt that it was so similar to sculpting and clay, in particular. You gather all the raw materials and investigate them, arrange, rearrange and shape them until they've reached the point where they best tell their truest story. When we mixed the record we did it all analog and it was like burning your clay creations in a kiln. Once it's baked, it's baked and there's no going back.
Japanese ambient music
I find a lot of comfort in the simplicity of ambient music and Japanese ambient music, in particular. Ambient music in general seems to have a very honest intention. It allows itself to just exist in a space without pretending to be anything other than what it is or demanding attention or action from the listener. Much like a sculpture, ambient music has a presence and an energy that completely transforms the mood and spirit of a space. I also feel like there is a sadness to it which is ever so subtle, like haiku.
Langspil
It's one of the only traditional instruments from Iceland and while I was doing research for another project I borrowed one from a friend and had it in the studio while working on the new album. Josh, who co-produced the record, and I found that the langspil was sometimes the perfect addition to the music, which was surprising because it's a hilariously limited and almost ugly sounding instrument. It occupies a very particular high frequency and so it gives the soundcsape a kind of sparkle. It's a beautiful instrument but as I mentioned, it's very limited. It's crazy to think that, in Iceland, this was our main instrument for hundreds of years. This lack of musical instruments may explain why our heritage is much more centered around words and storytelling rather than the music itself and why we are now obsessed with making music and sounds. Who knows.
A1 trigger gate
This is a free plugin that allows you to create rhythmic layers in an easy and fun way. One of the initial ideas for the album was to use no drums or non-pitched percussive elements. We didn't stick to the concept in the end but using the trigger gate, working with it to create complex and interesting rhythms from harmonic material was very inspiring.
Sahara playlist on Spotify
For a long time this was the only playlist I listened to. I love the pace of the songs and the way they contain movement that is so hypnotic and trance-like. I can just picture the open landscape.
Skúli Sverrisson
First of all, I highly recommend this album. I want to mention Skúli as an inspiration not only for his beautiful music but for his curiosity and listening skills. A few years ago, I performed at a 24-hour drone concert where several people were performing in a continuous flow. Skúli was there and I remember how intently he listened to the music, for hours and hours, so dedicated to the experience. Talking to him, you feel this as well and it's such a joy to be around his generous spirit. On a musical level, I am very moved by his compositions. The way the chord progressions have a cyclical feel and move in unexpected directions is something that resonates with me deeply.
Ravel – Piano Concerto in G major, Second Movement, adagio assai
This piece of music is so heartbreaking. It's epic and gorgeous. I learned the first minute or so on the piano while covid quickly started, improvising around Ravel's juicy chords. It's always inspiring to learn pieces by other people and break your fingers and your brain out of old patterns.
—
JFDR – 2023 Tour Dates
Wed. May 10 – London, UK @ St Matthias Church
Fri. May 12 – Brighton, UK @ St Mary's Church
Sat. May 13 – Amsterdam, NL @ Paradiso
Tue. May 16 – Bruges, BE @ Cactus Muziekcentrum
Wed. May 17 – Brussels, BE @ Secret Show
Thu. May 18 – Cologne, DE @ Jaki
Sat. May 20 – Berlin, DE @ Prachtwerk
Sun. May 21 – Zaragoza, ES @ Bombo y Platillo
Mon. May 22 – Castellon, ES @ Teatre del Raval
Wed. May 24 – Barcelona, ES @ Antiga Fábrica Estrella Damm
Fri. May 26 – Prague, CZ @ Cross Club
Sat. May 27 – Šriavnica, SK @ Art Cafe Banska
Mon. May 29 – Paris, FR @ Le Pop-UP de Label