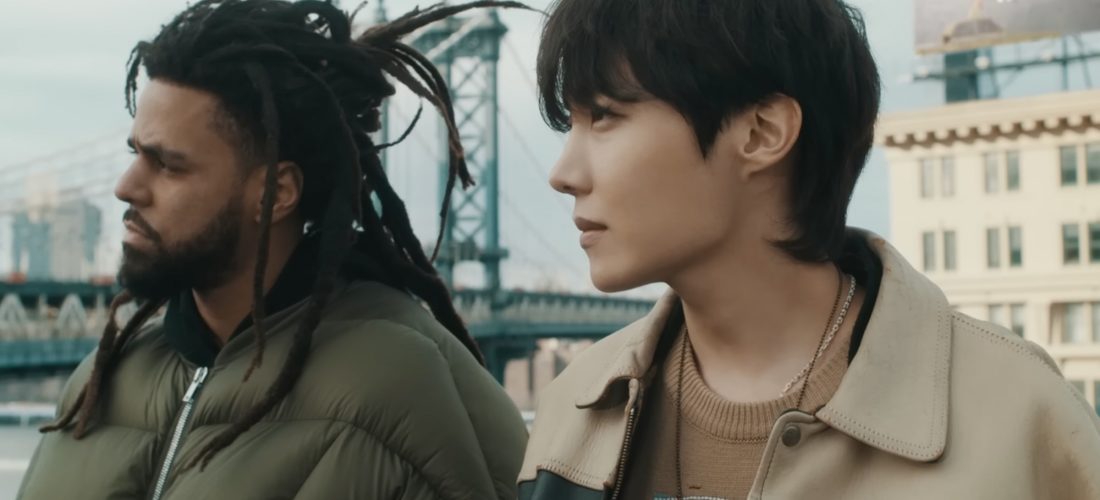 Backstage at Lollapalooza 2022, J-hope gasps in excitement, his face lit up with pure joy. It's the day before his history-making set at Lolla, where he will become the first South Korean artist to headline a main stage at a US festival – but first, he has another fantasy to make reality. Stood outside one of the nondescript white trailers backstage, he giddily leans into an embrace with J. Cole, whom he's meeting for the first time, and tells the rapper in a reverent tone: "You're my muse."
Seven months later, the BTS star is ticking off another bucket list item, adding to the slew of achievements he's racked up since the K-pop group announced they were focusing more on individual projects last June. After his acclaimed debut solo album 'Jack In The Box', that triumphant festival performance, a handful of award wins, fashion week dominance and a documentary about his latest chapter, his new single 'On The Street' sees him teaming up with Cole, one of his favourite artists of all time.
It might be a dream come true for J-hope, but the single is bittersweet; it arrives just as he's preparing to enlist for his mandatory military service, turning it into a farewell, if only for now. On 'Jack In The Box', he dug deep into darkness and showed there's more than meets the eye than his sunny, upbeat personality. This track, though, puts a pin in his journey so far by returning to the optimism evoked by his stage name. "Every time I walk / Every time I run / Every time I move / As always, for us," he half-sings, directing his words to BTS' fanbase, ARMY.
Advertisement
[embedded content]
'On The Street' comes as the pause button is pressed on J-hope's brilliant first run of solo activities, and it's more relaxed and looser than the album that preceded it. Here, there's little to prove; it feels like J-hope's only concern here is leaving things on a high and showing gratitude for those who have supported him along the way. "For the path I'm on to become one of hope, I give my all," he promises over a strummed guitar melody that runs parallel to the track's central whistle and subtle layers of scratching and twinkling instrumentation. "Even my walk was made of your love and your faith / To repay you even from afar, just like a butterfly."
The street in the song's title both nods to where J-hope has come from – prior to becoming a Big Hit trainee, he was part of a street dance team – and serves as a metaphor for life itself: a journey that charts its way on the map as it unfolds, sometimes straight, sometimes winding or turning back on itself. As J-hope directs us to "go on hopefully, wherever you walk", he shares his determination to fill his own road with life: "In these streets imbued with someone's breath / I leave my soul and my eternity / Everywhere (I'll be)."
If J-hope's path on the song is direct and sure, J.Cole's is more meandering, as he twists and turns his way from uncertainty and adversity to a similar point of purpose and resolve. "Fought tooth and a nail / Just to prevail 'mongst the ruthless," he begins his searing feature. Later, he hints at questions about his future in the rap game ("As the moon jumps over the cow / I contemplate if I should wait to hand over the crown / Or stick around for a bit longer"). As it turns out, the fiercely driven Cole doesn't have much of a choice in that quandary: "I got a strange type of hunger / The more I eat, the more it gets stronger," he explains, repeating those last five words with a quiet ferocity.
Throughout his career, Cole has been something of a feature slayer, famous for his ability to bring a momentary Midas touch to any track. His turn on 'On The Street' is both his latest example of that and also something more – perhaps why the release isn't billed as "featuring" but "with" J. Cole. He takes the undertones of emotion in the song's whistling melody and electrifies them effortlessly in an approach that complements his collaborator well – J-hope the light to Cole's shade – but there remains a small, nagging desire to see J-hope use his muse's energy to make his own parts really sizzle.
For the most part, though, 'On The Street' caps this leg of J-hope's voyage on a bright note – one where he can proudly look back on as he prepares to move forward. When he returns post-military, he'll be coming back to strong foundations ready for him to build even more exciting new blocks on.