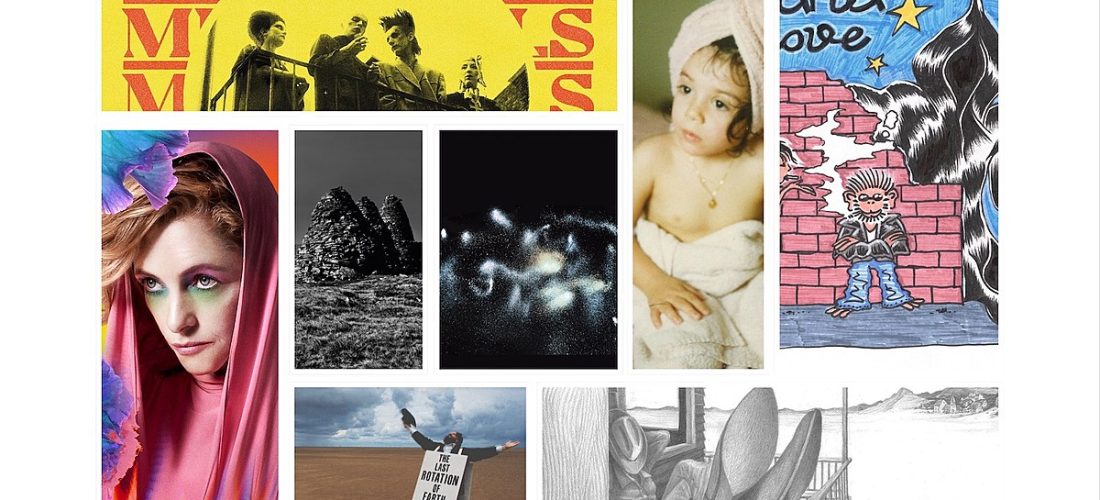 It's a jam-packed week in Indie Basement, with reviews of Alison Goldfrapp's solo debut, plus new albums from BC Camplight, MEMORIALS (members of Electrelane and Wire), Rahill of Habibi, Simian Mobile Disco's James Ellis Ford, Olympia duo Daisies, enigmatic synth-psych svengali Craven Faults, and new Third Man signees Island of Love.
Over in Notable Releases, Andrew reviews the long-awaited debut from UK dance duo Overmono (I like this one too), Madison McFerrin, and more.
ATTN GOTHS: This week saw the start of North American tours from The Cure and Sisters of Mercy, and Stateside visits from Love and Rockets and Siouxsie Sioux are not far behind.
Did you know Indie Basement has its own corner of the BV Shop? It's true, and it's full of great records, hand selected by yours truly, including our exclusive, limited edition color vinyl variant of Alvvays' debut album, our exclusive, limited edition swirled vinyl edition of Thee Oh Sees' Live at Levitation, an autographed Don Letts single, plus albums by The Lemonheads, Primal Scream, King Gizzard, The Raincoats, Radiohead, Grant Lee Buffalo, Belle & Sebastian, Deerhoof, Protomartyr, Mogwai,Love and Rockets, Kevin Morby, The The, Naima Bock, The Flaming Lips and lots more.
Head below for this week's reviews.
ALBUM OF THE WEEK: Alison Goldfrapp: The Love Invention (Skint)
Alison Goldfrapp goes solo on this wonderful album of effervescent electro-disco
Since 2000, Alison Goldfrapp has mostly been synonymous with the duo that bears her name and you'd be forgiven for thinking they were one and the same. (They kinda are, too, but also not.) What would a Goldfrapp solo album sound like? Not super different, no surprise, as her debut The Love Invention shows. Part of that comes down to her voice and harmony style which automatically pulls everything into her orbit, and the album isn't a massive departure musically from the glammy electropop they've been known for since 2003's Black Cherry. Alison also brings her impeccable taste and a murderers row of electronic music collaborators, making for an album of sleek, sophisticated electronic disco. Chief conspirators on the album are Richard X, who's worked with Annie, Sugababes and Saint Etienne, and Kelly Lee Owens collaborator Richard Greenwood, but there are also contributions from Toby Scott (The Gossip), Claptone, Paul Wolford and others. Anything with Richard X is going to have an early-'00s feel, and Alison's voice slides into the ether of sizzling synth arpeggios, four-on-the-floor beats and effervescent atmosphere. Giddy, tongue-in-cheek and skating the edge of over-the-top, The Love Invention is a dessert tasting menu where every course is paired with bubbly, from prosecco ("Gatto Gelato") to pét-nat (the wonderful title track). This is a fantasy world, mind you, so it's all pleasure and no hangover.
—
BC Camplight – The Last Rotation Of Earth (Bella Union)
Breaking up is hard to do, and in the hands of Brian Christinzio becomes the basis for dark, apocalyptic orch-pop
Few artists today turn self-deprecating navel-gazing into music as appealing as Brian "BC" Christinzio, who has been releasing a wonderful string of albums as BC Camplight since the mid-2010s. (He also released two albums in the '00s, and played with The War on Drugs and Sharon Van Etten before taking a lengthy hiatus from music.) Listening to The Last Rotation of Earth, his latest, you might wonder if, given the apocalyptic nature of the album, it could be his last. It's certainly got a fuck-it, this is my last shot vibe, with his biggest most ambitious production yet. It turns out the world in this case is a little more personal — the breakup of a nine-year relationship had him scrap the record he had been making and start this one. With a freshly destroyed heart, he turns the aftermath into an end-of-the-world epic that would be depressing if it wasn't so consistently funny, playful, and catchy. (You could say that about most of his records, though.) Christinzio is stylistic descendent of the greats of this genre  — Harry Nilsson, Todd Rundgren, David Berman — and he delivers his gut-wrenching doomsday predictions as easily digestible pop songs. "You shouldn't cry when you listen to Faith No More," he sings on torchy ballad "Going Out on a Low Note" that, like all the songs here, come with classy, orchestral arrangements. Having blown up the planet on the album's opening song, Christinzio has not given up, is working it out, and things can only go up from there. "Famous last words," he might counter.
—
Daisies – Great Big Open Sky (K Records)
Criminally overlooked Olympia, WA band continue to blend sunshine pop and '90s electronica on their most nuanced record so far
Formed in Olympia, WA in 2018 or so, Daisies sound like they should be from mid-'90s London, with a breezy, jazzy style that mixes bubblegum, Britpop and breakbeats. If they'd existed then, you could imagine them playing Heavenly Social Club alongside Saint Etienne, The Cardigans and Catatonia. It's definitely a throwback, but primary members Chris McDonnell (of CCFX and TransFX) and vocalist Valerie Warren clearly love and know this stuff very well, and it is a surprisingly evergreen formula as their seventh release shows. They're not stuck in Tony Blair-era either, as pitched-up vocal samples and other modern touches keep them contemporary with acts like Caribou, Overmono and Four Tet. Great Big Open Sky is their most nuanced record yet, dropping fizzy bangers alongside tender ballads. The Western motif of the title and album art is mirrored in the inspired production by the band and Nuri Erdal, from the synth strings melting into pedal steel on "Down in the Keys," to the drum-and-bass rhythms and swirling keyboards on "Blue Cowboy." It's got the tunes too, from the "Glistening" opener through swaying anthem "Is It Any Wonder?" that's worthy of a Gallagher. Somewhere between Kensington and Kansas, this desert flower is fully in bloom and looking toward the stars.
—
Rahill – Flowers At Your Feet (Big Dada)
Habibi leader goes solo, bringing big funky '90s vibes
For over a decade, Rahill Jamalifard has led Habibi, superior garage-rockers with a minimal, groovy style. Rahill — who once contributed to BV — has worked in record stores for years, and is a crate digger with wide-ranging tastes. Habibi are still going but Rahill brings in a lot more of her influences, not to mention her Iranian-American heritage, on her appealing solo debut. Made with producer Alex Epton (fka XXXchange of Spank Rock) and released on Ninja Tune imprint Big Dada, Flowers At Your Feet brings rhythm into the spotlight, for a highly danceable brand of rock that feels equally influenced by '60s psych pop and OG sampling culture. Songs like "I Smile for E" (a tribute to her late Aunt) and the fuzzed-out "Tell Me" could've been released on Grand Royal or K back in the day, and would've fit right in on the Kids soundtrack. To that note, Beck shows up to sprinkle a little Odelay dust, and provide backing vocals, on the excellent "Fables." Understated, thoughtful, and fun, Flowers At Your Feet is a real treat.
—
James Ellis Ford – The Hum (Warp)
One half of Simian Mobile Disco and producer to Arctic Monkeys, Florence and more, James Ford makes Eno-esque pop on his solo debut
You may know James Ellis Ford from his early-'00s band Simian who shrunk into "bloghouse" duo Simian Mobile Disco, or you may know him as the in-demand producer who twiddles knobs for Arctic Monkeys, Florence + The Machine, Depeche Mode, Gorillaz and more. But over the last 10 years or so, he's also been recording things on his own, little ideas, loops, sketches, and saving them up for a rainy day. Or a global pandemic. With lockdown providing a little more free time, he began fleshing out these snippets into songs. "I toyed with the idea of bringing in other vocalists," Ford told Tape Notes podcast host John Kennedy, "but then I thought 'If I had the balls I'd singing it myself,' and that's what I did." Turns out his voice was perfect for the music, warm and verdant but often bleepy-bloopy, which is very much in the mid-'70s Brian Eno / Robert Wyatt sonic universe. "I Never Wanted Anything" is the album in a nutshell, with its loping, rhythm section, klanging analogue synth loops, lush woodwinds, and Ford's low harmonies. The Hum might be the definition of a Pet Project, made on his own in spare time with no intention of playing it live, but songs like this one make you wish he would.
—
Craven Faults – Standers (The Leaf Label)
Zone out to the second album by this drone-psych electronic producer
The music that enigmatic electronic producer Craven Faults sounds a lot like the way the cover art to their second album looks: stark, terrestrial yet alien, high contrast, black and white. Standers' six lengthy tracks (at 69 minutes, it's fully in double album territory) are droning and ambient yet very compelling, with gentle chugging rhythms pulling you along with them as the synthesizer lines weave complex fractals. Not unlike Bitchin Bajas (or Harmonia or Tangerine Dream), this is psychedelic synth head music, custom designed for zoning out on long journeys or, you know, just staring off into space.
—
MEMORIALS – Music for Film: Women Against the Bomb + Tramps! (state51 Conspiracy)
The duo of Verity Susman (Electrelane) and Matthew Simms (It Hugs Back, Wire) are an appealing sum of their parts on their debut album comprised of two film soundtracks.
Verity Susman and  Matthew Simms have known each other since the mid-'00s when their respective bands, Electrelane and It Hugs Back, traveled on similar motorik paths. Now working together as MEMORIALS, they've just released their debut album which is actually two documentary scores: Women Against the Bomb and Tramps! (That's their exclamation point, not mine.) I have seen neither film, but the music they made for them is pretty great, and will instantly appeal to fans of their other groups (Simms has also played with Wire since 2010). Tramps! is more of a score with much of it instrumental and heavy on vintage synths and drum machines, but with a couple terrific songs sprinkled in near the end: the propulsive, darkly psychedelic "Peacock Punk" and "Boudicaaa." Women Against the Bomb is much more song-oriented and will definitely appeal to Electrelane fans, though MEMORIALS bring more of a jangly '60s feel and bigger pop hooks, alongside a few baroque-psych excursions. They're more than a studio project, too, with a UK tour that includes dates with Sonic Boom & Panda Bear, so it is exciting to see where these two head next, perhaps outside the context of cinema.
—
Island of Love – Island of Love (Third Man)
Sludgy indie rock a la Dinosaur Jr from the first band signed to Third Man London
Island of Love are the first band signed to the London outpost of Jack White's Third Man Records, and were signed to the label on the spot after playing the store's Blue Basement venue in 2021. The four-piece cite Oakland's Happy Diving as their chief influence, and you can hear that in their thick brand of sludge rock that is clearly also steeped in Dinosaur Jr's purple ooze. Their self-titled debut album was produced by Fuzzbrain's Ben Spence and engineered by Jack Shirley (Deafheaven, Jeff Rosenstock, Joyce Manor). Songs like opener "Big Whale" come with hooks and riffs J Mascis might be jealous of, and while you've probably heard this all before, Island of Love play with a youthful zeal that sounds like they just invented the fuzz pedal.
Looking for more? Browse the Indie Basement archives.
And check out what's new in our shop.
—