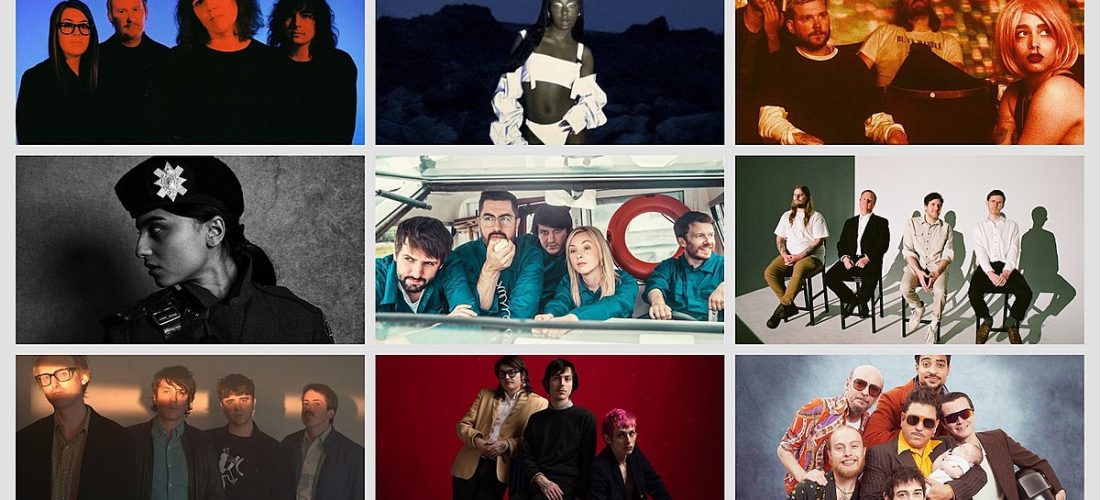 Indie Basement is a weekly column on BrooklynVegan focusing on classic indie and alternative artists, "college rock," and new and current acts who follow a similar path. There are reviews of new albums, reissues, box sets, books and sometimes movies and television shows. Here's the Indie Basement guide to SXSW.
After two years of virtual editions, SXSW returned as an in person festival in 2022 and this year it feels like it's really back. With over a thousand artists of all shapes and sizes from all over the world playing this week in Austin, you can really make SXSW your own festival. While some of my favorite moments from years past were from catching bands I wasn't expecting to see, it's always good to have a plan. With that in mind, here are 14 artists who've been featured in Indie Basement over the last five years (or will be soon), including acts from NYC, Wales, London, Toronto, Chicago, Melbourne and more. Some you may know, some you'll hopefully know soon.
Some of the artists on this list are playing the free BrooklynVegan day parties that go down at Mohawk on Wednesday (3/15) and Empire on Thursday (3/16). Most are also playing more than once during the week, but not all.
In addition to the 14 acts I chose, other Indie Basement-approved artists at SXSW this week include Superchunk, Y La Bamba, Algiers, Party, Jane Weaver, Death & Vanilla, Peel Dream Magazine, Jad Fair, The Golden Dregs, The Zombies, Os Mutantes, Immersion (Colin Newman / Malka Spigel), Death Valley Girls,  Wynona Beach, and OSEES who are playing Hotel Vegas every night this week through March 17!
Head below for my SXSW picks…
INDIE BASEMENT – 14 GREAT ARTISTS TO SEE AT SXSW
Adwaith are a trio from Carmarthen, Wales, who have been making indie rock in their native tongue since 2016, most recently on their wonderful second album, Bato Mato. They may sing in Welsh but their music, that is sometimes roaring, sometimes beautiful — is "dreampunk" a thing? — needs no translation. They were terrific at NYC's New Colossus festival which they hit before heading to Austin.
Check out Adwaith's official SXSW schedule.
Nigerian-born artist DEBBY FRIDAY has been defying categorization as part of Canada's underground music scene since the late 2010s, first in Montreal, then in Vancouver and now based out of Toronto. She established her sound on 2018 EP Bitchpunk, a title that also doubles as as descriptor for her sound that mixes rap, electro, post-punk, industrial, techno and more into a glitchy, bruising and bitcrushed blend that is fiery and magnetic. Imagine The Prodigy, Tricky and Skunk Anansie collaborating in 1995 but then remixed in 2023 by Death Grips and Four Tet, and you're kinda close to what she does. Her new album GOOD LUCK will be out later in March via Sub Pop.
Debby's SXSW schedule includes BrooklynVegan's Lost Weekend free day party on Thursday, March 16 at Empire which is presented in partnership with M for Montreal.
—
Led by musician and poet Jojo Orme, London's have only released a couple singles since forming in 2020 but have made a name for themselves with their stylish brand of decidedly dark post-punk and intense live shows. Orme, who cites Siouxsie & The Banshees, PJ Harvey and Interpol as key influences, is a magnetic bandleader, with a melodramatic delivery, "gothic military fairy" fashion sense, and can wield a guitar and theremin with equal command. Their debut EP, A Comforting Notion, is out this month via Dan Carey's influential Speedy Wunderground label (Squid, Black Country New Road, black midi).
Check out Heartworms' official SXSW schedule.
—
With frontman Jeremy's Gaudet's flair for witty, poetic nonsequetirs and big '90s-style indie rock hooks, Toronto's Kiwi Jr get compared to a certain iconic '90s indie rock band a lot. But there's a lot more going on in Kiwi Jr's sound that also has a strong hit of early-'80s jangly post-punk, from Scotland to New Zealand. That's all the more obvious at their at their energetic live shows where it becomes quickly apparent that, despite the slacker rock comparisons, these guys can really play. The band's terrific third album for Sub Pop, Chopper, was produced by Wolf Parade's Dan Boeckner and widened their sonic scope dramatically.
Catch Kiwi Jr at BrooklynVegan's free day party on Thursday, March 16 at Empire, as well as other official SXSW showcases.
—
Chicago trio Lifeguard are part of the same vibrant, tight-knit indie rock scene as Horsegirl, Post Office Winter, and Friko. Very tight: Lifeguard drummer Isaac Lowenstein is the brother of Horsegirl's Penelope Lowenstein, and he and bassist Asher Case both played in a very early lineup of Horsegirl. With the trio rounded out by singer/guitarist Kai Slater, the group formed when the three members were in their early teens – their one-sentence Bandcamp bio is "The best teenage band since Squirrel Bait" – drawing from post-hardcore and post-punk, citing everyone from Unwound to Bauhaus as influences which are definitely heard in their sound. They've been busy, having released their debut album in 2020, followed by a few other EPs, all while building a reputation in their hometown as a firecracker live act. Like Horsegirl, Lifeguard have signed with Matador Records and are working on their first record for the label.
If you miss Lifeguard at SXSW, they'll be on tour with Horsegirl this summer.
—
Manchester, England's Mandy, Indiana sound like an illegal warehouse party in an abandoned factory. With pummeling beats, shearing guitar noise, depthcharge bass and woozy synths, they could be mistaken for that factory being back in operation. The four piece, which includes charismatic French singer Valentine Caulfield (who wails icily in her native tongue), released their excellent debut EP not long after changing their name from Gary, Indiana. Since then they've been remixed by techno/shoegaze kindred spirit Daniel Avery and will release their full-length debut, i've seen a way, on May 19 via Fire Talk. The video for jagged new single "Pinking Shears" gives a preview of what to expect from them live.
Mandy, Indiana's SXSW schedule includes the BrooklynVegan and M for Montreal's free Lost Weekend day party on Thursday, March 16 at Empire
—
NYC's Model/Actriz sound like they could've existed two decades earlier in the city, sharing bills with Liars, Lightning Bolt, Out Hud and Light Asylum. The four-piece have been lurking around the fringes of the Brooklyn scene since the mid-2010s, and became known as a formidable, don't-miss live act by the end of the decade with their intense, sweaty shows and singer Cole Haden's magnetic, high-drama stage presence. The pandemic dampened their momentum, but Model/Actriz have roared back, releasing their gnawing, relentless debut album Dogsbody in February via True Panther.
Among Model/Actriz's official SXSW stops is the BrooklynVegan's free day party on Wednesday, March 15 at Mohawk.
—
Originally based in West Yorkshire, UK, trio The Orielles now live in Manchester — a city whose rich musical history is clearly a big influence on their sound that mixes guitar-based indie rock with baggy psychedelia and acid house. The late DJ and Screamadelica producer Andrew Weatherall, who was a fixture at New Order's Hacienda club in Manchester, remixed the band's Heavenly Recordings debut single back in 2017 which helped steer them on a dancier course, and they even covered house artist Peggy Gou's "It Makes You Forget (Itgehane)" on another single. The band leveled up with 2022's ambitious double album Tableau that found them chopping up their songs and rearranging them with collage techniques to great effect. Their first trip to the states ended in NYC when the world went into covid lockdown — in fact they were the last live show I saw till things started to return to normal a year later. (They were great.) Here's to a better experience this time!
Check out The Orielles' official SXSW schedule.
—
It's been 10 years since Detroit's Protomartyr released their debut album, No Passion, All Technique, and since they've become one of the most well-regarded indie rock bands of the last decade, thanks to a combination of muscular musicianship and frontman Joe Casey's sardonic lyrical worldview. That is even more evident at their fiery live shows, where inventive guitarist Greg Ahee, nimble bassist Scott Davidson, and precision drummer Alex Leonard function as a tight, powerful unit, backing Casey's unusual yet complelling style. Protomartyr's sixth album, Forman Growth in the Desert, is out June 2 on Domino and should be previewing songs from that in Austin. They spent time in 2021 with The Breeders' Kelley Deal as part of the live band but at SXSW they will be playing in the original four-man formation.
Catch Protomartyr at BrooklynVegan's Lost World day party on Thursday, March 16 at Empire, and at other SXSW performances.
—
Melbourne band RVG recall much of the country's strident melodic alt-rock of the '80s — part Before Hollywood-era Go-Betweens, part The Triffids' sweeping scope, with some of Crime & The City Solution's gritty romanticism and Hunters & Collectors' anthemic tendencies. The force behind RVG is singer/guitarist/songwriter Romy Vager whose confessional lyrics go hand in hand with her impassioned delivery. SXSW will be a chance to hear songs from RVG's upcoming third album, Brain Worms, which will be out in June and Vager says is their biggest, most immediate yet.
You may have seen RVG at our 2018 SXSW day parties, and here's where they'll play this year.
—
With three guitarists, Dublin's Silverbacks make quite a racket, using familiar elements in a unique way. Killian O'Kelly and Peadar Kearney's snaking, interlocking leads recall Television, while drummer Gary Wickham and bassist Emma Hanlon take things occasionally into clattering post-punk territory. Killian's brother, Daniel, pulls it together with rhythm guitar, talk-singy vocals and a wry, inquisitive lyrical style. (Emma sings lead occasionally, too.) Silverbacks released their debut in 2020, and followed it up last year with the excellent Archive Material. Ahead of Austin, the band stopped in NYC to play the New Colossus festival and were easily the best thing I saw all weekend, with energy, musicianship, tunes, and a welcome dose of self-deprecating humor.
Catch Silverbacks at SXSW here.
—
Formed during the pandemic by Connor Cummins (Spodee Boy), and visual/video artist Blair Tramel, Nashville's Snooper are an adrenalized, DIY mix of mutant punk and garage rock, with a little twee and art rock in there as well, all thrown in a blender and set to "puree." With drummer Cam Sarrett, guitarist Matthew Campbell, and bassist Happy Haugen added, Snooper gelled and quickly gained a reputation as an unmissable live act, and their wild, high-energy sets made them one of the word-of-mouth hits at last year's SXSW. Snooper recently played with Special Interest and MSPAINT at Chicago venue Empty Bottle's annual  Music Frozen Dancing outdoor winter block party, and have a record coming out via Third Man later this year.
Snoop Snooper's SXSW schedule here.
—
Brattleboro, Vermont queer postpunk trio THUS LOVE are devoted to their music — Echo Mars, Lu Racine and Nathaniel van Osdol have lived together since the inception of the band. "I realize that most artists don't live this way," says Mars. "But for us, it was never really a choice. The art we make is so tied to who we are and the community we're a part of, that this is the only way we can possibly do it." Known for their dynamic live shows — Mars has an undeniable presence as frontperson — the band managed to capture that energy on last fall's debut, Memorial, and have already released two new singles since. THUS LOVE played NYC's New Colossus Fest just ahead of SXSW, and have a UK tour this summer.
Check out THUS LOVE's SXSW schedule here.
—
Led by charismatic frontman Clams Baker and born from the same sleazy London scene as Fat White Family, Warmduscher play greasy funk and disco with a little southern-fried twang. It's a perfect mix for a dance party in the gutter. After working with Speedy Wunderground producer Dan Carey on 2018's Whale City and 2019's Tainted Lunch, Warmduscher signed to Bella Union for 2022's high-concept / lowbrow At the Hot Spot which was produced by Hot Chip's Joe Goddard and Al Doyle. Sleaford Mods are fans, Soulwax have remixed them, and the group's let-it-all-hang-out live shows have made them festival favorites, whether it's playing to 200 people at Iceland Airwaves or a crowd of thousands at Glastonbury.
Warmduscher will be touring North America while here for SXSW.
—
Check out the full lineups for the free BrooklynVegan day parties here and RSVP here.