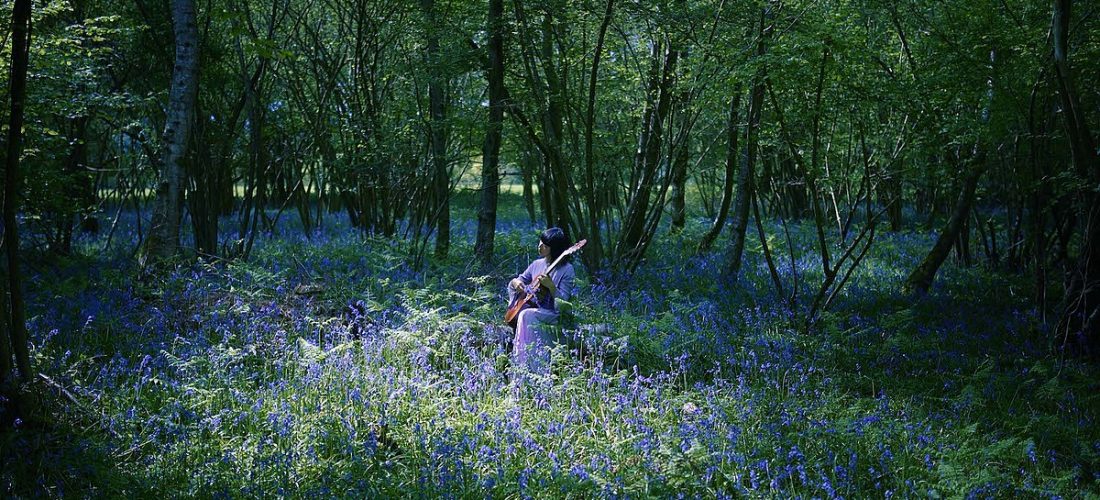 Tokyo singer/songwriter Ichiko Aoba has just released new single "Space Orphans." It's a gorgeously haunting folk song and here's some background on the track and its release:
The song was originally shared as a sparse acoustic demo last March in response to the conflict in Ukraine. Now featuring new arrangements performed by Phonolite Strings that hang delicately around Aoba's vocals, the official studio version of "Space Orphans" is a tender composition teeming with new life. Of "Space Orphans," Aoba states: "To all of you who are stuck in a war you never asked for. To all of you who are all alone in a place that seems safe. To all of the orphans who carry a lingering loneliness inside them. I hope this song reaches the child inside of you."

Nature is a constant inspiration for Aoba with almost all of her music and visuals exploring her connection to the environment. In an effort to continue raising awareness around climate change, "Space Orphans" is one of the first songs to be released as part of Brian Eno's pioneering EarthPercent initiative "The Earth As Your Co-writer" which features the Earth itself as a credited songwriter. Proceeds from the song will be donated in perpetuity to EarthPercent, an organization which aims to unite the music industry in fighting climate change. Other artists releasing music through this groundbreaking initiative include Anna Calvi, Rostam Batmanglij, AURORA, Jacob Collier, Mount Kimbie, and Brian Eno himself.
Listen below. Ichiko's last studio album was 2020's Windswept Adan, which was re-released in 2021 by Ba Da Bing. She since put out a few live records and a soundtrack album.
Ichiko opens for Japanese Breakfast at LA's Walt Disney Concert Hall on September 28 and NYC's Radio City Music Hall on October 5, and she plays a Pitchfork Music Festival Paris show with Weyes Blood. All dates are listed below.
Ichiko Aoba — 2023 Tour Dates
Tue. June 6 – Sydney, AU @ City Recital Hall
Wed. June 7 – Thu. June 8 – Melbourne, AU @ Rising Festival
Sat. Aug. 19 – Edinburgh, UK @ Edinburgh International Festival
Thu. Sept. 28 – Los Angeles, CA @ Walt Disney Concert Hall ^
Sun. Oct. 1 – Mexico City, MX @ Foro Indie Rocks!
Tue. Oct. 3 – Austin, TX @ Paramount Theatre
Thu. Oct. 5 – New York, NY @ Radio City Music Hall ^
Wed. Nov 8 – Paris, FR @ Pitchfork Festival Paris +
^ = w/ Japanese Breakfast
+ = w/ Weyes Blood