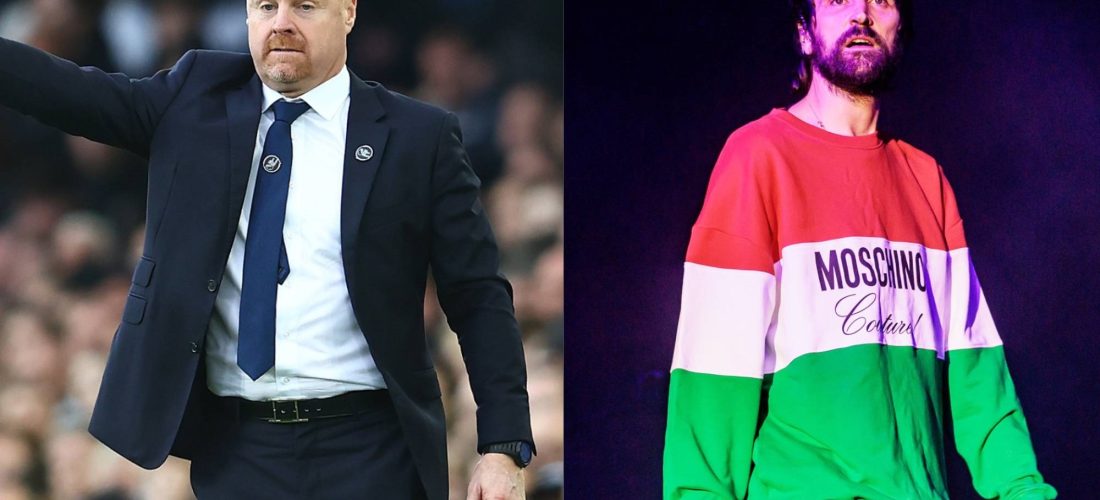 Everton manager Sean Dyche has admitted he's a big fan of Kasabian, U2 and house music.
In an interview with the BBC's Football Focus, the former Burnley manager also revealed that he once went to the Haçienda.
"I love music. Probably go to is like Kasabian and stuff like U2. I love house music, I love dance music, I love rave music. Back in the day, Haçienda and all that wasn't it. Dropping all the ones and twos," he said.
Advertisement
He also told BBC Sport in a separate interview that he "shared a stage with the Happy Mondays" at Nottingham's 2022 edition of Splendour Festival.
Sean Dyche = 'The Raver' #DycheLovesADance 🕺 #BBCFootball pic.twitter.com/fZxeTWR32D

— BBC Sport (@BBCSport) February 17, 2023
"The guys that run Splendour invited me and said do you want to come on to the wings of the stage?" he said. "I'm there with my son and he's saying 'go on dad, you would love that. When you were my age you would have buzzed off that'."
He continued:- "I'm there with [actor] Jonny Owen and [Line Of Duty actor] Vicky McClure and they were saying 'come on'. Then I did that weird thing, only going about a third the way on and thought 'I'm not going to the front of this stage. No chance'."
Previously, the Everton manager explained how he got into music.
"The rave scene was a big era for me." 😎🕺

Sean Dyche talks @MarkOgden_ through his eclectic music taste. pic.twitter.com/ptG5xBHixX

— ESPN UK (@ESPNUK) April 19, 2018
Advertisement
He told ESPN: "The early music I heard was Top Of The Pops, but in bedrooms, around the house with my brother playing the Sex Pistols, Sham 69 and The Jam and all these groups. Going into that sort of mod turnover scene and then got into the New Romantics scene. Coming of age myself in the mid-80s and into the noughties, it was changing.
"I remember all the magic markers of the first time I heard The Stone Roses and then all that era and that sort of Madchester vibe. You know The Verve and all these groups coming up. Building from that you've got the rave scene as well. The rave scene was a big era for me, I was around 17, 18, 19 around that period, so that was important musically.
"I've just always had an open mind to it. I was never trend specific on bands. I didn't say: 'Ooh that's the band, look at me, I've found this new band,' which many did in my era. It was more a case of 'that's a great song'."
The Everton manager also went on to say that over the years, he's been to a lot of concerts.
Dyche continued: "I've seen Green Day, I thought they were amazing in concert. I saw Metallica. I'm not a major Metallica fan, but I like music enough to get invited and went. I've seen Jay-Z and Kanye West. I really like high performers to be honest and I really like listening to them."
He went on to say that he saw Oasis at Knebworth in 1996 and his dream would be to go to Glastonbury.
"I'd really like to go to Knebworth. I haven't been to Knebworth. Sorry not Knebworth, Glastonbury. I was at Knebworth by the way for Oasis, kindly [ex-Nottingham Forest players] Stuart Pearce and Scott Gemmill sorted that through Creation Records. Yeah Glastonbury I'd like to go there. I've missed it a couple of times when my kids were little and I just couldn't afford the time. The kids are getting older now so I might be able to nick a day or two."
Kasabian meanwhile, were recently announced for this year's forthcoming Teenage Cancer Trust gig series alongside Wet Leg, Courteeners and Underworld next month. Any remaining tickets can be purchased here.