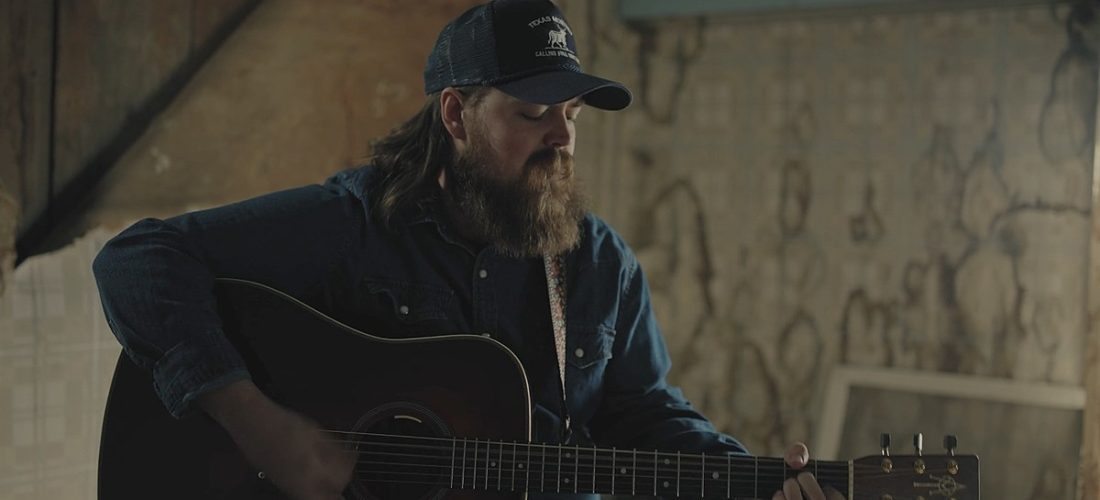 Country singer Drayton Farley released his sophomore full-length album and first with a full band, Twenty On High, earlier this month via Hargrove Records/Thirty Tigers. In our review, we write, "Drayton Farley is one of those artists who can stop you in your tracks off the strength of his singing and songwriting alone; that's how he had no trouble making a name for himself across two releases featuring nothing more than his acoustic guitar and voice. For his new album Twenty On High, which is poised to be his biggest breakthrough yet, he adds in a full band for the first time. It was produced by Sadler Vaden of Jason Isbell's band The 400 Unit (who also produced Morgan Wade's Reckless), and Drayton's backing band for the record includes Sadler and fellow 400 Unit members Chad Gamble (drums) and Jimbo Hart (bass), as well as pianist Peter Levin and violinist Kristin Weber. Waxahatchee's Katie Crutchfield harmonizes with him on "The Alabama Moon." Especially with three 400 Unit members in tow, comparisons to Jason Isbell are to be expected, and like Jason, Drayton toes the line between country, folk, and rock and has a real way with words, melodies, and conveying emotion. But comparisons aside, Drayton continues to emerge as a truly great songwriter in his own right. Twenty On High is full of songs that tug at the heartstrings and quickly get stuck in your head. Drayton knows how to use familiar, time-tested traditions in clever ways, and there's an urgency in Drayton's songs that makes Twenty On High feel like a fresh, vital album."
In celebration of the album's release, we asked Drayton about the influences behind Twenty On High, and he made us a list that includes albums from country luminaries like John Prine, Sturgill Simpson, and more. Read it, and his commentary, below.
Drayton will be out on the road in the US through May, including shows with Lukas Nelson & Promise of the Real, 49 Winchester, Kainen Kellum, Dwight Yoakam, Ashley McBryde, Whiskey Myers, and Matt Koziol. See all dates below.
—
DRAYTON FARLEY: TWENTY ON HIGH INFLUENCES
Jason Isbell – Southeastern
This album was my introduction into the world of songwriting and anything else otherwise "underground" in country/roots music. It quite literally changed my life and ultimately started me down the path of becoming a singer/songwriter.
Tyler Childers – Purgatory
Purgatory was my introduction to Tyler's music and it was completely unlike anything else I'd ever heard before. It was a foreign feeling but it also just felt like home. This album inspired me tremendously.
James McMurtry – Complicated Game
James McMurtry is a God among men when it comes to songwriting and this album had me puzzled for months. The imagery, the turns of phrase, the moods, it's absolutely incredible. There is a level of songwriting here that I hope to be on some day.
Sturgill Simpson – Metamodern Sounds in Country Music
This record had me and everyone else I know in a complete trance. It's one of those records that pushes boundaries in creativity that you didn't realize were there. It's a great reference for thinking outside of the box.
John Prine – John Prine
The absolute joy that I feel when I listen to these songs. Every single line leaves me surprised and wondering how the hell someone could think these things up. Much less make them into songs. John had a really funny way of doing it and whatever that way was, it was without a doubt the right way.
—
DRAYTON FARLEY: 2023 TOUR
Thu, MAR 16 Luck Reunion 2023 Spicewood, TX
Sat, MAR 18 St. Pat's in Five Points 2023 Columbia, SC
Fri, MAR 31 Bright Box Theater Winchester, VA
Sat, APR 1 Songbyrd Washington, DC *
Sun, APR 2 The Queen Wilmington, DE #
Tue, APR 4 The NorVa Norfolk, VA #
Wed, APR 5 The National Richmond, VA #
Fri, APR 7 Greenfield Lake Amphitheater Wilmington, NC #
Sat, APR 8 Greenfield Lake Amphitheater Wilmington, NC #
Sun, APR 9 The Refinery Charleston Charleston, SC #
Tue, APR 11 Georgia Theatre Athens, GA #
Wed, APR 12 The Moon Tallahassee, FL #
Fri, APR 14 TOONEYS Music Venue Mccaysville, GA %
Sat, APR 15 Old Town Live Helena, AL
Sun, APR 16 CLUB LA Destin, FL #
Tue, APR 18 Joy Theater New Orleans, LA #
Wed, APR 19 White Oak Music Hall Houston, TX #
Thu, APR 20 Billy Bob's Fort Worth, TX #
Sat, APR 22 Crawfish Music Festival 2023 Biloxi, MS &
Thu, MAY 4 Rapides Parish Coliseum Alexandria, LA ^
Fri, MAY 5 The Wharf Orange Beach, AL ^
Sat, MAY 6 Ascend Amphitheater Nashville, TN ^
Thu, MAY 11 Ford Center Evansville, IN ^
Fri, MAY 12 The Blue Note Columbia, MO ^
Sat, MAY 13 Starlight Theatre Kansas City, MO ^
Fri, JUN 9 Laurel Cove Music Festival 2023 Pineville, KY
Sat, JUN 24 Whimmydiddle Hamilton, OH %
Fri, JUL 14 Under the Big Sky Festival 2023 Whitefish, MT
Tue, JUL 18 Casper Events Center Casper, WY ^
Sep. 14 – 17, 2023 Bourbon & Beyond 2023 Louisville, KY
* – with Kainen Kellum
# – with Lukas Nelson & Promise of the Real
% – with 49 Winchester
& – with Dwight Yoakam, Ashley McBryde
^ – with Whiskey Myers, Matt Koziol