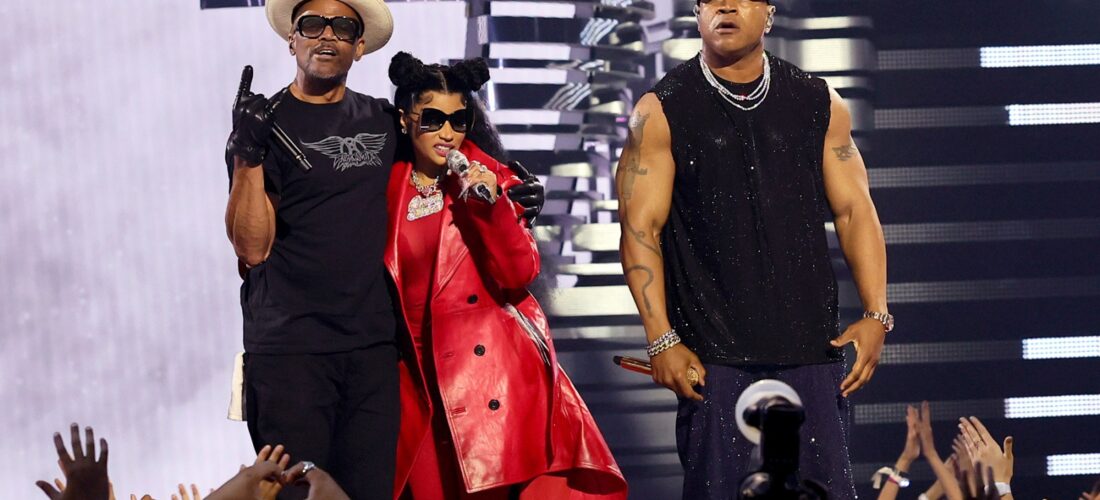 Hip-hop took center stage throughout the 2023 Video Music Awards. Between the main show and pre-show, the night featured boisterous performances from Cardi B and Megan Thee Stallion, Doja Cat, A Boogie Wit da Hoodie, Future, Metro Boomin, NLE Choppa, Kaliii, and more. But one of the most star-studded performances of the night was delivered by a supergroup of heavy hitters who represent various moments in hip-hop history.
LL Cool J, Doug E. Fresh, Darryl "D.M.C." McDaniels, and Grandmaster Flash and the Furious Five all hit the stage towards the end of the night with fellow torch carriers Lil Wayne and Nicki Minaj.
Grandmaster Flash and the Furious Five opened the hip-hop tribute with a rendition of "The Message," before Doug E. Fresh and the Get Fresh Crew performed "The Show." Beam Me Up Scotty then took over the show with Minaj rocking a red bodysuit to perform "Itty Bitty Piggy" as the audience rapped the censored lyrics back to Minaj, before the show's host performed her recent hit, "Red Ruby Da Sleeze."
Minaj then introduced her mentor Lil Wayne — who opened the show — for a rendition of his 2008 hit "A Milli." The sound of police sirens then took over as LL Cool J took the stage, performing a medley of "I'm Bad" and "Mama Said Knock You Out."
"Fifty years of hip-hop, now it's time for the group that opened doors for all of us," LL Cool J said, announcing D.M.C. of Run-D.M.C., who performed a medley that included "Rock Box" as D.M.C. and LL led the crowd to an arm wave. The performance ended with "Walk This Way" as every performer of the segment joined them on stage.
The performance marked Lil Wayne's second time hitting the stage during the show, having delivered the debut live performance of his recent single "Kat Food" earlier in the night. It marked his grand return to the VMAs stage for the first time since 2013. Nicki Minaj, on the other hand, is a VMAs darling when it comes to the live show. The rapper, and last year's Video Vanguard Award recipient, served as MC throughout the night and performed her latest single "Last Time I Saw You" for the first time.
Nicki Minaj and LL Cool J had teamed up as the night's MCs last year, along with Jack Harlow, but this marked their first time taking the stage together to show off their craft. Before tonight, it had been 25 years since the last time LL Cool J joined the Video Music Awards as a performer, rather than solely as a category and performance-announcing host.
At the 2019 Video Music Awards, MTV rounded up a different crew of hip-hop heavyweights to close out the show in a similar way, including Queen Latifah, Naughty by Nature, Redman, Fetty Wap, and Wyclef Jean.