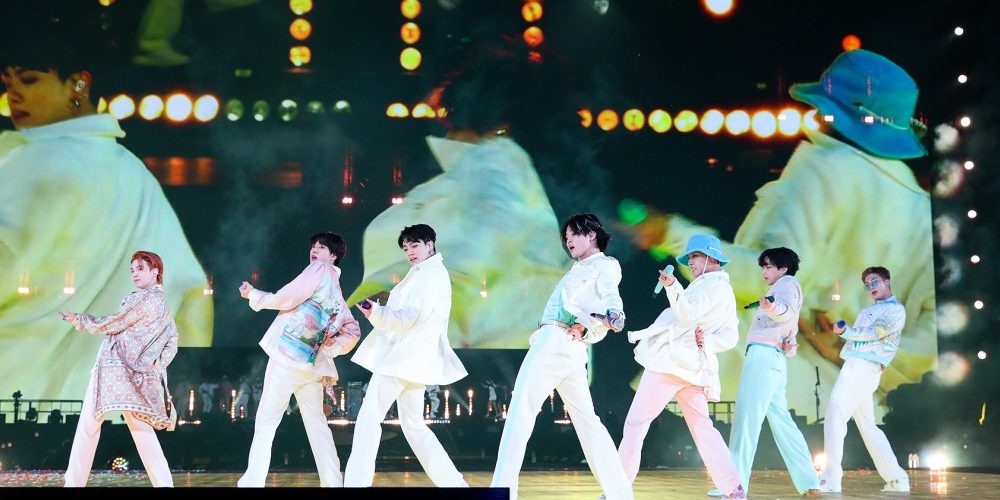 To celebrate Disney+ Day, the streaming service has announced that BTS' Permission to Dance on Stage: LA is now available to stream exclusively on the platform.
Permission to Dance on Stage: LA is a concert film recorded during the septet's four-day residency at the SoFi Stadium on November 27 and 28, and December 1 and 2, 2021—a show that went on to become the biggest single venue concert engagement by any act in almost a decade, after selling 214,000 tickets and grossing US$33.3million (£25million).
Advertisement
The film, shot in cinematic 4K, features performances from their first in-person concerts after two years, after live events were put on hold due to the COVID-19 pandemic.
BTS are set to hold a free live performance in Busan next month, in support of the South Korean city's bid to host the forthcoming 2030 World Expo. The concert, titled 'Yet to Come in Busan', will be held at the Busan Asiad Main Stadium on October 15, 6PM KST. A "live play" event will be hosted at the Busan Port International Passenger Terminal Outdoor Parking Lot at the same time.
The concert was initially set to take place at the Ilgwang Special Stage, but was changed to ensure that "the performance remains on the performance's main purpose, which is to promote the bid for the 2030 Busan World Expo."
The venue change also came at the heels of public uproar from both BTS fans and residents of Busan, who have criticised the concert's organisation due to safety concerns regarding the location and venue's set-up.