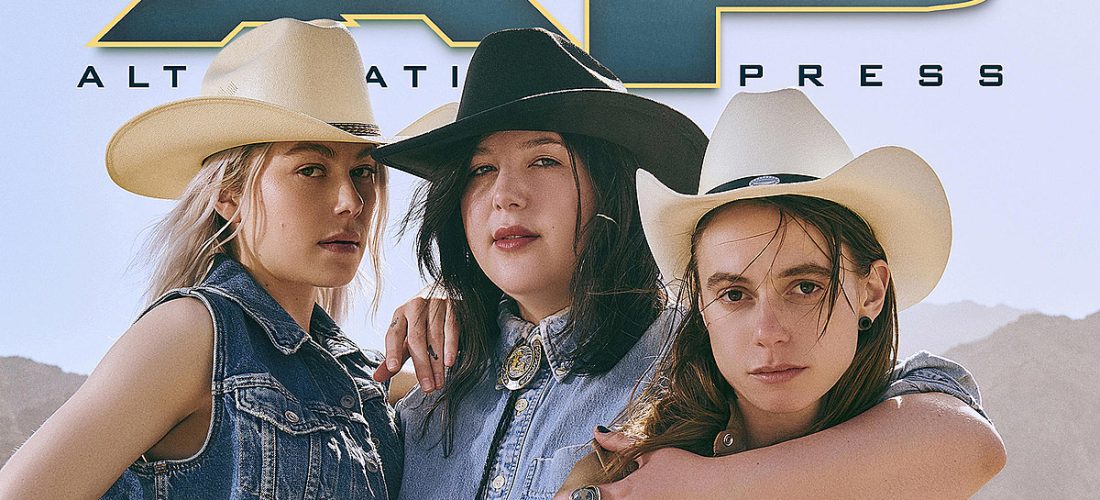 Ahead of their tour, which begins in June, boygenius–the trio of Phoebe Bridgers, Lucy Dacus, and Julien Baker–are on the cover of the new issue of Alternative Press, accompanied by a new interview with the trio by Ilana Kaplan. The cover and accompanying photoshoot, both by Lindsey Byrnes, cast the three as cowboys, and they reference beloved 2005 gay cowboy film Brokeback Mountain in an Instagram post with the photos, writing "I wish I knew how to quit you."
Phoebe, Lucy, and Julien talk about some of the influences behind the record with Alt Press, like Leonard Cohen, who is the subject of a song. They clarify that it isn't intended as a diss, with Julien telling Alt Press, "A lifetime of sustained horniness. How is that a diss?" Phoebe adds, "I always used to make fun of Conor Oberst about that, about [how] every song you're having an existential crisis and getting laid… and Leonard Cohen does it in such a casual way where it's like some huge brain idea, and then a naked lady just walks through that."
They also mention Joyce Manor (whose 2016 album Cody features Phoebe's vocals on "Do You Really Want To Not Get Better," and whose 2011 debut self-titled LP first came out on 6131 Records, the same label that released Julien's 2015 debut Sprained Ankle), Mineral, Green Day, and Manchester Orchestra, among others. From Alt Press:
the record is also filled with an amalgamation of heady alternative influences. Baker, the resident philosopher of the group, notes hers with hyper-specificity. She discovered a mode shift while listening to the indie-rock outfit Colour Revolt and knew she needed to put it in a song. It ended up surfacing as the "weird chord" in "$20." She also added the emo band Mineral to their joint playlist, which became "Phoebe's shit." The end of "Satanist," Dacus says, was influenced by Manchester Orchestra's "100 Dollars." "We worked with Catherine Marks for production because of her work with Manchester [Orchestra]," she explains. In a larger sense, the band were collectively influenced by Joyce Manor, the Killers and Green Day — specifically the latter for some of the guitar work on the album. In the future, those influences will likely expand, considering the band dream of collaborating with Tracy Chapman and LCD Soundsystem. "It'll never happen," Bridgers sighs, referring to working with Chapman.
Read the interview in full on Alternative Press.
boygenius' tour includes Re:SET dates in multiple cities with Clairo, Dijon, and Bartees Strange, as well as shows with Carly Rae Jepsen, Broken Social Scene, Illuminati Hotties, MUNA, and Ethel Cain. See all dates below.
Phoebe is also in the midst of a run of shows supporting Taylor Swift.
BOYGENIUS: 2023 TOUR
Jun 2, 2023 Thrive Park at Snapdragon Stadium San Diego, CA @
Jun 3, 2023 Brookside at the Rosebowl Los Angeles, CA @
Jun 4, 2023 Frost Amphitheater at Stanford Stanford, CA @
Jun 6, 2023 Arizona Financial Theatre Phoenix, AZ !
Jun 8, 2023 White Oak Music Hall Houston, TX !
Jun 9, 2023 Texas Trust CU Theater Grounds Dallas, TX @
Jun 10, 2023 Festival Grounds at City Park New Orleans, LA @
Jun 11, 2023 Central Park Atlanta, GA @
Jun 13, 2023 ExploreAsheville.com Arena Asheville, NC !
Jun 14, 2023 Live Oak Bank Pavilion Wilmington, NC !
Jun 16, 2023 Merriweather Post Pavilion Columbia, MD @
Jun 17, 2023 Forest Hills Stadium New York, NY @
Jun 18, 2023 The Stage at Suffolk Downs Boston, MA @
Jun 20, 2023 Stage AE Pittsburgh, PA +
Jun 21, 2023 Budweiser Stage Toronto, ON &+
Jun 23, 2023 KEMBA Live! Festival Site Columbus, OH @
Jun 24, 2023 Riis Park Chicago, IL @
Jun 25, 2023 The Great Lawn in Centennial Park Nashville, TN @
Jul 28, 2023 PNE Amphitheatre Vancouver, BC #*
Jul 29, 2023 The Gorge Amphitheatre George, WA #*
Jul 30, 2023 Hayden Homes Amphitheater Bend, OR #*
Aug 1, 2023 KettleHouse Amphitheater Bonner, MT *
Aug 2, 2023 Idaho Botanical Garden: Outlaw Field Boise, ID *
Aug 3, 2023 Library Square Salt Lake City, UT *
Aug 5, 2023 Red Rocks Amphitheatre Morrison, CO *
Aug 11, 2023 Øya Festival Oslo, NO
Aug 12, 2023 Way Out West Gothenburg, SE
Aug 13, 2023 KB Hallen Copenhagen, DK %
Aug 15, 2023 Verti Music Hall Berlin, DE %
Aug 16, 2023 Palladium Cologne, DE %
Aug 18, 2023 Pukkelpop Festival Hasselt, BE
Aug 19, 2023 Lowlands Festival
Biddinghuizen, NL Aug 20, 2023 Gunnersbury Park London, UK %^
Aug 22, 2023 The Piece Hall Halifax, UK ^
Aug 23, 2023 The Piece Hall Halifax, UK ^
Aug 24, 2023 Banquet Records Outstore at PRYZM Kingston Kingston upon Thames, UK (6:30pm)
Aug 24, 2023 Banquet Records Outstore at PRYZM Kingston Kingston upon Thames, UK (8:30pm)
Aug 25, 2023 Rock en Seine Saint-Cloud, FR
Aug 27, 2023 Connect Festival Edinburgh, UK
Aug 28, 2023 Royal Hospital Kilmainham Dublin, IE %
Oct 1, 2023 All Things Go Festival Columbia, MD
@ Re:SET show w/ Clairo, Dijon, and Bartees Strange
! w/ Bartees Strange
& w/ Broken Social Scene
+ w/ Claud
# w/ Carly Rae Jepsen
* w/ Illuminati Hotties
^ w/ Ethel Cain
% w/ MUNA