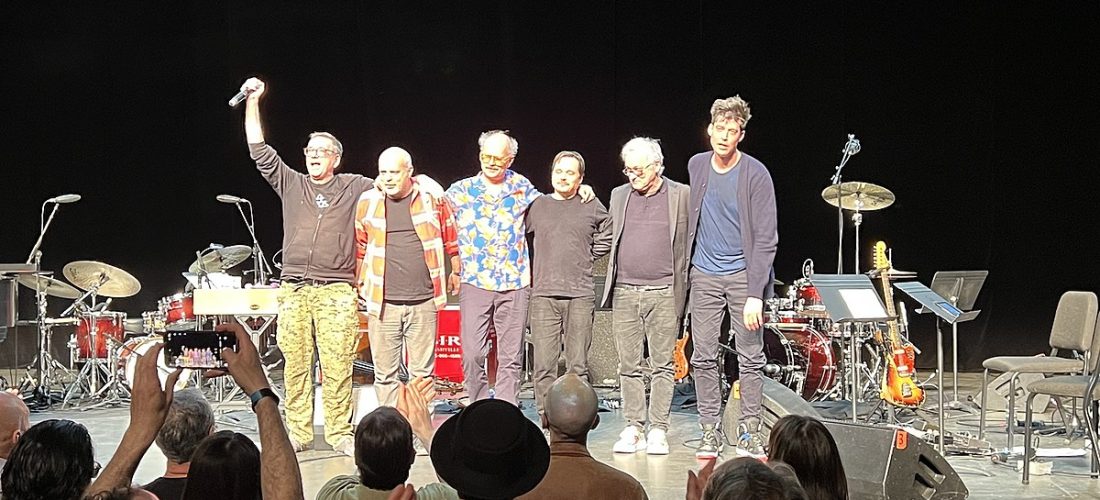 For a second year in a row at Big Ears, John Zorn is curating a big chunk of the festival's programming. This year it's in celebration of his 70th birthday, taking over the historic Tennessee Theatre on Saturday and Sunday, with a wide variety of concerts featuring Zorn's music (but only rarely Zorn himself as a player), from classical to jazz to his "game" pieces, and more.
Among his 2023 programming are three shows featuring different ensembles performing selections from The Bagatelles, his expansive (300 pieces!) book of music that ranges from jazz to noise rock and many points in between. I caught The Bagatelles Pt 1 on Saturday night, which first featured Nova Quartet (John Medeski on piano, Kenny Wollesen on vibes, Trevor Dunn on upright bass and Ches Smith on drums), and Asmodeus (Marc Ribot on guitar, Trevor Dunn on electric bass, and Ches Smith on drums). Both were totally wild, totally different and totally amazing.
Nova Quartet are trad jazz on speed with Wollesen, wearing a vivid Aloha Shirt like he'd just boarded a cruise ship, attacking the vibraphone in a style that made me think of Jackie Chan in the Drunken Master films. He was clearly having a blast — they all were — as the quartet traded solos at a manic pace, with Smith and Dunn mixing nuance and power, and Medeski racing up and down the piano. Asmodeus, meanwhile, were a completely other beast, with Ribot getting to ferociously rock out in ways you don't see too often anymore. Zorn plopped himself down in a folding chair, facing the trio, giving direction to them via the improv queues/signals he developed with game pieces like Cobra. There was glee in Zorn's eyes as he wielded control over Ribot, Smith and Dunn, who all had giant grins on their faces too. It was incredible — the guy sitting beside me was losing his mind watching —  and I wish I'd caught Pt 2, which ended up happening first as the crazy winds that have wreaked havoc all over the eastern half of the country caused flight problems for Dunn, who basically made it to Knoxville just in time to get on stage.
More than one Big Ears attendee this weekend told me that they don't even research the acts who are playing, preferring to go in cold and trust that the festival won't let down. That approach served me well a couple times on Saturday. Maeve Gilchrist performed The Harpweaver, her 2020 collaborative album with the Aizuri Quartet, at The Point, a Lutheran church; it was one of the best things I've seen this week. The album uses Jazz Age poem "The Ballad of the Harpweaver" by Edna St Vincent Millay as a jumping off point to explore artistic nostalgia, working in familiar elements with gorgeous string arrangements. The chapel's high ceilings truly made this music soar, and it was almost overwhelmingly beautiful at times.
I missed Gilchrist's surprise set at The Point later that night, which paired her with frequent collaborator Arooj Aftab, but I saw a different harpist, Brandee Younger, at a different church, St. John's Episcopal Cathedral. Playing as part of a quartet with vibraphonist Joel Ross, drummer Allan Mednard and bassist Rashaan Carter, she played a lot of material from her new album Brand New Life that comes out this Friday. All churches should have harps!
I was back at The Point to see The Weather Station, who played what Tamara Lindemann called "a heart show" after a year and a half of "loud" touring for her amazing 2021 album Ignorance. Backed by a woodwind player, bassist and drummer, Lindemann was behind a grand piano the whole set, offering gentler arrangements of songs like "Robber" and an especially beautiful "I Tried to Tell You."
I also caught a bit of Kevin Morby's set at Mill & Mine, which was rip-roaring at 2 PM. Kevin brought out Erin Rae for their duet "Bittersweet, TN" which felt especially appropriate on the day the state was set to enact it's drag ban (which ended up getting temporarily blocked by a federal judge). Kevin and sax player Cochemea also showed up at the Downtown Gallery for another Lonnie Holley pop-up, where they were part of an improv backing band that included Jim White, Shahzad Ismaily, Christopher Paul Stelling and Dave Eggar.
I stopped by Mill & Mine again for Sun Ra Arkestra's none-more-packed performance, led with vim and vigor by 98-year-old Marshall Allen. I only stayed for a couple songs, but you just don't pass up a chance to see them.
Speaking of not passing up opportunities, I saw the first half of Rickie Lee Jones' set at The Bijou. She has both an amazing catalog of music and stories to go with them, and is as fiery and funny as ever. "If I got paid more money, I could've had a guitar tech" she said as she tuned her instrument, just after asking if anyone in the audience had a pick she could borrow. She's a pistol, as you'd expect from someone who went toe-to-toe and heart-to-heart with with Tom Waits. What a treat.
My night ended back at Mill & Mine for another sure highlight of the festival: Charlotte Adigéry & Bolis Pupul. Having seen them a couple times before on weekdays, I was ready from them to work their magic on a Saturday night crowd, which started a bit sparse but filled up, as if from word of mouth, people texting their friends "you gotta see this." The Belgian duo are a two-person party machine, mixing club beats, socially conscious messages and a wicked sense of humor. Their album Topical Dancer, a perfect title for what they do, is fantastic, but they are even better live, with songs mixing into one another for seamless set of bangers that only stopped for Charlotte and Bolis to have a spotlight banana break. The crowd was also going bananas, dancing up a storm and leaving no attendee unconverted.
Big Ears wraps up today with more Zorn, Lonnie Holley, Algiers, Marc Ribot y Los Cubanos Postizos, caroline, Oneohtrix Point Never…and hopefully a few things I wasn't expecting to see but will love.
Check out a few more iPhone pics from Saturday below and read recaps of Big Ears day 1 here and day 2 here.