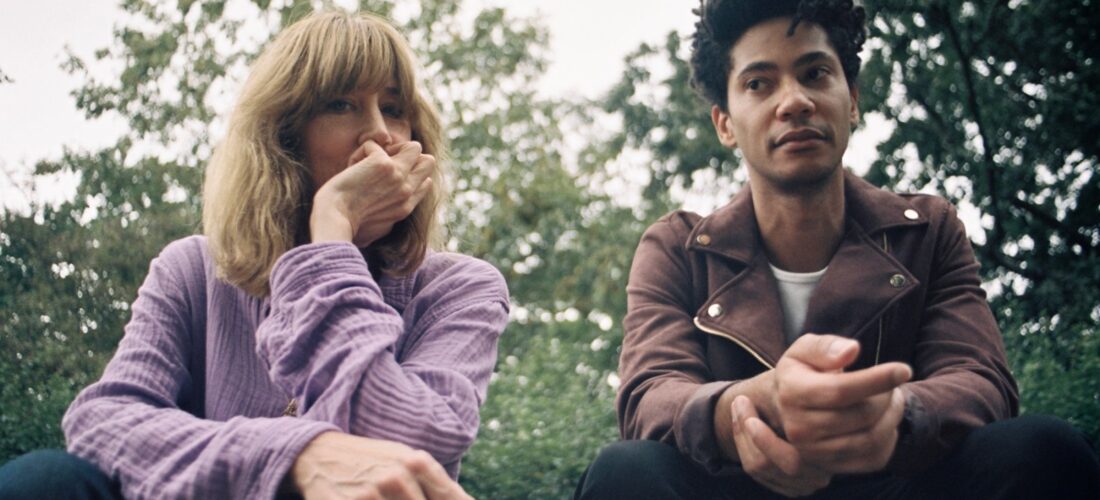 Who shall we say is calling? On a new rendition of Leonard Cohen's nearly half-century–old folk-rock classic "Who by Fire," it's Skinny Pelembe and Beth Orton. The duo's breathy performance adds a sense of desperation and urgency to the track, which appeared on Cohen's 1974 LP, New Skin for the Old Ceremony. There's also a chilly element of mystery to the staggered way Orton and Skinny Pelemebe, who also goes by Doya, build it out into shouting at the end.
Orton met Doya earlier this summer when both artists were at Glastonbury. She introduced herself to him right after his set, which was just before hers on the same stage.
"I have always felt connected to the work of Leonard Cohen," Orton said in a statement. "I toured 'I'm Your Man' with an amazing cast of people, and every night I was intrigued by the mystery of 'Who By Fire.' I was never totally satisfied I understood the song. When Doya sent me his version, I was immediately taken by the Serge Gainsbourg quality of the drums and the overall feel, and I loved the cheek and punk-like spirit of this version, and seeing as I was in a studio in Paris, I didn't give a second thought to throwing myself into Doya's re-interpretation.
"Climbing inside the words this way," she continued, "brought the meaning of the song into new focus, the passion and heart-breaking inevitability of human nature that Leonard Cohen writes of like no other came alive to me finally."
Orton also previously performed Cohen's "Sisters of Mercy" during a Carnegie Hall appearance as a to the artist in 2016, shortly after his death.
That year, Rolling Stone included "Who by Fire" on its list of 20 Essential Leonard Cohen songs. "The solemn, strings-accompanied centerpiece of New Skin for the Old Ceremony is based on a melody for the Hebrew prayer 'Unetanneh Tokef,' chanted on Yom Kippur, the Day of Atonement, when the Book of Life is opened to reveal who will die and by what means," the magazine wrote. "In this duet with folksinger Janis Ian, Cohen conceives his own litany of 'the ways you can leave this vale of tears,' which include downers, avalanche and "something blunt," ending each verse with the agnostic query, 'and who shall I say is calling?'"
PJ Harvey recently recorded her own rendition of the tune and released it as the theme music for the Irish TV series, Bad Sisters. "It was a very enjoyable day spent recording the version of Leonard Cohen's 'Who by Fire' for Bad Sisters," she said. "I had spoken to [Bad Sisters star and producer] Sharon Horgan in advance of the recording session, so I understood why she felt the song's lyric was so perfect for the series, but also understood what nuances of Leonard's performance she most loved, and therefore what to try and recapture but in my own way."