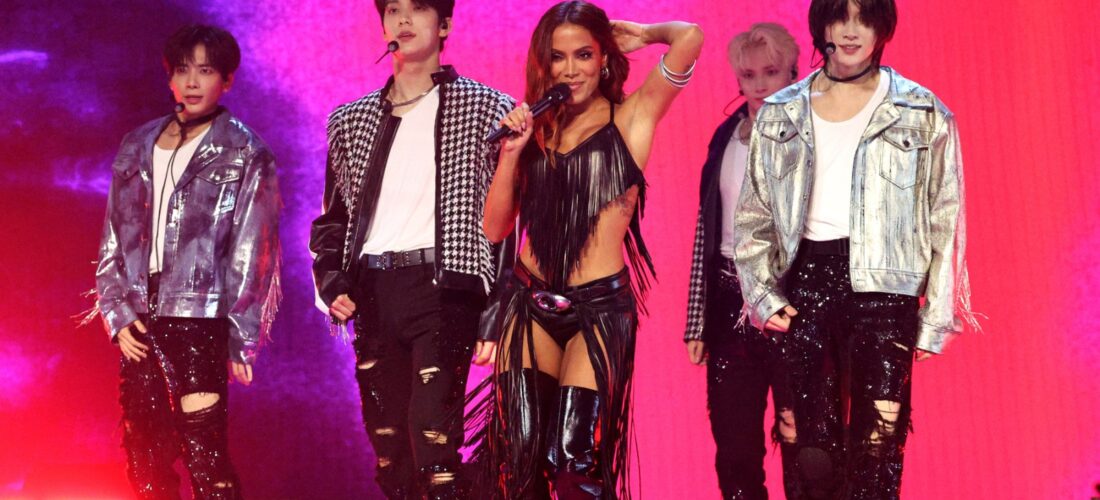 After a fiery performance at the VMAs, Anitta and Tomorrow X Together are finally releasing their collaboration, "Back For More."
"Don't wanna feel nobody/If it isn't you, baby/They're gonna call my night/Been thinking about you, baby," Anitta sings in her verse. The track is the first taste of TXT's upcoming album, The Name Chapter: Freefall, which will drop on Oct. 13.
During the 2023 VMAs Tuesday, the TXT boys — comprising Yeonjun, Soobin, Beomgyu, Taehyun, and HueningKai — showed off their insane choreographed moves as they danced to "Back for More" before Anitta brought the Brazilian flair for her fiery verse. (Earlier in the evening, TXT won the award for Push Performance of the Year for "Sugar Rush Ride," while Anitta won the Moon Person for Best Latin for "Funk Rave.") They brought the same flair in the newly released video for the track, the full video below.
"I can see you comin' back for more/Comin' back for more (Hey)/If you walk out that door," Beomgyu sings in the track's chorus.
Anitta released her three-song bundle Funk Generation: A Favela Love Story in mid-August, featuring "Funk Rave," "Casi Casi," and "Used To Be." "In this project, I dive into carioca funk. The rhythm that raised me and is part of the culture from where I was born," Anitta said in a statement.
The collaboration with Anitta follows Tomorrow X Together's song with the Jonas Brothers, "Do It Like That." Before then, they dropped their album Sweet, featuring songs such as "Ito," "Magic," and "Hydrangea Love."
Tomorrow x Together visited the Rolling Stone Studios earlier this year during their Act: Sweet Mirage world tour, drawing another large crowd of fans outside the building while they sat inside discussing their meteoric rise.
"One thing that I have in my mind is that we are being loved a lot," Taehyun told producer Jon Weigell. "And of course, it also means that we are growing as an artist, as a band, so it means a lot."