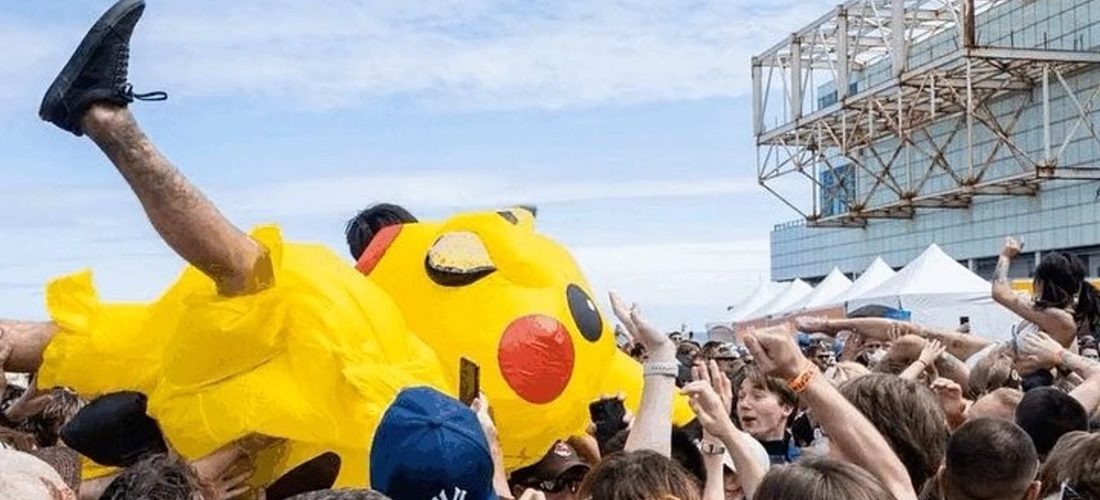 After a sunny, sandy, and successful day one, Atlantic City's new Adjacent Fest held its second of two days on Sunday (5/28), for another round of awesome bands on the beach under the hot sun. It culminated in explosive main stage sets from blink-182 and Turnstile, but hours before that, I started my day with Soul Glo on the smaller Boot stage. Soul Glo probably aren't most people's definition of a "beach festival band," but they had the early crowd in the palms of their hands just by putting on exactly the kind of set they'd play in an intimate club. Their set blurs the lines between a hardcore set, a screamo set, a noise set, a hip hop set, and an arty warehouse party, and Pierce Jordan commands the crowd in a way that somehow seems dead-serious, charismatic, and apathetic all at once. They played a good chunk of their great 2022 album Diaspora Problems, and had a lot of the crowd yelling along to the chorus of "Driponomics" and the "Who gon beat my ass?!" refrain in "Gold Chain Punk."
Hardcore was exclusively on the small stages on day one, but day two was a different story, and Knocked Loose drew a huge crowd to the main Top Hat stage for 30 minutes of death-metallic hardcore under the sun. They sounded massive and brutal and had no trouble whipping the big crowd into multiple mosh and circle pits. They're hitting the festival circuit pretty hard this year–having recently played Coachella and with Bonnaroo and Lollapalooza coming up–and as far as extremely heavy bands go, Knocked Loose are pretty perfect for the festival environment. Whether you came to their set as a fan or as someone who had no idea what they were in for, I can't imagine you left without feeling their impact.
After Knocked Loose, the Boot stage hosted L.S. Dunes, the band who debuted last year with Anthony Green (Circa Survive, The Sound of Animals Fighting, etc) on vocals, My Chemical Romance's Frank Iero and Coheed & Cambria's Travis Stever on guitars, and Thursday's rhythm section (bassist Tim Payne and drummer Tucker Rule). Their lineup is obviously very super, but at this point, L.S. Dunes seem less like a "supergroup" and more just like a great, relevant band whose members were/are also in other very popular, long-established bands. Their debut LP Past Lives is one of the best 2000s-style post-hardcore records released in recent memory, without sounding outdated at all, and it's clearly catching on. As they tore through tracks like "Bombsquad," "2022," and "Permanent Rebellion," you could tell these had already become fan favorites, and the band performed them with both the professionalism of established touring musicians and the urgency of an up-and-coming band. And as always, Anthony Green exudes pure magnetism. He started the set in the crowd, and it just got crazier from there.
Back over at the main stage was The Starting Line, who I last saw on that same stage at Warped Tour 2019, and they were even better this time. For many in attendance, they provided a dose of pop punk nostalgia–especially when they had the entire crowd belting the words to "The Best of Me"–but the set was also a reminder that The Starting Line were ahead of their time. You can hear their influence on so many of the most-loved pop punk bands of the past decade or so, the early material has aged gracefully, and the songs from 2007's Direction offered up a form of genre-defying post-pop-punk that the world is still catching up to. Seeing it live in 2023, TSL sounded as fresh as all the newer bands they've influenced, and Kenny Vasoli still sings those songs like he means it.
The Starting Line's old Drive-Thru labelmates The Movielife took over the smaller Thimble stage not long after TSL wrapped up on the main stage, and they put on a fantastic set that brought together the pop punk nostalgia fans and the people who came to Adjacent for the hardcore scene's representation. Vinnie Caruana shouted out their former label Revelation Records and dedicated "Pinky Swear" from their Rev album to Long Island Hardcore, and they still play like a hardcore band, even during their poppiest songs. Their entire set was made up of material released between 2000 and 2003, and Vinnie expressed that he was genuinely grateful that people were still interested in hearing and singing along to songs the band wrote in their late teens and early 20s. Every track was delivered with the same fiery passion The Movielife had two decades ago, and the crowd really did go off for each one. Vinnie also mentioned on stage that they'll be announcing some Forty Hour Train Back to Penn 20th anniversary shows this year–stay tuned!!
Just a few hours after L.S. Dunes played the Boot stage, guitarist Travis Stever was back at it, but this time it was Coheed & Cambria taking over the main Top Hat stage. The progressive post-hardcore vets pulled from all over their career, reaching as far back as the 20-year-old In Keeping Secrets of Silent Earth: 3 and playing material as recent as 2022's Vaxis – Act II: A Window of the Waking Mind, and Coheed made it all flow together perfectly. They're a well-oiled machine, and they sounded truly larger than life–a perfect band for a big festival environment. Their latest headlining run had them playing 2007's Good Apollo, I'm Burning Star IV, Volume Two: No World for Tomorrow in full, followed by an encore of songs from the new album, but this shorter yet more career-spanning set allowed them to treat the crowd to some stone cold classics that weren't played on that recent trek. Even casual fans could scream along to "A Favor House Atlantic," headbang to "Welcome Home," and get immersed in In Keeping Secrets' eight-plus minute title track.
After Coheed, the main stage hosted Turnstile, who are currently on tour with the festival's day two headliners, blink-182. I had just caught the Barclays Center show a few days ago, and Turnstile sounded as great as ever at Barclays but it was clearly blink's fanbase that primarily populated that crowd, not Turnstile's. At Adjacent Fest, that was not the case at all. I was hundreds of feet back, and there were mosh pits in all directions as far as the eye could see, with people yelling along everywhere. Turnstile had no trouble going hard even with the tougher crowds on the blink tour, but the crowd's energy is necessary for the full experience and I think it's safe to say the band felt that at Adjacent Fest too. They put on what was easily one of the best sets of the weekend–maybe the best set. It was just a pure adrenaline rush from start to finish, both on stage and throughout the massive sea of moving bodies on the sand. The setlist was Glow On-heavy, and they found time for some key earlier cuts and a drum solo. The whole thing was a blast, and it was also inspiring to see how much Turnstile's 2021 breakout songs resonated at a festival that did often lean on nostalgia. Turnstile are already on their way to becoming festival headliners themselves, and here's to hoping more bands from the new generation will follow.
Following that Turnstile set would be no easy feat, but of course blink-182's classic lineup of Mark Hoppus, Tom Delonge, and Travis Barker had no trouble taking command over the thousands and thousands of people who came out to this fest. They stuck to the same setlist they've been playing on tour–with just about all of their hits; choice deeper cuts like "Reckless Abandon," "Man Overboard," "Violence," "Dumpweed," and "Aliens Exist"; two Neighborhoods songs; two Matt Skiba-era songs; and new single "Edging"–and it was even more of a blast to see them do it on a beach than it was in an arena. I was hundreds of feet back, packed in like sardines, and it seemed like every person in the vicinity was yelling every word at the top of their lungs. Like I wrote in my Barclays Center review, blink were tighter than ever, and the chemistry between Mark and Tom was as electric as it was in the old days, whether they were nailing their uniquely great harmonies or piggybacking on each other's juvenile humor. Their 90-minute set was an endless amount of fun and a perfect way to wrap up this festival. It's great to have them back.
Day one of Adjacent Fest had Paramore, PUP, Jimmy Eat World, Thursday, and more. Read our day one review.
blink-182 @ Adjacent Fest 2023 Setlist
Anthem Part Two
The Rock Show
Family Reunion
Man Overboard
Feeling This
Reckless Abandon
Violence
Up All Night
Dysentery Gary
Dumpweed
EDGING
Aliens Exist
Cynical
Happy Holidays, You Bastard
Stay Together for the Kids
Always
Down
Bored to Death
I Miss You
Adam's Song
Ghost on the Dance Floor
What's My Age Again?
First Date
All the Small Things
Dammit