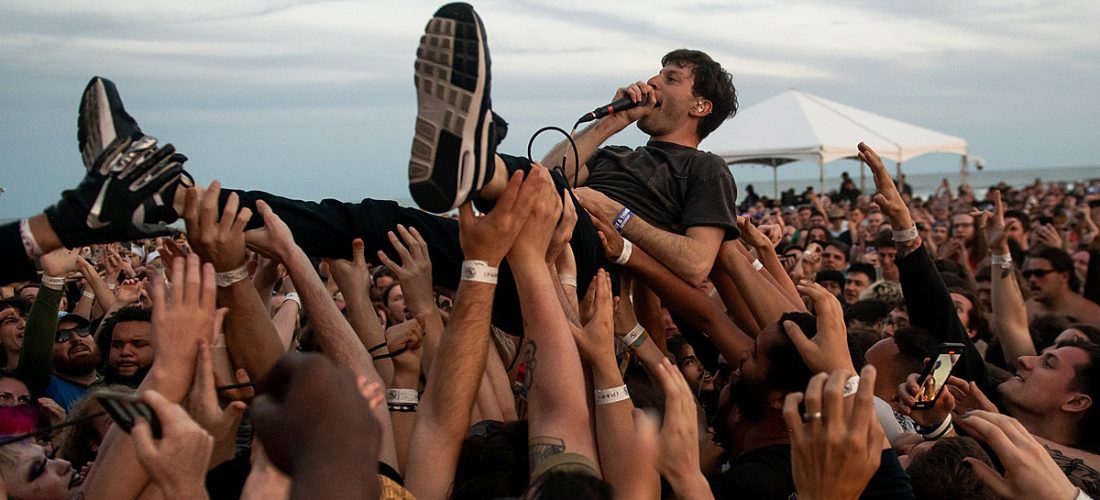 Memorial Day Weekend is here, marking the unofficial start of summer, and the summery weather's been perfect for Adjacent Music Festival, Live Nation's new emo/pop punk-friendly music festival that takes place right on the beach in Atlantic City. It was a hot, sunny day as bands like Paramore, Jimmy Eat World, PUP, Thursday, and more played to crowds of thousands of people standing directly on the beach, with the towering Atlantic City hotels on one side and the ocean on the other. The fest is split across three (Monopoly-themed) stages, the two smaller Boot and Thimble stages that are right next to each other with very little changeover time between sets, and the main Top Hat stage. As far as conflicts go, there were hardly any, and it was a very easy fest to navigate.
There were some delays getting into the fest, including very long lines that took a while to get moving, which resulted in some set times being pushed back, and I made my way in towards the end of Drug Church's set. I wish I saw more of them to get a better idea, but Drug Church always bring it and it seemed like this set was no exception. They had a sizable crowd come out for their early 1 PM set, and they sounded as big and went as hard as ever. Drug Church were on the Thimble stage, and they were the start of a series of rapidfire, back-to-back sets of punk and hardcore. They were followed immediately by Baltimore's Pinkshift, who ripped as always. They've got a hard-hitting rhythm section, Paul Vallejo's riffs sound huge in a live environment, and Ashrita Kumar is a powerhouse frontperson. They tore through a selection of bangers from their 2022 debut LP Love Me Forever, their 2021 EP Saccharine, and their grungy new single "To Me," and really made the best of their relatively brief set.
Punk and hardcore is not exactly the kind of thing you expect to see on a beach, with waves crashing to the side of you and the sun beating down on your head, and no band made the contrast between hardcore and beach weather seem more stark than West Coast antagonizers Zulu. Vocalist Anaiah Lei kept cracking jokes about the inherent humor of playing this kind of music next to an ocean, and it really was a trip to experience Zulu's ass-beating breakdowns in this environment. Fortunately, nothing could stop Zulu's crowd from kicking up mosh pits in the sand, and Zulu sounded as ferocious as ever. Whether it's a sunny day at the beach or a packed club, Zulu are a force to be reckoned with on stage. Right after Zulu was a dose of hardcore for the freaks from NJ's own Gel. Fresh off releasing their great debut LP Only Constant, they tore through a batch of short, fast, and loud rippers and kept the energy level at a constant high. (PS, Drug Church and Gel meet again when they both tour with Drain in June, including Brooklyn Monarch on June 8.)
Not every artist can release a new single and turn it into a crowd singalong at a show just four days later, but not every artist is Jeff Rosenstock. After Gel, Jeff and his band tore it up on the main Top Hat stage, and the just-released "Liked U Better" was just as much of a highlight as established fan faves like "Scram!," "Festival Song," "Monday at the Beach," "Nausea," and "You, In Weird Cities." (Also, kind of especially amazing to hear "Festival Song" in the context of Atlantic City's hotel skyline.) Jeff and his band are perfect for any setting, whether it's a big daytime festival crowd or a small sweaty club like the surprise show they played at Baby's All Right in Brooklyn earlier this week. His band is so tight and so fun (including longtime bassist John DeDomenici who's about to get married and was celebrating his bachelor weekend at Adjacent Fest–congrats John!), and every song always feels like a hit. Catch them again on their fall tour.
Playing a fest in Atlantic City often means locationally-appropriate remarks and references from bands during their sets, and no one I saw leaned more into this than New Jersey heroes Thursday. Geoff Rickly opened the set with a solo cover of Bruce Springsteen's "Atlantic City," and they made sure to play their "most New Jersey song ever," "Turnpike Divides." Thursday were great as ever, and they of course played their usual biggest crowdpleasers–"Cross Out the Eyes," "Jet Black New Year," "Signals Over the Air," "Understanding In A Car Crash" (the last of which Geoff joked is the song playing at Emo Nite when someone tries to explain to you the difference between third and fourth wave emo)–but they also did some great lesser played cuts. Their first proper song after the Springsteen cover was No Devolución opener "Fast to the End," and A City by the Light Divided ballad "Running from the Rain" was a real highlight.
A trip across the beach after Thursday made for a double dose of aughts-era emo nostalgia, as Thursday's Boot stage set was followed by Jimmy Eat World on the main Top Hat stage. Jimmy Eat World have been a well-oiled machine for decades, and very few emo bands have a more perfect song for festivals than "Sweetness." Like Thursday, they did all the hits you'd expect and hope for, but they also reminded you that they're still at the top of their game as songwriters; recent single "Something Loud" was a major highlight. And of course, playing "Big Casino" in Atlantic City meant a very loud "I'm a New Jersey success story" singalong.
It's hard to pick a favorite set with a lineup this stacked, but if pressed, I might have to say PUP. They were on the smaller Boot stage after Jimmy's main stage set ended, and they really fired on all cylinders. Opening with the two biggest songs from Morbid Stuff doesn't hurt (title track and "Kids"), but right away PUP had bodies moving in all directions and induced some of the loudest singalongs I heard all day. A lot of these emo-leaning festivals lately have relied on nostalgia, but PUP are still a relatively new band and they really played like they had something to prove, making for a real sense of urgency both on and off stage. Newer songs like "Totally Fine" and "Waiting" already feel like PUP classics (and the latter incited some genuinely intense beach moshing), and certified PUP classics like "Reservoir" and "DVP" sounded as fresh as ever.
Wrapping up the first day of Adjacent Fest was Paramore, who are fresh off releasing their great new album This Is Why and who talked on stage about being so grateful that their ever-growing fanbase has finally elevated them to festival headliner status for really the first time in their nearly-20-year career. (They also headline Boston Calling this Sunday.) Paramore did a good chunk of the new record and a career-spanning selection of fan favorites, and their festival headliner status really spoke for itself. Paramore are simply larger than life. Hayley Williams' voice somehow sounds even more powerful than ever, and her presence is even more magnetic. She led the crowd in cheers when she said "if you vote for Ron DeSantis, you're dead to me" and when she talked about making emo a safer space for marginalized groups, and she had the huge mass of people dancing and singing along to just about every song. It's also a treat to see Taylor York dish out the new album's riff-heavy songs in person, and drummer Zac Farro remains Paramore's secret weapon and beating heart. The whole band–including their four touring members–really gelled on stage and everything was as tight as can be. Nostalgia-inducing pop punk anthems like "That's What You Get" and "Misery Business" worked perfectly next to the new wavey and post-punky tracks from the last two albums. Paramore have evolved so much over the years, and on a surface-level, the new songs don't sound very much like the old ones, but it all comes together perfectly in a live setting. It's all just Paramore; everything they do is so uniquely them.
Adjacent Fest wraps up today (5/28) with blink-182, Turnstile, Japanese Breakfast, Soul Glo and more. Set times here.
Paramore @ Adjacent Fest 2023 Setlist
You First
The News
That's What You Get
Playing God
Caught in the Middle
Rose-Colored Boy
Running Out of Time
Decode
Hard Times
Told You So
Figure 8
The Only Exception
Crave
Happy Birthday to You
Misery Business
Ain't It Fun
Still Into You
This Is Why
—
Photos by Nick Karp.