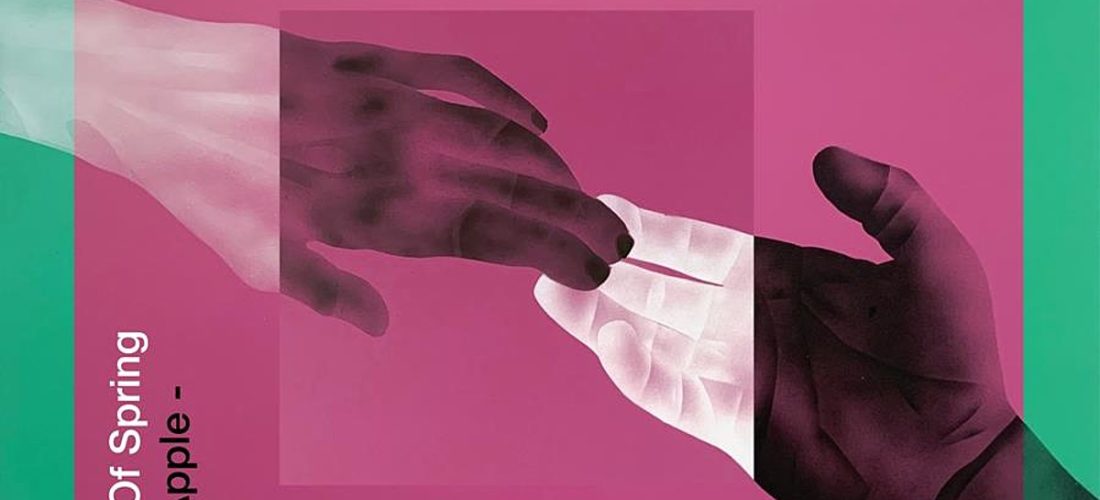 So many artists, so many songs, so little time. Each week we review a handful of new albums (of all genres), round up even more new music that we'd call "indie," and talk about what metal is coming out. We post music news, track premieres, and more all day. We update a playlist weekly of some of our current favorite tracks. Here's a daily roundup with a bunch of interesting, newly released songs in one place.
THE WEEKND – "DIE FOR YOU" (REMIX ft. ARIANA GRANDE)
The Weeknd has shared a new remix of "Die For You" from 2017's Starboy, and this version features frequent collaborator Ariana Grande, whose voice always sounds great with Abel's.
—
GORILLAZ – "TORMENTA" (ft. BAD BUNNY)
The new Gorillaz album Cracker Island is out today, and its biggest highlight just might be "Tormenta," a full-on reggaeton song led by Bad Bunny.
—
LOGIC – "PLAYWRIGHT" (ft. ANDY HULL)
Logic just released his new album College Park, and this song features a crooned, soulful hook from Manchester Orchestra's Andy Hull.
—
KALI UCHIS – "MOONLIGHT"
Kali Uchis has shared another taste of Red Moon In Venus, and it's a syrupy, airy pop song called "Moonlight."
—
MIDTOWN – "KNOW IT ALL" (LAGWAGON COVER)
Midtown's first new recording since reuniting is a cover of Lagwagon's 1994 classic "Know It All." They make it their own without straying too far from the original.
—
SARAH AND THE SAFE WORD – "SKY ON FIRE"
Sarah and the Safe Word will release new LP The Book Of Broken Glass on April 7 via Take This To Heart, and it'll include this new atmospheric, moody rocker.
—
SO MUCH HOPE, BURIED – "DISSOLVE"
Wilkes-Barre, Pennsylvania post-hardcore band So Much Hope, Buried are back with a towering new single.
—
G PERICO & DJ DRAMA – "ASK G4"
West Coast rapper G Perico is back with another taste of his upcoming Gansta Grillz mixtape, and it finds his modern G-Funk in fine form.
—
EST GEE – "UNDEFEATED"
Louisville rapper EST Gee has announced a new mixtape called MAD, and new single "Undefeated" explores his more somber, reflective side.
—
FIRST DAY OF SPRING – FLY OVER APPLE BLOSSOM EP
UK dreampop outfit First Day of Spring just released new EP, Fly Over Apple Blossom, featuring four blissed out gems that recall The Radio Dept and the heyday of Sarah Records.
—
SUPERCHUNK – "MAKING A BREAK"
Superchunk's new 7″ single is out today — they shared a-side "Everything Hurts" a few weeks back and now here's the very catchy b-side.
—
THE NUDE PARTY – "CHERRY RED BOOTS" & "SOMEBODY TRYIN' TO HOODOO ME" (DR JOHN COVER)
The Nude Party have shared two more songs from their upcoming album Ride On. "'Cherry Red Boots' started with a wavy organ riff that Don came up with, using his expression pedal to wah out a call-and-response melody on the Farfisa. Then we layered over an upbeat Coney Island rhythm to it. Don had written the main piece of the music and sent me a demo of it," says frontman Patton Magee who adds about the Dr John cover, "I found this song on a collection of unreleased Dr. John recordings called the 'Crazy Cajun Tapes.' We translated the piano lines over to guitar mostly, then hardened up the whole thing and brought it more into psych-territory. Lyrically, I feel like he was talking about the dread of a love gone wrong. And how his ex-girlfriend (or wife, maybe), is putting a curse on him and trying to cause him harm." Ride On is out March 10 via New West.
—
JOSH RITTER – "HORSE NO RIDER"
"The appaloosa horses that are from my corner of the world are the ones I think of," says Josh Ritter of this new song. "They're wandering the Camas Prairie, the Palouse. They're chomping at the base of Steptoe Butte. A wild horse has no rider and is free to gallop. A riderless horse lives life at a careen." Josh's new album Spectral Lines is out April 28 via Thirty Tigers.
—
THOMAS BANGALTER (DAFT PUNK) – "LE MINOTAURE"
Here's another track from Daft Punk cofounder Thomas Bangalter's score for ballet Mythologies. Dancing is involved but "One More Time" this ain't.
—
NOBLE ROT (METZ/HOLY FUCK) – "CASTING NO LIGHT" FT COLIN NEWMAN & MALKA SPIGEL
Noble Rot is the Toronto duo of Alex Edkins of METZ and Graham Walsh of Holy Fuck. Their debut album is out next month and this is the very komische first single, featuring Colin Newman (Wire) and Malka Spigel (Minimal Compact).
—
MELLE MELLE / PUSHA T – "WHITE LINES" (COCAINE BEAR REMIX)
Cocaine Bear, the new movie about a bear that does cocaine, is out in theaters today, and in a move that should surprise no one but gold star to whoever made this happen, Pusha T has a new song on the album, a remix of Melle Mel's classic "White Lines." It's as much a cover as it is a remix, with the king of coke rap rewriting the whole song to be about a bear on cocaine.
—
CHVRCHES – "OVER"
CHVRCHES new's one-off single is a bold synth-pop anthem, and they call it "a brief reprieve from the horrors of CHV4."
—
BELLA WHITE – "BREAK MY HEART"
Country singer Bella White has announced her new album Among Other Things and shared new single "Break My Heart." Read more here.
—
VOIDCEREMONY – "WRITHING IN THE FACADE OF TIME"
Technical blackened death metallers VoidCeremony have announced a new album, Threads Of Unknowing, and you can read more about this epic lead single here.
—
CHAINED TO THE BOTTOM OF THE OCEAN – "SUMMER COMES TO MULTIPLY"
Massachusetts' hard-to-define heavy band Chained to the Bottom of the Ocean have announced new album Obsession Destruction, and lead single "Summer Comes to Multiply" is an eight-and-a-half minute offering of blackened sludge/hardcore. Read more about it here.
—
THE RAGING NATHANS – "SPRING CLEANING" / MIKEY ERG BAND – "DRINKS WITH MARGARET"
A new punk split 7″ is on the way from The Raging Nathns and Mikey Erg Band, and one track from each band is out now. Read more here.
—
CATBITE – "HEALTHY BODY" (OPERATION IVY COVER)
Sell the Heart Records is putting out a 33-song tribute to ska-punk legends Operation Ivy, and Catbite's cover is out now. Read more here.
—
OMNIGONE – "AGAINST THE REST"
Omnigone, the Bay Area ska-punk band led by former Link 80 member Adam Davis, have announced their sophomore album, Against the Rest, due 3/31 via Bad Time Records. Read about its rippin' lead single/title track here.
—
CONWAY THE MACHINE – "SUPER BOWL" (ft. JUICY J & SAUCE WALKA)
The very prolific Griselda rapper Conway the Machine has announced a new album, Won't He Do It, and the first single was produced by Juicy J, who also features on the track alongside the charismatic Houston rapper Sauce Walka. Read more here.
—
Looking for even more new songs? Browse the New Songs archive.