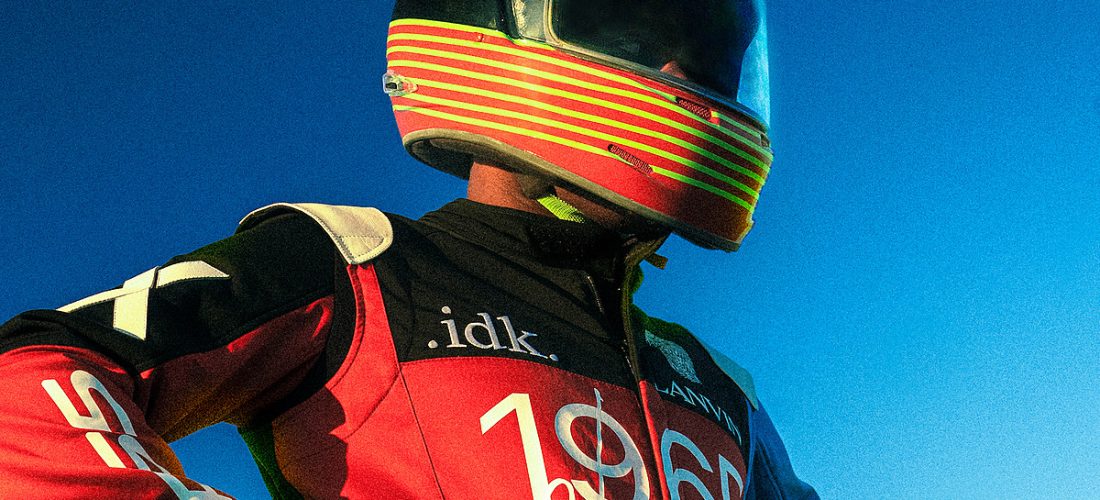 So many artists, so many songs, so little time. Each week we review a handful of new albums (of all genres), round up even more new music that we'd call "indie," and talk about what metal is coming out. We post music news, track premieres, and more all day. We update a playlist weekly of some of our current favorite tracks. Here's a daily roundup with a bunch of interesting, newly released songs in one place.
IDK – "SALTY" (ft. NLE CHOPPA)
Maryland rapper IDK has shared another taste of upcoming album F65, and it finds IDK and NLE Choppa bringing their distinctly different styles to some gorgeous trap production.
—
HIGH PULP – "(IF YOU DON'T LEAVE) THE CITY WILL KILL YOU" (FEAT. DAEDELUS)
LA jazz colective High Pulp have announced a new album, Days In the Desert, due July 28 via ANTI- Records. It features MonoNeon on recent single "Never In My Short Sweet Life," Jeff Parker, Brandee Younger, James Brandon Lewis, Kurt Rosenwinkel, and Telemakus, and veteran LA beatmaker Daedelus appears on this vivid new single.
—
ANNA ST. LOUIS – "BETTER DAYS"
"While 'Better Days' may have tones of sadness it's really about hope," Anna St. Louis says of the twangy new single off her upcoming album In The Air. "It's about making do with what you have, even when that's just a little optimism that this too shall pass and better days are always ahead."
—
SHIRLEY COLLINS – "HARES ON THE MOUNTAIN"
Legendary British folk singer Shirley Collins has shared another song from her upcoming album Archangel Hill, and it stays true to the time-tested traditions she's embraced for decades.
—
WESTERMAN – "A LENS TURNING"
Westerman's new album An Inbuilt Fault is out this week and here's one more preview. "A Lens Turning" is an appealing mix of acoustics and electronics.
—
BAXTER DURY – "CELEBRATE ME"
Baxter Dury has shared a third song from his upcoming album I Thought I Was Better Than You. "Celebrate Me" is the best early taste from the LP yet and features his son, Kosmo. The video is pretty cool too:
—
HAND HABITS – "PRIVATE LIFE"
"This song is the closest to my heart on Sugar the Bruise," Meg Duffy says of this tender new Hand Habits dong. "It really came together and it's rare that a recording touches the same place emotionally as writing the song does." Sugar the Bruise is out June 16.
—
QUINNIE – "FADE"
quinnie announced a deluxe version of her debut full-length, flounder, featuring previously unheard track "fade," an atmospheric indie folk song.
—
CINEMA STARE – "REMEMBER"
The chunky, sugary pop punk of Cinema Stare's "Remember" will take you right back to the mid 2000s.
—
WAYDOWN – SOMETHING TO MOVE ON EP
Waydown hail from the thriving Ohio hardcore scene, and they've just dropped this three-pack on Delayed Gratification Records.
—
ALEX NICOL – "BEEN A LONG YEAR" FT ANGEL DERADOORIAN
Montreal singer-songwriter Alex Nicol will release the A Long Year EP on June 30 and has shared the title track which features Angel Deradoorian. "I wanted to express my frustration at running from my feelings for so long," Alex says. "It felt like the world was crumbling at the same time as I was pretending everything was fine, but I really wasn't, and I finally expressed it. It feels like one long exhale for me."
—
GARDEN CENTRE – "CHICKEN"
Brighton, UK singer-songwriter Max Levy is back with a new Garden Centre album, Searching For A Stream, which is out May 19 via Specialist Subject. Check out wobbly anthem "Chicken" from the record now:
—
THE HIVES – "BOGUS OPERANDI"
"There's no maturity or anything like that bullshit, because who the fuck wants mature rock'n'roll?," The Hives frontman Pelle Almqvist says of the band's first album in 11 years. This first single comes with a gleefully gory video inspired by The Evil Dead.
—
SWEEPING PROMISES – "ERASER"
Sweeping Promises' second album, Good Living Is Coming For You, is out June 30 via Feel It Records in North America and Sub Pop in the rest of the world. Here's the first single.
—
BORIS AND UNIFORM – "YOU ARE THE BEGINNING"
"At that time, we didn't know when we would be able to resume concerts, and our wish became the song directly," Boris drummer Atsuo says of "You Are The Beginning," the lead single off Boris and Uniform's just-announced collaborative LP Bright New Disease. The song is audacious and confrontational, loaded with screaming vocals and sludgy noise that morph into shreddy guitar riffs and high-octane drums.
—
CLAUD – "EVERY FUCKING TIME"
"Every Fucking Time" is the lead single off Claud's newly-announced sophomore album, Supermodels, and the gentle indie jam comes with a music video directed by Claud themself. "I wrote 'Every Fucking Time' two summers ago. It was hot and sticky in New York, so naturally I was spending a lot of time at home, overthinking everything… and this song was born. Even as I was writing 'Every Fucking Time' I had flashes of what I wanted the music video to look like. The songs details and specificity came straight from me, so it only felt natural to write and direct the music video too," Claud shared.
—
STRANGE RANGER – "SHE'S ON FIRE"
Strange Ranger announced their new album Pure Music today with single "She's On Fire." The song is grungy and electronic, with new-wave-ish bass and a synth-forward instrumental accompanying chill indie vocals.
—
GLAIVE – "AS IF"
glaive announced his debut full length album, I Care So Much That I Don't Care At All, and shared the lead single, which you can read more about here.
—
RANCID – "DON'T MAKE ME DO IT"
Rancid have shared a 58-second ripper off their first album in 6 years and you can read about it here.
—
HAZING OVER – "TUNNEL VISION"
Hazing Over have announced a new EP, Tunnel Vision, and you can read about the title track here.
—
ANGEL DU$T – "VERY AGGRESSIVE" / "LOVE SLAM"
Angel Du$t are back with a new two-song single, "Very Aggressive" / "Love Slam," out now via Pop Wig Records, and you can read about it here.
—
Looking for even more new songs? Browse the New Songs archive.