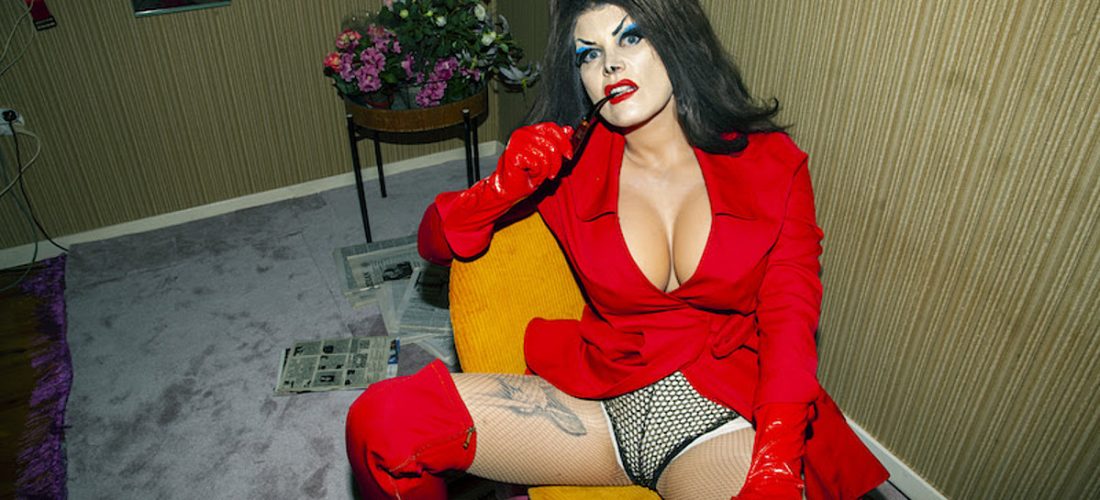 So many artists, so many songs, so little time. Each week we review a handful of new albums (of all genres), round up even more new music that we'd call "indie," and talk about what metal is coming out. We post music news, track premieres, and more all day. We update a playlist weekly of some of our current favorite tracks. Here's a daily roundup with a bunch of interesting, newly released songs in one place.
FEVER RAY – "EVEN IT OUT"
Fever Ray's excellent third album, Radical Romantics, is out today and they've just shared the video for one of the two Trent Reznor/Atticus Ross collabs, "Even it Out." The song itself takes aim at a real life boy who bullied Karin Dreijer's kid, but the video is a tribute to John Waters and his frequent muse, Divine.
—
THE MARY ONETTES – "EASY HANDS" & "PEARL MACHINE"
Swedish band The Mary Onettes are back with this two-song single that finds their '80s inspired dark dreampop sounds still in fine form. "After quite a long time being artistically a bit unsatisfied 'Easy Hands' came to life when I realized that making art is really who I am," says frontman Philip Ekström. "I can't escape from it. But In order to keep making art I need to be nice to myself. That's the core of the lyrics behind 'Easy Hands.'"
—
DEATH GOALS – "P.A.N.S.Y."
UK duo Death Goals are releasing their sophomore album, A Garden of Dead Flowers, in May, and the latest single is "P.A.N.S.Y.," which they say "is a song about being queer when you're young, and having to hide this part of you away from people. We wanted to write a song that really captured not only the dismays of not being able to be true to yourself, but also the fun and magic of finding yourself even in light of this. This track is going to be a really fun one live, and we can't wait to get out there and start playing it!"
—
TAME IMPALA – "WINGS OF TIME"
When you think of Tame Impala, you may not think of 20-sided die or being slain by an elf, but here they are on the soundtrack of this new big-budget Dungeons & Dragons movie. It's a little more rocking than they've been in a while, for maximum hit points, but thankfully no lutes were involved.
—
THE VAN PELT – "GRID"
The third and final single from The Van Pelt's
The Mars Volta are releasing a reimagined version of their self-titled 2022 album, their first in a decade, Que Dios Te Maldiga Mi Corazon, and they've shared the first single, which you can read more about here.
—
EMPLOYED TO SERVE – "TAKE BACK CONTROL"
UK metalcore staples Employed to Serve released the deluxe edition of their most recent album, 2021's Conquering, and it includes new track "Take Back Control," which was produced and mixed by John Lewis.
—
CHARM – "MAKEUP STAIN"
North Carolina's Charm will release their debut album Stained Glass Garden on April 21 via Acrobat Unstable, and your first taste is the '90s-style slacker rock vibes of "Makeup Stain."
—
DAD BOD – "MILKDRINKER" (ALTERNATE DEMO)
Dad Bod have released an alternate, demo version of "Milkdrinker" from their 2020 Precursor EP. It's a singer/songwriter-y indie song that builds to an explosive climax.
—
NAVY BLUE – "CHOSEN"
Navy Blue has signed to Def Jam and released his first single for the label, the Budgie-produced "Chosen." He's also working on a new album, due out later this year.
—
KEN MODE – "PAINLESS"
Following their 2022 album NULL, KEN mode have shared a new single, "Painless." "Certified banger, written in the heart of the second lockdown for us, with lyrics conjured during a blizzard in the middle of the woods in 2021 during the coldest period of winter," Jesse Matthewson says. "Some people took times like these to reflect on simpler times in their lives, digging back into their youth… I tried to do this as well during the pandemic, hoping for some degree of comfort, but I found that it only made me more unhappy. I wanted to move on. I want to move on."
—
GABE LEE – "EVELINE" (NEW VERSION)
Singer/songwriter Gabe Lee released his first single "Eveline" four years ago this week, and to celebrate the anniversary, he's released a new version of it. He's changed up the instrumentation/arrangements a bit, and this version is just as impactful as the original in its own way.
—
LOLA BROOKE – "SO DISRESPECTFUL"
New York rapper Lola Brooke follows up her surprise appearance at GloRilla's NYC show and an appearance on Flo Milli's "Conceited" remix with some classic, tough-as-nails New York rap on "So Disrespectful."
—
CHROMEO – "WORDS WITH YOU"
"For all intents and purposes, this is the first official Chromeo single since our last studio album," says Chromeo's Dave 1. "So it's a statement: a mix of new and familiar. The new: the horn section and live instruments, played throughout, from the drums to the bass to our array of synths. The familiar: the groove and the tone, two signature things that we've been honing for almost 20 years now. The idea was to come out with something that felt sophisticated and slick, with just enough swagger and wit to make you smile. It's a balancing act we put a lot of thought into…with hopes that it never ever shows. So come over and lend an ear…we'd like to have a word with you."
—
ROISIN MURPHY – "CAN'T REPLICATE" FT DJ KOZE
In addition to her official, and awesome, new single "CooCool," Roisin Murphy also put out a new white label 12″ featuring another song from her upcoming album that was produced by DJ Koze. "Can't Replicate" hasn't hit streaming yet, but someone who got the vinyl uploaded the trancey, 11-minute track to YouTube.
—
KILLING JOKE – "FULL SPECTRUM DOMINANCE"
Post-punk legends Killing Joke are back with a new single, the roaring "Full Spectrum Dominance," a six-minute ripper released in celebration of the band's upcoming show at London's Royal Albert Hall this weekend.
—
Looking for even more new songs? Browse the New Songs archive.