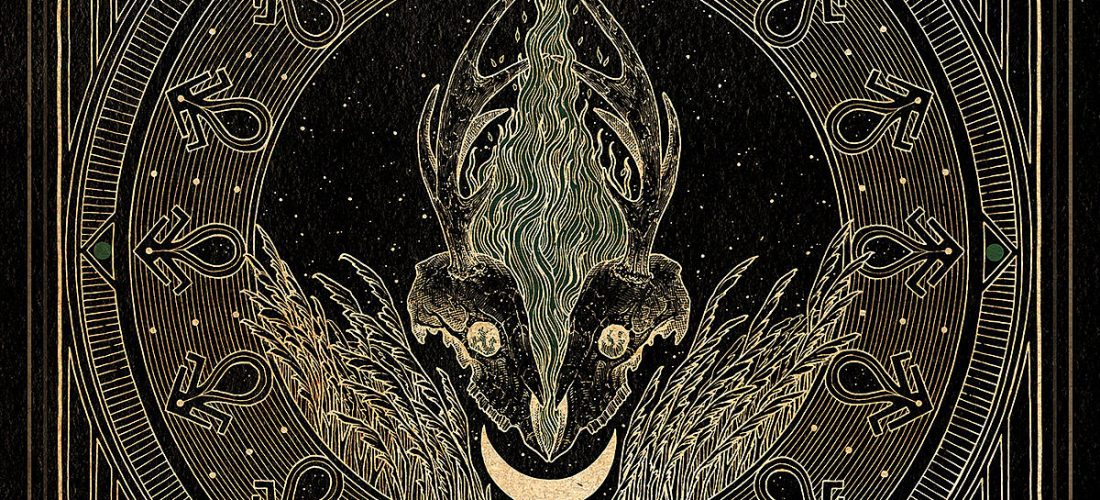 This week in heavy music, we got the killer new Never Ending Game LP, and you can read our new feature for much more on that. Also check out Notable Releases for the new Acacia Strain, Chained to the Bottom of the Ocean, and Ascended Dead. For even more heaviness, Invisible Oranges has you covered on new records from Cattle Decapitation, Esoctrilihum, Usnea, Gonemage, Impetuous Ritual, Burial Clouds, and more. This week also brought new singles from Creeping Death, Blackbraid, Pupil Slicer, Gouge Away, Incendiary, Ufomammut, Bongzilla, Chamber, and more. Read on for those and other heavy tracks we posted this week…
CREEPING DEATH – "THE COMMON BREED"
Texas hardcore-infused death metallers Creeping Death have shared another taste of their upcoming sophomore LP Boundless Domain. It's a pit-opening rager, and it comes with a black-and-white-video that gives a taste of Creeping Death's intense live show. If you like what you hear, pick up our exclusive red & black vinyl variant of the new album.
—
BLACKBRAID – "MOSS COVERED BONES ON THE ALTAR OF THE MOON"
Indigenous black metal artist Blackbraid will release its sophomore album Blackbraid II on July 7, and they've shared the epic 14-minute lead single.
—
PUPIL SLICER – "GLARING DARK OF NIGHT / MOMENTARY ACTUALITY"
Pupil Slicer have shared a joint video for the first two songs on their upcoming album Blossom. "Glaring Dark of Night" is an ambient intro track, but then things turn into a harsh blend of sludge metal, metalcore, and more, offset by some dreamy clean vocals, when "Momentary Actuality" kicks in. It's almost like, Converge meets Mew?
—
GOUGE AWAY – "IDEALIZED"
Gouge Away have released their first new song in three years and announced a tour. Read more here.
—
INCENDIARY – "LIE OF LIBERTY"
Long Island hardcore band Incendiary have shared another taste of their first album in six years, Change The Way You Think About Pain, and you can read about it here.
—
UFOMAMMUT – "LET ME DROWN" (SOUNDGARDEN COVER)
Magnetic Eye Records are paying tribute to Soundgarden with the Superunknown Redux album, due July 14. It features Marissa Nadler, Spotlights, Somnuri, Dozer, High Priest, and more, and this "Let Me Drown" cover by Ufomammut. "We still remember the first time we listened to 'Badmotorfinger', just after it released way back in 1991," says vocalist Urlo. "The riffs, the drums, Chris Cornell's vocals slapped us in the face. Soundgarden took the rock of that period to a different level." Ufomammut turn it into something more psychedelic and sludgier and nearly double the length of the original.
—
BONGZILLA – "KING OF WEED"
Stoner metal lifers Bongzilla have shared the second taste of their upcoming album Dab City, and as you'd probably expect, it's a slowed-down, fuzz-drenched riff feast.
—
CHAMBER – "DEVOURED"
Nashville metalcore band Chamber have announced their sophomore album, A Love To Kill For, and you can read about new single "Devoured" here.
—
GELD – "THE FIX IS IN"
Australian punks Geld have shared the second single off their upcoming Relapse debut, Currency // Castration, and it's another raw garage punk/hardcore ripper.
—
BOUNDARIES – "ARMAGEDDON"
Connecticut metalcore band Boundaries have dropped a new single, and the breakdown-y chugs are in full force on this one.
—
WOUNDED TOUCH – "SLEEP A CICADA WOULD ENVY"
Michigan metalcore band Wounded Touch have followed their 2022 debut LP AMERICANXIETY with a new single, "Sleep A Cicada Would Envy." It's heavy AF, but they find time for a soaring melodic chorus too.
—
FINAL FORM / BLOODFURY – SPLIT
UK metallic hardcore band Final Form (members of Last Wishes, Cold Hard Truth, Climate of Fear, Solemn Promise, and Dominate) and the death metal-leaning Bloodfury (members of Malignant Methods, Spit, and xDeliverancex) have teamed up for a new split EP on DAZE. It's got two new tracks by each band; both bands are very different but equally brutal in their own rights, and they pair very well together.
—
GUMM – "FREE"
Chattanooga, TN's Gumm, who were recently featured in our list of 13 great songs from the current hardcore / alt-rock crossover, have shared the second taste of their upcoming album Slogan Machine. It's another great fusion of hardcore grit and alt-rock anthemicism, and vocalist Drew Waldon says, "This song is more or less about recognizing the parts of my upbringing that were harmful. I've had to unlearn a lot of the things that I was indoctrinated with early in life, to the bewilderment of friends and family who still feel content living within the limits of those specific moral, artistic, spiritual boundaries. I broke free, and am still breaking free, from the ideas and beliefs that were thrust upon me at a young age and were used to keep me subservient for many years."
—
FRAIL BODY – "TITUS," RECORD SETTER – "OUTDATED WALLPAPER," & AMITIÉ – "I BLAME YOU"
Touché Amoré vocalist Jeremy Bolm's label Secret Voice has announced a 31-band screamo compilation called Balladeers, Refined. Three songs are out now, and you can read more about the project here.
—
For even more new songs, browse the 'New Songs' archive. For new metal albums, browse 'Upcoming Metal Releases' on Invisible Oranges. And browse our 'Metal' category for even more heavy music news.
Browse the metal section of our online record store for new metal vinyl.