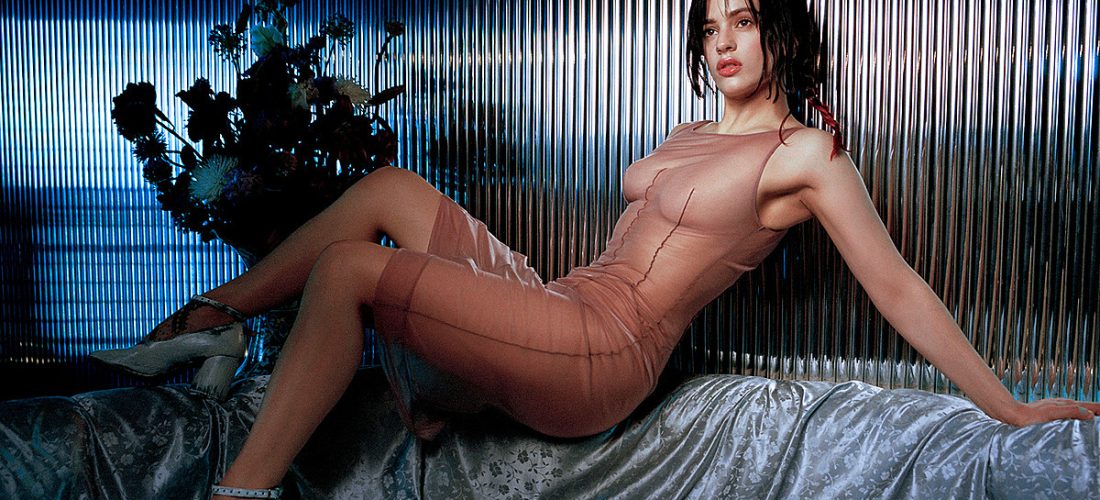 So many artists, so many songs, so little time. Each week we review a handful of new albums (of all genres), round up even more new music that we'd call "indie," and talk about what metal is coming out. We post music news, track premieres, and more all day. We update a playlist weekly of some of our current favorite tracks. Here's a daily roundup with a bunch of interesting, newly released songs in one place.
ROSALÍA – "TUYA"
Rosalía follows RR, her March EP with Rauw Alejandro, with the reggaeton-infused "TUYA." "Exploring is part of who I am as a musician and in the case of 'TUYA,' inspirations such as reggaeton, Japanese instruments, flamenco and gabber techno coexist at the same level," she says.
—
LIAM GALLAGHER – "ROLL IT OVER" (LIVE FROM KNEBWORTH 22)
Liam Gallagher is releasing a live album of his 2022 Knebworth Stadium shows on August 11. Says Liam, "So we recorded the Knebworth gigs we did last year. We all sound Biblical, turn it up ENJOY, LGx."
—
SAM SMITH & MADONNA – "VULGAR"
Madonna introduced Sam Smith & Kim Petras' Grammy performance this year, and the day after that happened, Madge and Sam went into the studio and recorded this song. "'Vulgar' is one of the most exciting songs I've been a part of," Sam told Apple Music's Zane Lowe. "It was written with Madonna and an amazing group of people. The day after the Grammy's, we all got in the studio and just had an amazing evening creating and writing and expressing. And, of course, it was the biggest dream come true for me to get to work with and perform and sing with the Queen of Pop. I am so honored and excited about this song and I hope everyone loves it as much as I do."
—
CATBITE & BRIAN FALLON – "YES IT'S TRUE" (THE SLACKERS COVER)
Yes, it's true: Catbite and The Gaslight Anthem's Brian Fallon teamed up for this The Slackers cover The video also resurrects The Chris Gethard Show, complete with Chris himself, and the halloween-themed episode has them decked out in goth regalia, performing as The SlacCures. Fun!
—
PINKPANTHERESS – "ANGEL"
PinkPantheress' Barbie soundtrack single is here, a shimmering pop track.
—
PORTUGAL. THE MAN – "PLASTIC ISLAND"
"Over the past few years, I developed a jaw problem where I was in constant pain and could barely eat," Portugal. The Man's John Gourley says. "I was not sure I would ever sing again – so when we started 'Plastic Island,' I was still recovering, and you can hear that I was basically singing through my teeth, because my jaw couldn't handle it." It's from their new album Chris Black Changed My Life, out later this month.
—
ROB MOOSE – "MARVEL ROOM" FT. BON IVER
"Rob changed my life; I had never played with someone on his level," Justin Vernon says. "When we started working together on arrangements, my own mind and creativity blossomed and I started seeing further into the universe of what was possible musically. It was a rare moment during the pandemic when I was able to do the vocals on this tune 'Marvel Room'. It was an old demo that I had lost track of. But Rob has access to pretty much everything I ever 'try', and he found it and made this incredible arrangement. It brought new wind into the song and I was able to get excited and find the lyrics and melody." It's from Rob's guest-filled new EP Inflorescence.
—
LILY-ROSE DEPP – "WORLD CLASS SINNER/I'M A FREAK" & THE WEEKND – THE IDOL MAIN THEME
The Weeknd has shared two new tracks from the soundtrack to his controversial new HBO series. "I was planning on dropping the whole soundtrack for idol by the finale, but I'm too hyped," he says. "Instead, I wanna drop new music from the show every week with each episode. I'm excited for you guys to hear what we've been cooking and all these incredible artists that are a part of this show… this week… Jocelyn's pop song "World Class Sinner" and "The Lure" (theme score)… episode 2 this Sunday."
—
SLIPKNOT – ADDERALL EP
Slipknot surprise-released a new EP with a few alternate versions of "Adderall" and non-albums tracks, which you can read more about here.
—
Looking for even more new songs? Browse the New Songs archive.